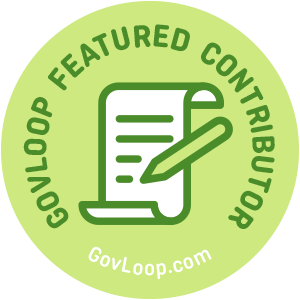 Government agencies strive to provide the services that the public demands. However, tax increases are rarely popular, even when they are used to expand service levels. A government's mission is as much about providing services to the public and other stakeholders as it is about cutting costs and realizing efficiencies. In fact, there is frequently tension between these two aims.
Therefore, government agencies must shift their primary focus to adding value for customers by utilizing the three guidelines listed below.
Avoid self-imposed over-regulation
Agencies need to administer required regulations as efficiently as possible. This ensures that customers can operate with both a minimum number of regulations and with efficiently administered regulations. Continuous improvement efforts through LEAN projects can yield two benefits. First of all, the process within the government agency is made more efficient. Secondly, the agency is helping drive down the costs of its important customers.
Mold and empower your workforce
The growth and development of employees are critical for the performance of the organization and have a direct influence on the success of internal processes. An informed and well-trained workforce can execute more sophisticated processes. This will improve organizational efficiency, directly influencing the perspective of the customer. Line staff must be empowered to handle customer service issues directly. These efforts may result in failure by the employee, but learning from past mistakes is critical for continued improvement.
Utilize a balanced scorecard when implementing continuous improvement
Similar to LEAN methodologies, the balanced scorecard forces organizational leaders to take a holistic approach to continuous improvement. There are four main components for public entities:
Customer: How do customers view the organization?
Internal Process: Where must the organization excel?
Learning/Growth: How can the organization continuously improve and create value?
Financial: Unlike the profit-maker, the government agency is foremost concerned with its customers, existing to serve their interests. If this involves financial benefit, so much the better.
These four components are also applicable for private sector entities, just arranged in a different order where the financial component is listed first (see below).
(A Cause-and-effect Relationship for Profit and Not-for-profit Organizations – Source: The Balanced Scorecard (Harvard Business School Press, 1996); Balanced Scorecard)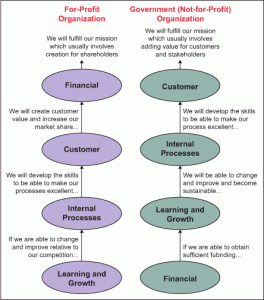 In conclusion, government agencies have a unique opportunity to benefit from planning and implementing improvement methodologies that focus on customer service. Public sectors must effectively train and empower their workforce to ensure that these efforts are successful. Lastly, government agencies can benefit from utilizing a balanced scorecard similar to that used by private entities.
Charles Lewing is a GovLoop Featured Contributor. A Louisiana native, he graduated from McNeese State University in 1999 with a Bachelor of Science Degree in Finance. He later earned his MBA in 2001. He relocated to Houston, Texas and worked in various finance and accounting roles for number of healthcare organizations. In 2016, he relocated to West Texas to pursue a career in public financial leadership. He currently serves as the Reeves County Auditor. Charles is very passionate about inclusive management, LEAN six sigma, and improving operational efficiency through leveraging technology. In his spare time, he enjoys spending time in the outdoors and reading spy novels. You can read his posts here.