This post is part of a series about the four envelopes that federal IT must "push" to restore public confidence in our capability to deliver superb citizen information technology services.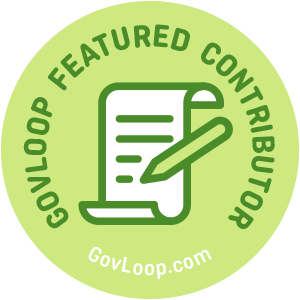 Last week we went through what federal enterprise architecture was, how it came to be, and how it collapsed over the past decade. This week, we'll explore how the federal public sector can push the enterprise architecture envelope.  We'll do it by creating models that meet all the requirements and that can be easily shared and viewed by the public – transparency that has heretofore not existed.
Model Structure and Interchange
As noted last week, we must be able to model strategy, the organization (business), data, applications, infrastructure, and security across all those model elements. Each of these has a reference model that can form the basis for that section of the overall model.
The trick to pushing this envelope is finding the tools to create and share these models. This has been the missing element of federal enterprise architecture, but it's one that can easily be remedied. A contributing problem with existing federal architectures has been the proprietary nature of the tools used to support the profession: Each tool has its own set of unique properties and database formats with only limited ability to move architectures from one tool to another.
The National Information Exchange Model (NIEM), version 4.2, is the technical grease that makes it possible to push this envelope. Almost every major EA tool supports the standard and can both export and import architectures using this standard.
The model shown below is patterned after a real architecture that was created for an office within a federal department. All the listed systems within the organization have a model that consists of the essential elements we've described. Most of the model elements contain multiple views that help elaborate the overall model and which contain all of the constituent objects within the architecture. This is particularly important as the models embrace more and more complexity and detail. While each of the elements can contain all of the constituent objects, not all of them have to be visible on the same view, reducing the complexity and improving the understandability of each view.
Another key advantage of this approach is the ability to update and version such views as progressive elaboration occurs in agile and iterative development life cycles. It also allows comments and notes to be easily accumulated and incorporated into subsequent versions of the architecture – a dynamic process adaptation that allows feedback from the public and academic communities to be taken into account.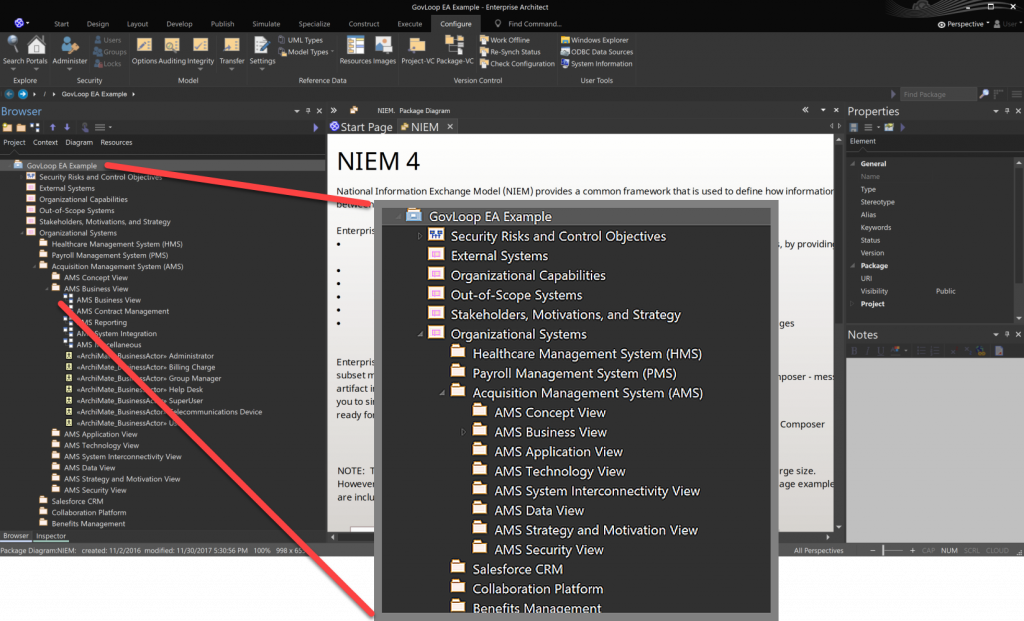 It had been my hope that the office would allow me to share their model with you so you could experience what it would be like to be able to examine such a model. But that turned out to not be the case so I can only share a facsimile of the structure menu and not the actual model itself.
That said, a couple of models are available for you to examine.  An example using NIEM 4 is available online. There is also a general-purpose example available that is available using only a web browser – more on that below.
Model visibility and transparency
The key to pushing the Enterprise Architecture envelope, then, is the ability to import models from all across the federal public sector and make them available to the general public and academia. It might be possible to do this in more than one tool featured in the Gartner or Forrester top-of-market contenders.  I'm proposing using the tool I've been using for the last decade and which I've seen successfully used by federal projects for this exact purpose: Sparx Systems Enterprise Architect, version 15. It will embrace not only EA models created in almost any framework and exchanged via NIEM, but will also contain project management artifacts unifying two of the four envelopes right out of the box.
Prior to version 15, there was a Lite version that was freely available while limited to read-only. Now they've taken another step by making their models available with only a browser.  I mentioned above that a general-purpose example was available online. When you visit the demo site, you'll see this dialog. Select the "EA Example – Full" and select the kind of device you'll be using to see the complete example: mobile, tablet, or desktop.
Once selected, you'll arrive at the Getting Started page where you'll see the broad array of model types that can be displayed. To see the Enterprise Architecture models, select that tile to display an even larger array of diagram types supported by the models. The Frameworks tile shows you examples of the most common EA frameworks that are supported including ArchiMate, TOGAF (The Open Group Architecture Framework), and the Zachman Framework from which the Common Approach was based.
While encouraging all federal projects to adopt and adapt their architectures to the Federal Enterprise Architecture Framework, using NIEM they can export an XML file that the Federal CIO's office can use to import the architecture into a central database of such models. This will scale to the entire federal government because Sparx uses either an Oracle or SQL Server database to contain such models. Similar to the Select Model dialog box shown here, there could instead be a comprehensive list of such models available for public examination.
Wrapping it up
We've now looked at two of the four envelopes: project management and enterprise architecture. We covered not only how federal enterprise architecture was supposed to work, but how it failed because it became an afterthought instead of a driver of strategic planning. We covered the relevant models and how their reference models were specified in the Federal Enterprise Architecture Framework and how the Collaborative Planning Methodology provided the missing methodology.
We then looked at the kind of tool that could bring it all together and make it available for a much more collaborative and transparent approach to enterprise architecture – what the EA Envelope was designed to do.
Next week we'll move on to the third envelope: User Experience Modeling – the cornerstone of the I'll-know-it-when-I-see-it methodology.
A retired naval officer, Richard Warren entered public service in 2009. He holds the PMI Project Management Professional, Risk Management Professional, and Agile Certified Practitioner certifications and currently serves on their Federal Sector Executive Roundtable and other PMI executive roles. He also holds the Federal Acquisition Certification in Program and Project Management at the expert level. He was a founding member of the U.S. Digital Service at the request of the Federal Chief Enterprise Architect and the Obama administration.