Government can leverage emerging technologies and processes to modernize financial systems.
In recent months, major changes in federal government policies around financial management and related shared services have occurred, and agencies are piloting innovative approaches t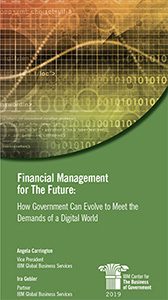 o modernize financial systems.
Alongside this progress, however, many agencies continue to face challenges meeting certain standards for accounting and reporting, and continue to use outdated financial systems that minimally support their financial performance and accountability. Moreover, some agencies still use legacy financial systems that feed their core enterprise resource planning (ERP) system. Additional efforts to improve financial systems through upgrades or replacement of legacy financial systems in an effective, efficient, and transparent manner will help the Federal Government realize the full value of these investments.
One path for agencies to modernize legacy financial systems is through the Technology Modernization Fund (TMF), which was established by the Modernizing Government Technology (MGT) Act of 2018. The TMF supports projects "for technology-related activities to improve information technology, and to enhance cybersecurity across the Federal Government." The fund is overseen by an oversight board that governs funding and technical decisions around agency modernization projects and common solutions. A major incentive to agencies for leveraging the TMF is a five-year repayment window, which provides the flexibility to invest in new IT modernization projects and leverage savings generated to repay the Fund.
On a parallel path, agencies can leverage emerging technologies and processes, and adapt successful use cases to address major pain points in financial management. The Center for the Business of Government's new special report, Financial Management for The Future:  How Government Can Evolve to Meet the Demands of a Digital World, discusses how Chief Financial Officers (CFOs) and Chief Information Officers (CIOs) can leverage new tools to better position their agencies for:
Shared services;
Robotic process automation;
Blockchain; and
Artificial intelligence.
This special report provides up-to-date information on each of these tools, and recommends resources to help agencies get started.
Additional efforts are required to improve agencies' financial and ERP systems through upgrades, replacement of legacy systems, cloud strategies, and the adoption of cognitive technologies. The ability to operate an effective, efficient, and transparent CFO organization is ever-changing, as technologies advance faster than most agencies can adopt them. While most Federal financial systems have been relegated to the back-office and CFO functions, systems enabled with cognitive technologies will strengthen their support for mission-oriented functions — adding value to the taxpayer's investment in this core function of government.