Want the attention of the massive Star Wars: The Force Awakens audience? Join the social media bandwagon your agency must.
When the highly anticipated movie was due to hit theaters, many government agencies wisely planned ahead, putting together robust content to captivate Jedi-obsessed audiences. Other agencies had fun simply connecting their messaging to Star Wars—and its trending hashtags—to bring more attention to the important work of government.
Star Wars: The Force Awakens has smashed global box office records and set social media on fire. Of course, it's no surprise that NASA and its centers, facilities, missions, and astronauts turned out space-themed social shares that are more powerful than you can possibly imagine. But, plenty of terrestrial agencies were able to creatively use Star Wars in social media.
Here are some of the most powerful Star Wars-related social shares by government agencies.
Spoilers lead to anger. Anger leads to hate.
I don't want you to hate me so there are no Force Awakens spoilers here.
Vermont State Police
The state police in Vermont used Yoda's odd speech pattern to snag motorists' attention and then shared their clever road sign on social media to double up on their Star Wars win.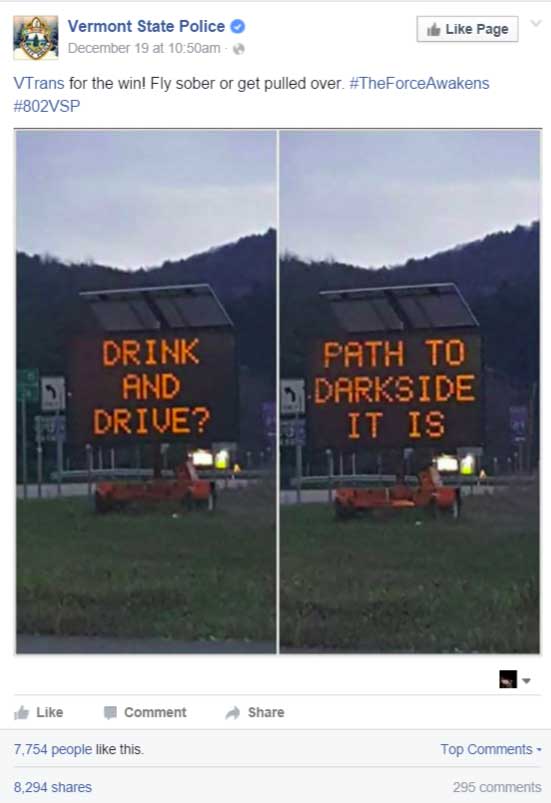 U.S. Department of Energy
The U.S. Department of Energy went with a multi-pronged approach to show people the power of sci-fi on inspiring scientists. Back in June, it hosted a Google+ Hangout about the energy of Star Wars films and, when the new movie came out, reshared the Hangout abundantly on social media. This smart strategy yielded a twice the attention through one piece of content.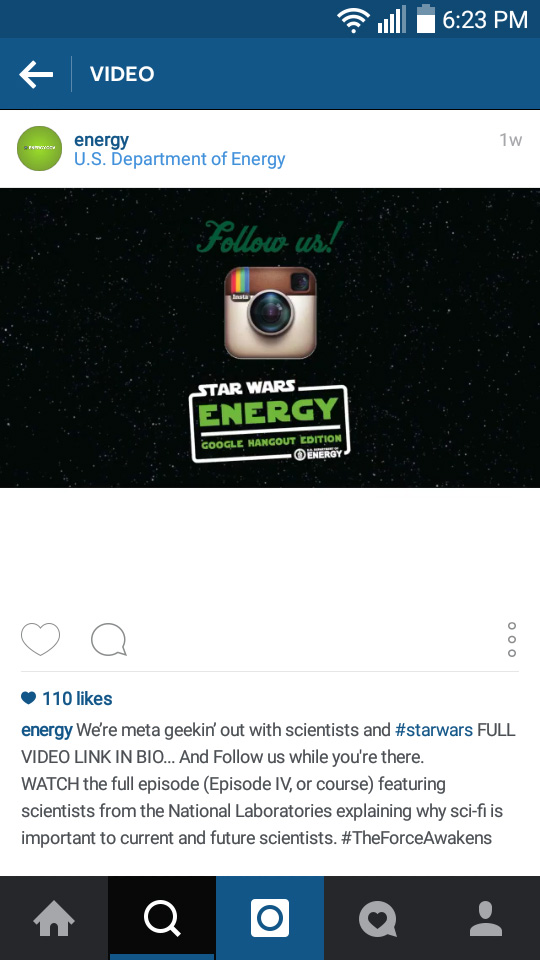 Veterans Benefits Administration
When the team at the Veterans Benefits Administration (VBA) at the U.S. Department of Veterans Affairs learned that one of the actors in Star Wars: The Force Awakens was a military veteran, they made sure to share the news. This helped connect veterans and the role of the VBA with a movie their audiences were geeking out about.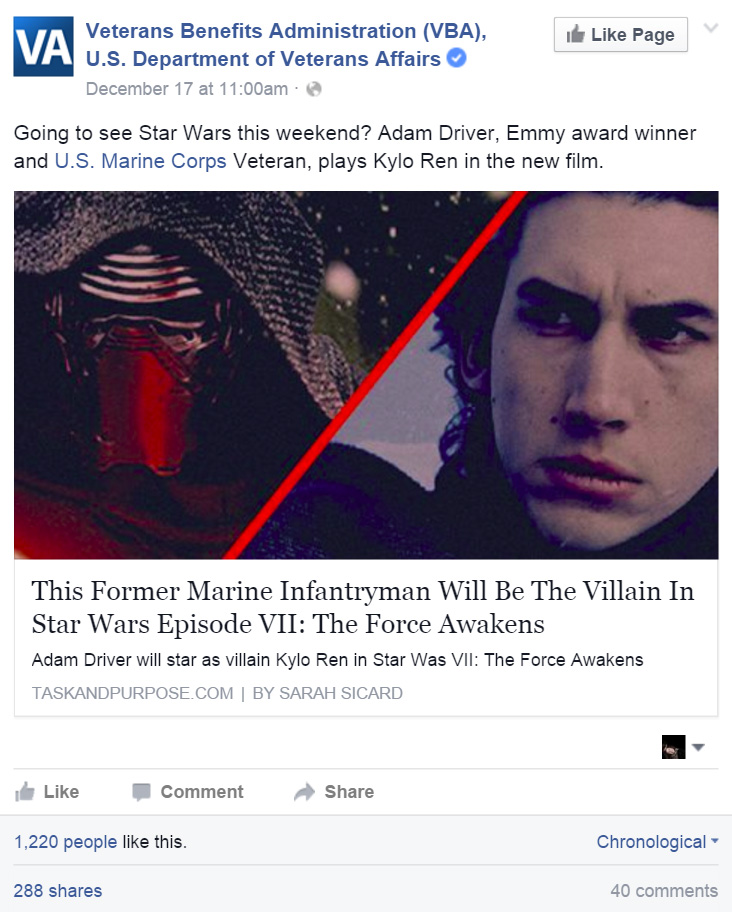 National Science Foundation Engineering Directorate
Sarah Bates, media officer at the National Science Foundation (NSF), wrote a socially strong blog post to appeal to their engineering audience. It's no fluff piece. It's a smart review of Earth-bound science and engineering research that could be used by salvage crews in the Star Wars universe. Social media audiences responded positively to this timely digital content with lots of retweets, shares, and Tumblr notes.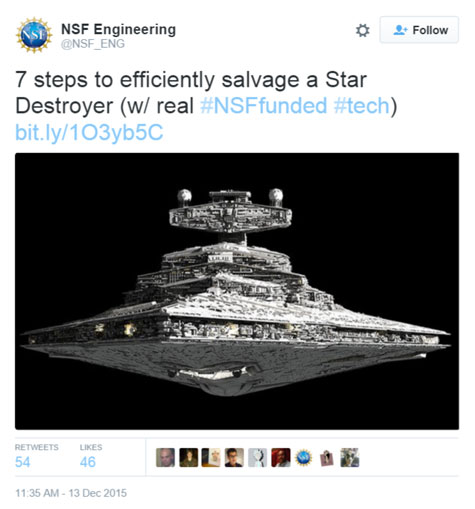 Midwest and Golden Gate National Parks Services
The puns are strong with the Midwest National Parks Service. It created and shared an image that evokes the nostalgia of both old national parks tourism advertisements as well as the 1970s and 80s sci-fi epic saga.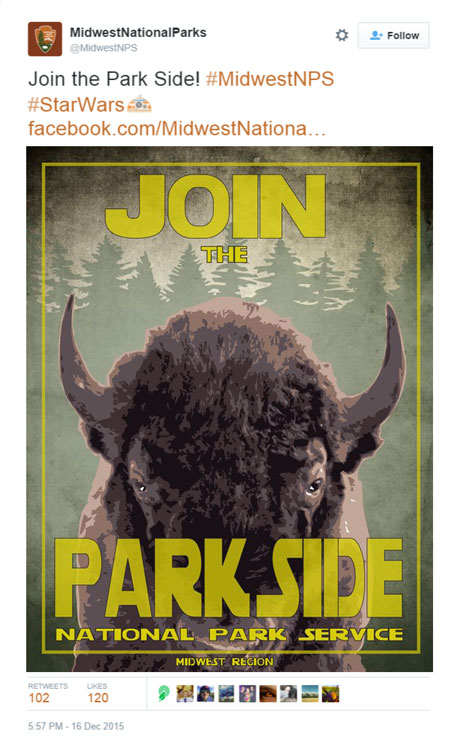 Not to be outdone, the Golden Gate National Parks Service made plenty of mentions of Muir Woods, a location beloved by Star Wars fans as the arboreal home of the Ewoks. By reminding people of the redwood forest's prominence in Return of the Jedi, it put a special dose of cinematic fun into the #FindYourPark social media campaign.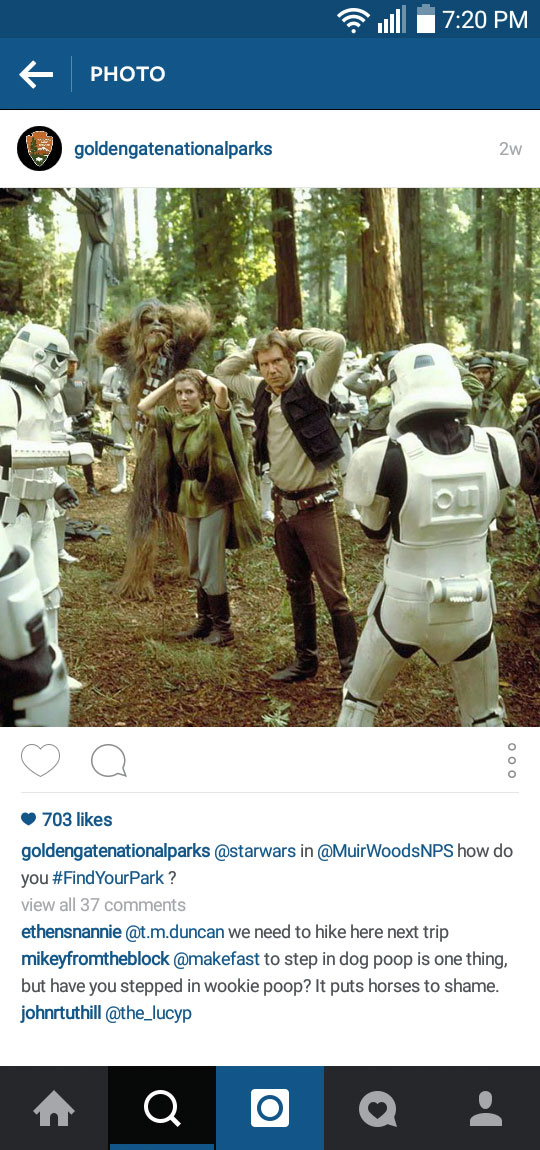 U.S. Department of Defense
With a social media campaign this well designed, there's no such thing as luck. Each image in this Department of Defense #ForceoftheFuture. campaign showcases a branch of the military to bring attention to the agency's efforts to maintain a competitive edge in bringing in top talent to serve the nation.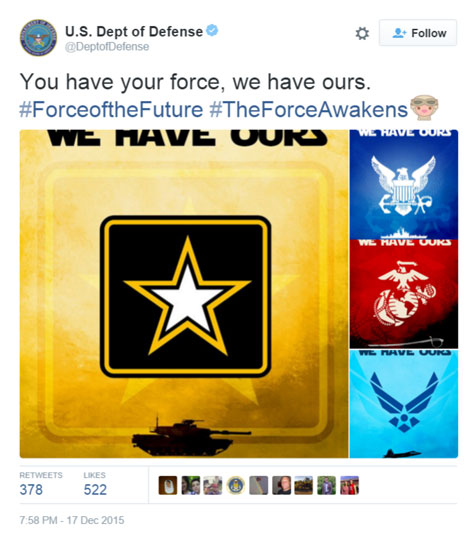 The National Marine Sanctuary System, NOAA
I find this Chewbacca-seal hybrid…disturbing. Is it a Wookie abomination created by a reactor leak or social media genius? You be the judge.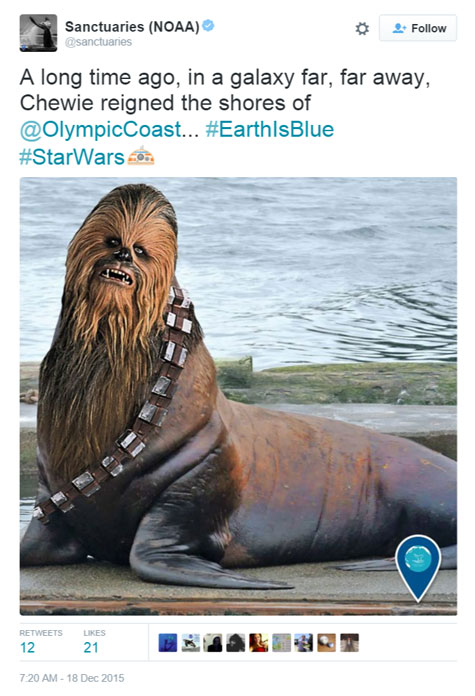 Has your agency used Star Wars to attract the attention of people on social media? Share your success in the comments!
Lauren Girardin is a marketing and communications consultant, writer, and trainer. Find her on Twitter at @girardinl.
Main image courtesy Star Wars on Instagram.