While there's no wrong time to take action to improve the status of women in the U.S., there's really no better time than Women's History Month, which happens in March.
Each year, the National Women's History Project sets a theme for the month, which many in government use to inspire their public outreach. This year's theme, "Weaving the Stories of Women's Lives," encourages storytelling about the achievements of women throughout U.S. history.
And no, that theme isn't an allusion to how women just love to weave. It's about getting people to use their reach and influence to educate Americans about the important role that women have played in the country's past—and will play in its successful future.
Small Business Administration (SBA)
The SBA is directly engaging women entrepreneurs and small business owners through a series of online events, including webinars as well as a special Twitter chat. During the online-only #SBAchat on March 18 at 3:00 p.m. ET the SBA and other organizations will provide women with resources and tips that can help them succeed in business.

U.S. Census Bureau
In honor of Women's History Month, the Census Bureau released some fascinating statistics about women in the United States. But, fascinating doesn't necessarily translate into positive.
The stats include the persistent wage gap that shows women still make just 78 cents to every dollar earned by men as well as the significant disparity of the representation of women in STEM (science technology education, and math), such as in careers like computer programmers, physicians and surgeons, lawyers and judges, police officers, and civil engineers.
These harsh inequality facts are among the reasons why many agencies and the White House have committed to creating more opportunities in STEM for women and girls.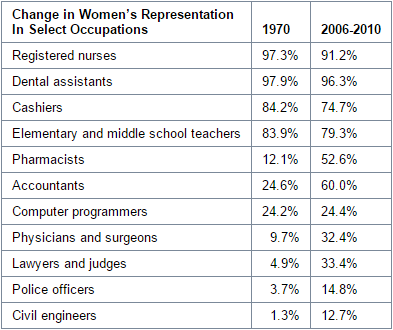 Department of Labor  (DOL)
The DOL connected Black History Month in February with Women's History Month through an infographic about black women in the labor force. As the DOL observed, these numbers show that "the past 50 years have displayed vast improvements, but there's still more work to do."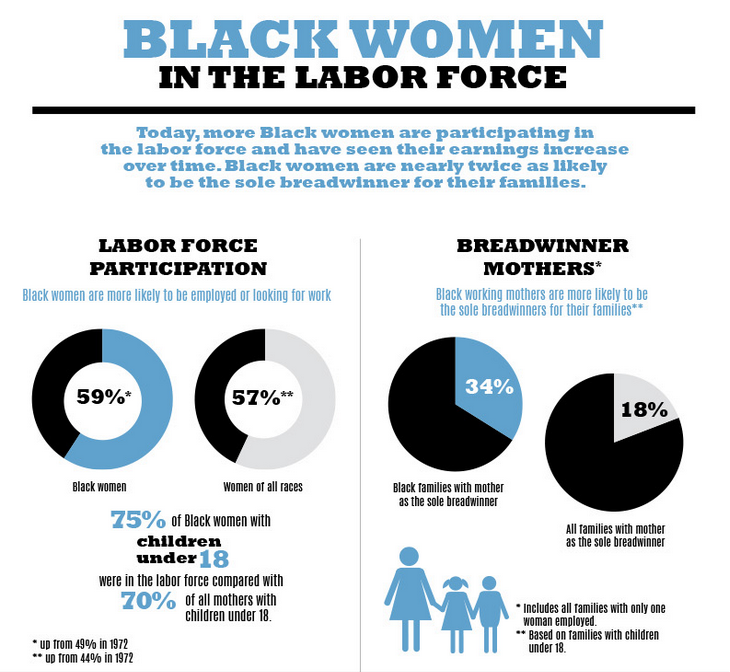 See the full infographic.
The National Endowment for the Humanities (NEH)
Three cheers for the social media team at NEH! Though the agency hasn't created much in the way of new content this year, it is dredging up fun facts, videos, resources, and content funded by the agency.
This goes to show that even if you don't have the resources to produce new material, you can remix the content you already have to engage your audience in creative and timely ways. Showing a little quirky personality in social media doesn't hurt either.
In her own time Emily Dickinson was better known for her hydrangeas http://t.co/j5pmLoHrAz #WomensHistoryMonth

— NEH (@NEHgov) March 11, 2015
U.S. Department of Veterans Affairs (VA)
This month, the VA is making an effort to focus the success of women and women veterans in its agency communications, which makes a lot of sense since women are the fastest growing group in the veteran population.
So far, the VA hasn't elevated the stories of women veterans in any YouTube videos or blog posts (well, kinda sorta in this guest blog post), but it has put effort into other social channels, specifically Facebook and Twitter. The audience enthusiasm for this content is clear, with the VA's timely women-related social media posts getting some of the highest engagement numbers of any content the agency has shared this month.
Here's hoping that the VA shares even more stories about women veterans long after Women's History Month is over.
Department of Defense (DoD)
The DoD's done good with their thorough website content about Women's History Month. Nicely interactive, the site includes a Fact of the Day calendar and a timeline that goes right up to 2015. On the site, the DoD also shares videos, news stories, profiles, and more that it has curated from the branches of the armed forces. The DoD also has social media channels aimed at promoting diversity on Facebook, Twitter, and Instagram.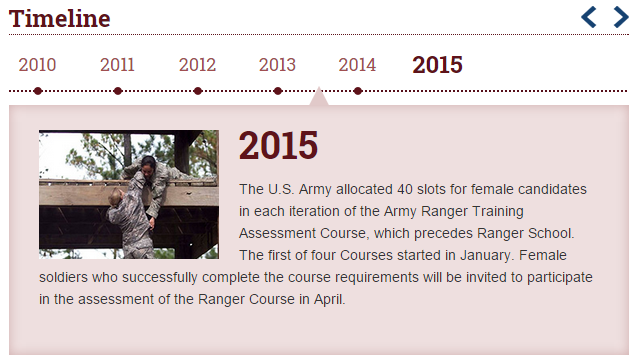 If your agency hasn't yet honored Women's History Month, it's not too late! Share how your agency is celebrating the contributions of American women in a comment below.
Lauren Girardin is a marketing and communications consultant, writer, and trainer. Find her on Twitter at @girardinl.