Last month at the Federal Forum in Washington, D.C., I joined Brocade's industry partners and the government's leading IT decision makers to discuss how new, exciting technologies are changing the way our government serves the American citizenry, enables warfighters and meets the demands of a growing list of stakeholders.
We heard from an impressive group of agency CIOs and leading tech experts who discussed the impact of the network on the promise of big data, cloud computing, mobility, and network and cyber security. When employed correctly and fully supported, each of these technologies has the potential to inform, improve and protect the federal government in ways previously thought impossible.
A survey conducted by Market Connections and released at the Forum found that agencies hoping to utilize these technologies are in for a rocky ride – less than 15 percent of survey respondents felt their agency's current network infrastructure could fully support the solutions necessary to accommodate new-age government services. Enabling agencies to embrace the New IP – a modern approach to networking built on open, multivendor, user-driven and software-centric infrastructure – is key to the adoption of these technologies.
At the Brocade Federal Forum, federal CIO Tony Scott noted that one of the most important tasks for federal IT is moving to a modern infrastructure. It is not enough just to begin implementation – but it is time for agencies to "land the plane." Ultimately, as CIO Scott noted in his closing remarks, it's not the adoption of cloud, data analytics or mobility that will truly transform how the government operates – it's seeing these initiatives through by supporting them with a robust infrastructure.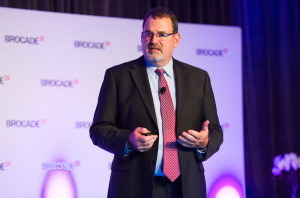 With this challenge top of mind, government should be able to choose from the best tools at its disposal to get the job done. As noted in the Data Center of the Future: It's More than Just Technology panel at Federal Forum, a number of factors should be considered to make this a reality. Embracing open standards and a vendor-neutral stance from the procurement side will accelerate the adoption of emerging tech.
It is also important that CIOs and others involved in the acquisition process work with industry and follow the Federal Acquisition Regulation (FAR) system that requires agencies to conduct market research before selecting an IT solution. Understanding all of the solutions available will ensure agencies are using the most effective option for their environments.
As agencies' use of emerging technologies evolves from theory to practice, network modernization and the New IP allow agencies to easily adapt to meet the critical challenges of both today and tomorrow, as referenced in our recent Necessity of Network Modernization white paper.
Interested in the importance of New IP for federal IT? Visit our microsite at: http://federalnewsradio.com/tag/brocade/
To learn more about discussions at Federal Forum and to view some of the videotaped keynotes and presentations, please visit: http://federalforum2015.com or view and participate in future conversations by following #BrocadeFed.