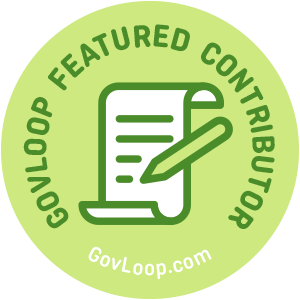 Whether you work in an outside office, telecommute from home or do some of both each week, having an organized workspace can help you be more productive each day, and, I believe, reduce your stress. Even with more and more work environments becoming paperless, physical clutter still creeps into most workspaces.
Are people talking about your mess?
If others are using any of these adjectives to describe your workspace: untidy, cluttered, disorganized, messy or chaotic, now is the time to get things under control.
And for those that say, "I like the clutter," "It doesn't bother me," "I'm just as efficient this way," all I can say is "hogwash."
I'm not saying everyone needs to be on HGTV showing off their professional organizing skills (and I periodically succumb to the clutter bug too). However, in my career I've had hundreds of employees and I've observed that those working in constant workplace clutter were not as efficient as their more organized colleagues. As Kristoph Mathews writes for Entrepreneur, "studies show the average worker wastes close to one week a year searching for misplaced items."
Break this project down.
These tips come from my experience helping those struggling with office clutter and from overseeing three office moves for large numbers of staff.
Start with gathering the tools to get organized. A trash bin, a recycling bin and a bin for items to be shredded that contain personally identifiable information (PII) or other confidential or secure information. Also, grab a few folders and a felt-tipped marker.
Figure out how to best file things you will keep. The goal here is to be able to have the materials you need readily available to tackle a project. For me, I find if I have three to five major long-term projects going at any one time that one folder to corral the necessary paper from each is plenty. If you are keeping complementary organized electronic files for email and document storage, you probably don't need tons of paper documents for your projects. Think carefully about whether you really need something in print or can limit it to an electronic copy for occasional reference.
I also tend to keep an additional general "work in progress" folder. This is where I keep smaller things I need to deal with during the week (not part of those three to five big projects I'm working on above). This might be things like following up on an individual meeting, travel expense reports, etc. As Gretchen Rubin writes in Psychology Today, "Never label anything 'miscellaneous.'"
Next, start in one corner of your desk and dig in. Do your best not to touch the paper/report/item more than once. If it goes, toss it in the correct bin. If it stays, figure out which of your folders it goes in. If you are required to keep certain documents for extended periods for record retention rules, see if you can make them electronic or make a separate folder for long-term filing.
Move from corner to corner of your desk until the entire thing is cleaned and filed. Don't touch an item more than once. Once you pick it up, deal with it. Bonus: when your desk is empty, give it a good furniture polishing!
Discard all broken and obsolete junk. Staplers don't generally fix themselves, pens out of ink need to go, conference swag you don't use, etc. If you have been hoarding some extra office supplies you likely won't use, move them back to a supply closet where your colleagues can make use of them.
From there you can move to the rest of your office/workstation. If you have accumulated print books, catalogues or guides you don't intend to read, offer them to colleagues. If there are no takers, take them to a local book donation site, such as a public library, or recycle them.
If you have old publications your office created, keep one or two for record keeping purposes and recycle the rest. If they are out of date, you won't be circulating them broadly, so you don't need boxes of copies.
Depending on how long it's been since you last did a deep clean, this project could take you an hour, a day or a week. If it feels too onerous to do in one block of time, break it down into manageable pieces.
Once you get things under control, set a reasonable period to refresh your space no less than once per month. When you finish one of your big projects, thin the paper, get rid of the drafts and keep only the essentials.
Having a system like this will give your more time to do high-value work each day and remove the stress and frustration of having to tear your workspace apart to find the things you need.
Joyce Warner is part of the GovLoop Featured Contributor program, where we feature articles by government voices from all across the country (and world!). To see more Featured Contributor posts, click here.