In 2012, I was a proud civil servant lurking, erm, I mean working, in the basement of City Hall in New Orleans. I made up one half of a staunch two-person team tasked with building a new website. One small flaw in said plan. (Well, thus far. Per government plans everywhere, there would be many.)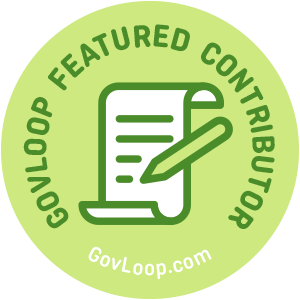 I didn't have a degree in website building.
I didn't even know what degree real website builders had. Or if they were actually called "website builders" anywhere but inside my head.
Oh, and I also didn't really know what all city government did. Much less exactly what pieces of the lugubrious mass of peeling vinyl and sky-high paper the word "government" inspires should, you know, be available for public consumption on the World Wide Web.
Success was not the obvious direction this idea appeared to be strolling. But like many in government, mine doesn't look like media stories of "government innovation," who does it or what works. Success is frequently small. It is often gnarly. And it always comes about because of people who care.
People like a mentor from another department, now a lifelong friend. She pushed me to apply. "Forget that you don't look like a traditional candidate on paper," she said. "Your skills and experiences make you more qualified than checkboxes on a resume ever can."
People like the residents of New Orleans. They said, "Wait, you want to hear what we want from government? Baby, pull up a chair, we're gonna be a minute."
People like my entire reporting chain, from my direct manager shooting straight up through my mayor. They taught me to ask, "Why is 'It's the way we have always done things' an acceptable answer for the question 'Why are we doing it this way if it doesn't work?'"
When was the last time you saw a column celebrating local people doing painful, slow work to change government? Or unpack local stories of quiet successes that illustrate why it's so hard to deliver public services?
Not recently. And not recently enough.
That stops here. Or rather, it starts here. This column is called "In Something We Trust." It is for and about government employees across the country who wake up, gulp coffee, square their shoulders and show up for another day scooching ancient infrastructure, opaque policy and under-resourced budgets. They take half-steps closer to solving problems, improving services and strengthening communities. It's an opportunity to share and learn about other local people and places tackling common problems. It will also be a place to share what worked, what didn't and why it matters.
Which means I need to hear from you.
Do you know someone in government who has made small, unheralded changes to improve service delivery? I bet you do. Maybe you know a police officer who figured out how to get Fire and EMS in the same room to solve a problem. Maybe you are a social worker with a project manager who said, "I'm giving you air cover if we fail when we try this new thing, so that we do not fail by not trying new things." Maybe you know a sanitation worker who surfaced common resident mistakes for curbside items to improve special pickup days. Maybe you work in procurement and are trying out multiple smaller RFPs instead of one gargantuan one.
Maybe you live in or know about a place that's making small changes. Maybe it was a creative solution to solve a new problem, like Mecklenburg County, North Carolina. It supported returning veterans and filled a critical need by recruiting and training vets to become code enforcement officials. Maybe you know a place working on unglamorous problems, like repairing aging infrastructure. Maybe that looks like Syracuse, where the Public Works Department filled 10,000 potholes in a year.  Maybe you've seen a local government shift old solutions to work in new spaces, like the Denver Public Library. It hired its first full-time social worker in 2015 to respond to needs of homeless residents who come to access resources.
When New Orleans hired me, I knew I was joining my genius manager, teacher, inspiration and partner-in-design, Eric Ogburn, to replace the city's old, failing website. I didn't know I was joining a much larger unofficial familia. One linking thousands of government employees working millions of painstaking, painful hours to replace even older expectations our country has about government, its employees, the services we build–and inevitability that all of the above will fail.
"Government success" can look bewildering to those who haven't worked here. It doesn't look like success from private companies. We're not flying drones. We're sharing information on Google Drive. We're not going to Mars. We're going to the department next door to share data. It may seem small. More basic, less, well, innovative.
But those innovations are huge within government. And those innovations can create huge changes for communities we serve. This is why recognizing what it looks like and people who do it is so important.
Sara Hudson is part of the GovLoop Featured Contributor program, where we feature articles by government voices from all across the country (and world!). To see more Featured Contributor posts, click here.