Let's start a government communications revolution, what do you say?
It's a new year, it's the first day back from a long weekend, it's dark and we're wearing sunglasses. (Note to millennials: That last non sequitur is a quote from an ancient movie called, The Blues Brothers.) What I'm saying is, this is my first post as a GovLoop featured blogger, and there's no better time than now to start your engines.
I'm calling this revolution "Journalism.Gov," and I've confirmed via the hard research of Googling that it is one of those rare and precious commodities in local-government communications — an honest-to-God original idea.
The premise is that govies like you and me can apply many of the best practices of journalism to improve the quality of our writing, our partnerships with other units of government, our relationships with the mainstream media and our engagement with the citizens of Planet Earth.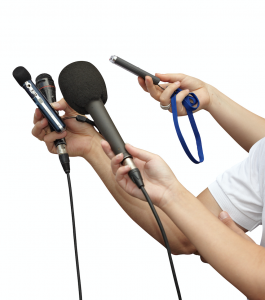 We can learn to "think like a reader."
We can be more transparent.
We can use newsroom techniques and a private-sector entrepreneurial spirit to grow our audience, reach more people and do more good.
Journalism.Gov is founded on the notion that government communication can and MUST be a champion of fairness, integrity, openness and inclusion. We can and MUST engage citizens by providing content they actually want — not the pablum government folks sometimes want to spoon-feed them. We can and MUST be proponents of the written and spoken word, and fierce foes of the snarkiness and plain meanness we see trending every day on social media.
That's the hifalutin' part of Journalism.Gov. The practical applications involve simple techniques practiced every day in every newsroom in America: the beauty of the subject-verb-object sentence, the importance of sourcing, the tricks for successful newsgathering, the power of real-time storytelling.
I can teach you these things, young padawan.
Each Monday for the next 11 weeks, we'll take a deeper dive into Journalism.Gov, covering topics like these:
'Aggregation for Good' — 5 Secrets Govies Can Learn From Patch
Your New Prime Directive: 'Think Like a Reader'
About a Billion Things You Can Learn From Tim Harrower
The Frequency Conundrum (More Than a Good Title for a Robert Ludlum Novel)
How to Get Your Stuff Published (Posted) in Mainstream Media
The 7 Words You Should Never Say in a News Release
The Argument for Using AP Style
You've Got a Personality, Right? Here's How to Use It.
The Secret Successes of 'Kane County Connects'
Intergovernmental Co-Conspirators  — Really, We're the Next Big Thing
Journalism.Gov 2.0
Follow if you dare. Learn the ways of "Journalism.Gov."
Join the revolution.
Rick Nagel is part of the GovLoop Featured Blogger program, where we feature blog posts by government voices from all across the country (and world!). To see more Featured Blogger posts, click here.