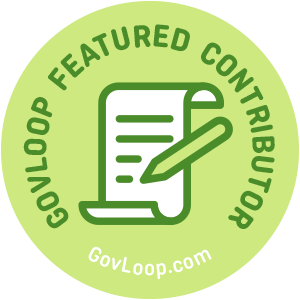 Midcareer challenges us because it asks life-defining questions. And we need to answer. Why? Because our answers define our options, relationships and identity. I believe that we often skip questions about who we could become and how. It's just easier to focus on our jobs. Due dates and meetings usually require less intense scrutiny than our lives.
If you're midcareer and reading this blog, please keep going. I share three areas that need just as much attention as that resume you've been meaning to update.
Commit to your purpose.
Many of us enter government work to make a difference. Our position meets our purpose, or our reason for being. What happens is this drive to contribute can get buried by our preoccupation with our practice. We become so ingrained in our commitment to do our jobs that we forget to look up and remember why we are in these jobs and how our purpose needs to be ever-present in our planning.
Without this active commitment to purpose, it disappears. Our purpose becomes a winter landscape.  Snowflakes quietly accumulate and blanket our ability to be awake to our purpose. We lose sight of the many ways that we can manifest our purpose. When was the last time you talked about your purpose?
Assess the impact of place.
Context defines who we are. It also provides the lens through which we view opportunity. For example, we currently work while managing the changing constraints of a global pandemic. Virtual reality consumes what was for many of us a geographic location. The virtual space also shapes our options for realizing our purpose. We lose the traditional guideposts of the career development landscape — professional association meetings, lunch, coffee and in-person interviews. Gone, at least for a while!
Moreover, we live in a context where the presence of systemic racial injustice challenges us to face the duality of conscience and career. The Black Lives Matter movement calls us to question the underpinnings of our history, society and future. This movement redefines place and the meanings that we attribute to career. Does individual effort alone drive career success?
The concept of place suggests or evokes a strong footing. It seems like security should be a given at midcareer. Not so much.
Place changes and challenges. Life continues to demand that we answer career-path questions: Who am I? How does my life matter? What are viable means to achieve my goals?
Connect with people.
Purpose and place strengthen our abilities to assess who we are and where we exist. But they lack the crucial connections to community that drive career planning. People, in fact, provide this connection to community. We build communities via our relationships.
Mid-career planning during the era of COVID-19 requires greater attention to our connections to people. Why? For now, distance and media define our communication. We sit in Brady Bunch portraits on a monitor for most of our days. During downtime, our apps often amuse us with sticky dance steps and voice-overs of our cute pets. Our careers require setting aside time to be with people — to engage on the phone or have a Zoom coffee chat. These experiences provide us with the chance to tell our stories and witness others' stories. People give us the chance to make sense of our lives and our careers. From these stories we build our confidence, remember our purpose, and start to see the options that could be the next step or revive the meaning of our career paths.
Keep people, place and purpose alive! They matter because they help us matter.
James J. Tarbox, Ph.D., is the Executive Director for San Diego State University Career Services, working with Colleges, employers and alumni to ensure student development, career readiness and employment. Career Services addresses core student needs including internships, mentoring, access to employers and employment, and civic engagement. James co-administers SDSU's WorkAbility IV program. He also teaches in undergraduate and graduate programs on campus. James contributes to the National Association of Colleges and Employers (www.naceweb.org), the Mountain Pacific Association of Colleges and Employers (www.mpace.org) and NASPA's Journal of Student Affairs Research and Practice editorial board (www.naspa.org). James is an alumnus of Pennsylvania State University (M.A. and Ph.D.) and Bates College (B.A. with Honors).