This week, the popular self-publishing platform Medium becomes officially available to federal agencies.
Hold up. Medium is not just a publishing platform. It's social media. It's a community. It's a writing tool. It's a story distribution network. It's a content management system, or CMS. It's not a CMS. It's journalism. It's a blog. It's a magazine. It's a publication. It's a source for high-quality original writing. It's a content crap shoot.
Whatever it is, as announced by DigitalGov, Medium is getting a federal-compatible terms of service agreement. Started by Twitter's co-founders in 2012, and since then a source for impressive storytelling, Medium is a tempting place for government agencies.
Here are the top reasons why Medium is worth trying out:
Your agency's blog is (probably) broken
Not every agency has been able to keep its website up-to-date. As devices evolve, web standards improve, and your audience's interests and how they find content changes, your agency's content may need a boost. Medium is mobile responsive and quite beautiful on every type of device. If your agency's news deserves wider attention, republish any blog post on Medium, where it can reach all-new readers. There's even an "Import a post" feature on Medium that makes it easy to move your content over. Or, publish new writing via the Medium website, the iOS app, or the Android app.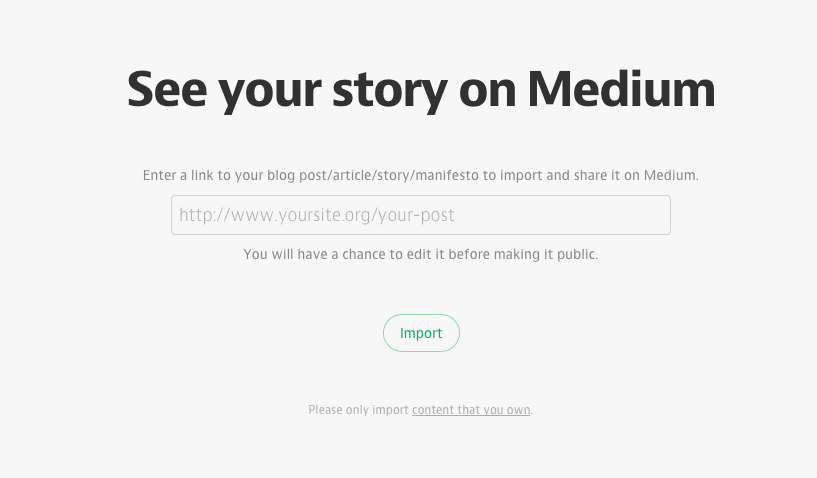 Reporters use it
If you're trying to get the attention of journalists and bloggers, you might try playing in one of their sandboxes. Even if they're not publishing on Medium, they may be using it to look for interesting stories and sources. Several reporters with political and government-related beats use Medium. Check out political reporters like James Pindell of The Boston Globe and Zeke Miller of TIME, Bloomberg News' U.S. economy reporter Michelle Jamrisko, and the Huffington Post's justice reporter, Ryan J. Reilly. Some are writing, some are only lurking. Find other journalists using Medium's People search feature.
Conversation is built-in
One of the most often dispensed pieces of advice about blogging is "don't read the comments" (though not here, dear reader, I'll read your comments). Medium is designed to make commenting more interactive and transparent. Readers can add a 'note' on a specific spot in a story, and those notes are visible to other readers alongside the relevant section, rather than at the end. In popular stories, many notes can become a conversation between readers. Those who have more to say can instead write a 'response,' which is published as its own story on Medium with a backlink to the original story.
Your agency job isn't all you do
Perhaps you've been thinking about blogging to amplify your professional standing. You might have smart ideas and compelling stories that deserve to be read, shared, and acted on. But, running your own website or blog can suck—your time and your energy, that is. Technology shouldn't be a barrier keeping you from sharing what you have to say. Medium is incredibly easy to use, without the hassle of running your own site. Get started in six easy steps and keep abreast of new features via Medium's blog.
Govies use it
A few government agencies and federal employees have already been busy on Medium, publishing their insights and musings. Take a look at their posts and decide what you like, what you don't, and what you can share on this platform.
Federal government agencies
Federal government employees
Have you started using Medium at your agency? Or, have you started using it for professional blogging? Share your Medium page in the contents.
Lauren Girardin is a marketing and communications consultant, writer, and trainer. Find her on Twitter at @girardinl.