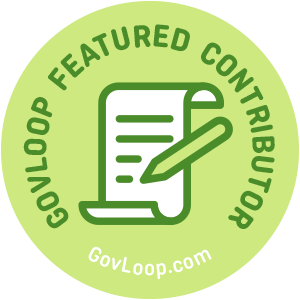 In a previous blog, I discussed digitization in the public sector, why it's happening and the benefits of this massive transformation. I introduced some of the technologies which are enabling digitization, their usefulness and impact. As part of any modernization/digitization effort, new technologies and strategies should be researched and understood before any plan is initiated. One major area that's crowded with innovation is the network. The network is the critical foundation for any digital environment. Let's dive into how the digital environment is changing and how the network needs to change to support it.
The Changing Environment
There is a tremendous amount of change occurring in the IT environment as a result of innovations over the last five years and, to truly support most of these changes, the network must also evolve. The move to cloud, including leveraging IaaS for computing flexibility and SaaS for commercial applications, is one of those changes. Similarly, the ubiquity of wireless technologies and the emerging mobile workforce is bringing great productivity enhancements to organizations. Benefits of these technologies include lower costs of operations and a more agile environment, but they come at the cost of lower visibility and a dramatic change in traffic flow, which can impact the user experience and bring increased WAN costs.
Another major change is the Internet of Things (IoT), bringing an explosion of connected devices located everywhere and anywhere. Much of the digitization we anticipate to occur will be leveraging IoT. In fact, Gartner predicts that by 2020, there will be 63 million new devices online every second.
Clearly, agencies must rethink their network so it can function securely and efficiently in this new multi-cloud, mobile, device-heavy environment.
The Current Network
Today's network has been simplified to Ethernet (access and core) and WIFI wireless connectivity. This simplification has lowered the overall cost of operating the network, but lacks in automation to assist in speed and agility, and intelligence for advanced policy and control. To address security, functions have been added on top of the network but not integrated into the network, and there is still on average a six-month discovery window for breaches on most networks.
Historically, the network connected people and devices located indoors in campuses, branches and remote buildings. With digitization and IoT, many more wireless devices are being connected both indoor (ex. Medical devices) as well as outdoor (ex. traffic lights).
Digitization brings two requirements to agencies which demand a new approach to the network; the ability to adjust and align to business needs in real time (ie. sense and adjust to needs), and explosive growth in devices which will be connected to the network (ie. IoT).
How can agencies adapt to mission/business needs, as well as to meet the scaling and security requirements of the new IoT paradigm?
The Intent-Based Network
To deliver a network for this digitization era, today's networks require a dramatic change in architecture. To accomplish this, a network must:
Leverage automation and policy to become simpler to operate,
Be aware of the current state it is in and changes in this state,
Be able to dynamically adapt to its changing environment and
Integrate a security environment which can protect data and provide enhanced visibility.
To achieve these goals, an Intent-Based Networking System (IBNS) is the answer. Intent-based networking describes a network that has the intelligence and automation necessary to set and modify its configurations to meet the organization's mission needs. Both Gartner and IDC recognize IBNS as an emerging strategy foundational for digitization. Classic software-defined networking (SDN) provides the automation required, but that's only a piece of the IBNS solution.
IBNS is a closed-loop model where the intent of the business has the ability to modify the network to accommodate the needs that fulfill that business intent. The intent is translated and assessed through policy and analytics and acted upon. The action involves automated configurations of the physical and logical devices on the network. And finally, there is an assessment to assure the intended changes were made and the desired outcome was achieved.
This loop can be started by the process as we discussed above or it could be started dynamically by a change in state, such as a security breach. Here's an image to help paint the intent-based networking system picture: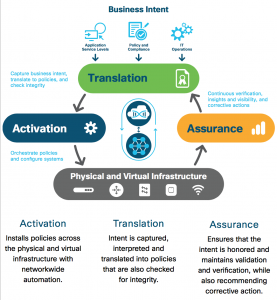 Intent-based networking is a new paradigm for networking.  It may appear complicated at first, but it is the beginning of creating a self-adjusting, self-healing and learning network. An intent-based network can continuously align itself to required service levels, security needs and IT compliance. As such, IBNS makes managing, growing and securing the network much easier. This is a real game changer for agencies and should be considered when looking at IT Modernization.
Dan Kent is part of the GovLoop Featured Contributor program, where we feature articles by government voices from all across the country (and world!). To see more Featured Contributor posts, click here.