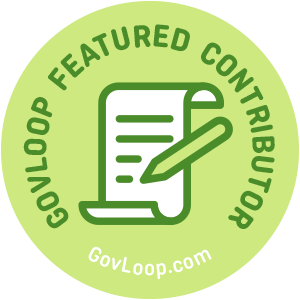 The Oregon Department of Transportation's (ODOT) Virtual Highway Corridor (VHC) Project has integrated data sources from across the agency and made them available through an internal web portal to provide a comprehensive snapshot to improve efficiency, safety, and accuracy. The solution provides users a single web-based application that can visualize data from ODOT's mobile lidar mapping system (lidar point clouds and panoramic photos), two camera digital video logs, and GIS datasets. The visualization windows are synchronized with each other so that when a user moves through a specific dataset, the other visualizations move with them.
Previously, access to lidar data was constrained to users that had access to Computer-Aided Design and Drafting applications and available storage space on their computers for the large files. The benefit of the VHC solution is that the data is now available to everyone at ODOT with only the use of a web browser. The user can view a panoramic image, similar to Google Street View, but what sets this product apart is that the image is tied to a 3D model that can be used to make accurate (typically +/- 0.05') measurements directly on the image. When making a measurement, the coordinates are individually queried when selected, thus greatly reducing the required network bandwidth compared to moving full lidar datasets over the network. The point to point accuracy for measuring is fairly consistent, but identifying individual coordinates (latitude, longitude, and elevation) can be off by up to 100' depending on GPS satellite conditions. While this is an extremely powerful tool, it is not intended to replace anything that requires a professional engineer or land surveyor.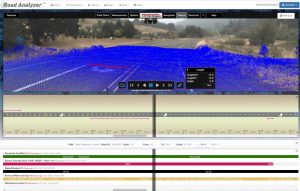 The mobile mapper lidar data is integrated into another web-based application that leverages existing GIS data to create dynamic and customizable straight-line charts. The user loads a section of roadway (up to 20 miles at a time) to produce both a cartoon representation of the selected roadway features and individual bar diagrams of roadway data. The displayed data is controlled by the user so that particular datasets can be turned on or off, represented by different symbols/colors, and placed on different areas of the screen. Metadata is available for the individual data item when the user either hovers over or selects the data element. The metadata can also be exported as a .csv file for further analysis. Redline collaboration tools are built-in so that basic shapes and text can be added and shared with other users.
When a historical perspective is needed, users can access ODOT's digital video log integration which provides up to 5 years' worth of imagery. This can provide context, views of how pavement distress has propagated over time, time frames when improvements were made, etc.
The overall goal of this project is to provide users a single location to access authoritative sources of agency data. This will allow for improved efficiency during project development or research, improved accuracy with access to lidar-based measurements, and improved safety by reducing the need of agency staff to collect data in the field.
For more information, please contact Christopher Harris, P.E. @ [email protected]
Applications included in VHC: Transcend Road Analyzer, Road Video Viewer, Report Engine; Virtual Geomatics Web Navigator, Virtual Navigator Pro, Virtual Navigator Server
Sarah Terry is a GovLoop Featured Contributor. She works with the Oregon Department of Transportation. She currently works in the Construction Section as an Administrative Specialist. She assists the Construction Training Program which certifies all of the inspectors and contractors for the State of Oregon. She also writes articles for the Construction Section that are featured in the Inside ODOT, an internal online publication circulated throughout the Highway Division. Some of her previous articles are also published in the APWA Reporter. Sarah enjoys gardening, backpacking, and adventuring with her two boxers Giselle and Leia.