Posts Tagged:

Featured Contributors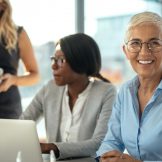 Take a look at some other benefits of lending your time and experience to an organization.

Read on to meet the new GovLoop Featured Contributors, who will be posting once a week for the next three months. We're excited to introduce you to them – and even more excited to read what they'll be writing about.

We've got a great line up with GovLoop's 16th round of Featured Contributors who bring all sorts of perspectives to the table.