A quick "infomercial" for a great service I've discovered…digital information meets the traditional offline print industry.
A common misconception about printing is that companies that offer offset printing and digital printing services are the same. However, offset printing and digital printing are two very different printing processes.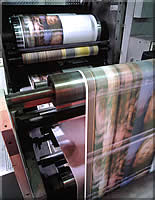 There are fewer restrictions and therefore many more options with digital printing – for example, being able to get prints in customized sizes and shapes. It's a very fast process and posters, fliers, brochures, booklets, manuals, direct marketing materials, and other printed materials can be produced and delivered within days.
There are numerous digital printing companies available on the Internet, and selecting the right printing company and digital printing services to meet your needs can be a daunting task. One solution is to find a trusted resource that does the hard work for you – negotiating services, ensuring expert bids, making sure the print services are technically accurate and complete. Printing Industry Exchange for example, allows you to fill out one simple online quote request that's then distributed to hundreds of digital printers – who compete through a private bid service for your business. This service is free of charge, and within 24 hours commercial printers will send their bids directly to you. All business transactions are between you and the printer doing your job – no print broker or middleman.
Digital printing is extremely cost effective and an eco-friendly alternative to traditional printing, utilizing plate-free technology to produce full-color prints. The result is an inexpensive print that is faster and creates less waste. The ink doesn't absorb into the paper of a digital press, instead sitting on top of the substrate, forming a layer on the surface. Digital printing is generally better for smaller print runs that may require a very fast turnaround.
Printing Industry Exchange allows only trusted online digital printing companies to participate in their online print bid service – so you can rest assured that the printing technology will be very current, the print quality will be superior and the professional services absolutely top-rated.