Do you know what emergencies you could face in your area? Being prepared starts with an understanding of what are the most likely "emergencies" you will face. It may be as simple as being locked out of the house or a flat tire or as crazy as being evacuated for a flood or fire.
Obviously, it is not possible to foresee every possible incident that could be considered an emergency, but is important to have a basic level of understanding of what the hazards are in your area. Do you know what to do and what you will need?
Having some basic gear, tools and lists can be a comfort, if not a life saver. So the first step is to create your Emergency Preparedness Plan. Next would be to prepare your gear, a few "bags" of supplies. Finally, is to practice, get your communication lists, evacuation plans and do a family or work drill for the top few situations for your area.
Where I live we have a long list of potential hazards.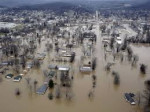 Floods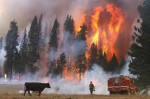 Terrorist attack (BAF Base is nearby)
Pandemic
Technological and accidental hazards
Other wild weather like high winds and extreme temperatures.
Have an Emergency Preparedness Plan:
There are lots of resources online for checklists and instructions. For the Boy Scouts there is a great worksheet that I believe is a great place for everyone to start.
Just as there are many organizations like Red Cross, FEMA, etc., there are many sites that you can use to help build your emergency plan. The most important part is that the plan needs to be YOURS. I will include lots of links take some time so see what other people think you can do. I found this to be a very educational process. As you get started putting together your work/family Emergency Plan here are a few things to think about.
Have handy your local emergency contact numbers.
Have a family communications plan.
Take advantage of training opportunities.
Make sure kids and elderly have copy of the plan too. They have emergency contacts and supplies.
Do you have an evacuation plan?
Have a Security Checklist for home and work. (American Red Cross Ready Rating)
Can you "shelter in place" at your home?
Do you have animals or people who cannot take care of themselves?
Check out your communities resources. Does it have a community emergency plan?
Does your house have a 30' fire buffer? Defensible space they say 30 should not have highly flammable plants 100' should be kept moist or mostly clear. Italian cypress is extremely flammable.
Have at least 1 person CPR certified/trained in your family.
Stay informed. Know how your area will notify you. Have a weather radio.
Non-Urgent Situations staff MUST await PARENT permission before treating a minor. Do you have someone who has permission? 
Know your gear
Your WORK – We spend many hours away from our homes. Having an extra pair of clothes including socks and shoes, basic hygiene, 1-2 days' worth of calories in snacks and at least a gallon of filtered water (or a life straw). Check that your workplace has a stocked first-aid kit; if they do not have one get your own for in your desk.
Your CAR – The basic first aid kit is a great place to start for your car kit. Life straw, or a water filter option and a blanket are also great first step items.
3 DAY BAG – This is super important if you are working as an emergency response person or would like to be able to volunteer as one. Do you have a bag you can grab? If you could not get back home for a few days, with this you would have clean clothes, hygiene, snacks, copy of emergency contacts and papers, sleeping bag etc. If you needed to evacuate and had only a few minutes, you would have some of your essentials.  As with all the "bags" your elevation, weather, health, age, family, and more all play important factors into this bag. I am 5'4" 125 lbs. I know a bag over 50 lbs. is hard for me to manage. If you pack up everything you need but cannot lift the bag it is time to rethink the pack. So pack your bag and see if you can walk around the house or maybe go on an overnight camping (can even be in the back yard). FEMA and Red Cross have some great info. Here is a list from the FEMA site.
Consider the needs of all family members and add supplies to your kit.
Suggested items to help meet additional needs are
Medical supplies (hearing aids with extra batteries, glasses, contact lenses, syringes, cane)
Baby supplies (bottles, formula, baby food, diapers)
Games and activities for children
Pet supplies (collar, leash, ID, food, carrier, bowl)
Two-way radios
Extra set of car keys and house keys
Manual can opener
Additional supplies to keep at home or in your kit based on the types of disasters common to your area:
Whistle • N95 or surgical masks • Matches • Rain gear • Towels •Work gloves
Tools/supplies for securing your home • Extra clothing, hat and sturdy shoes
Plastic sheeting • Duct tape • Scissors •Household liquid bleach • Entertainment items • Blankets or sleeping bags
At a minimum, have the basic supplies listed below.
Keep supplies in an easy-to-carry emergency preparedness kit that you can use at home or take with you in case you must evacuate.
Water—one gallon per person, per day (3-day supply for evacuation, 2-week supply for home)
Food—non-perishable, easy-to-prepare items (3-day supply for evacuation, 2-week supply for home)
Flashlight
Battery-powered or hand-crank radio (NOAAWeather Radio, if possible) • Extra batteries
First aid kit • Medications (7-day supply) and medical items
Multipurpose tool
Sanitation and personal hygiene items
Copies of personal documents (medication list and pertinent medical information, proof of address, deed/lease to home, passports, birth certificates, insurance policies)
Cell phone with chargers
Family and emergency contact information
Extra cash • Emergency blanket • Map(s) of the area
Practice, practice, practice!
When a situation arises, you are likely to respond the way you have practiced. It is recommended to do a yearly review and updates to your plans: communication lists, evacuation plans and inventory. So if it is your first time or your 50th you can do a family or work drill for the top few situations for your area. Having your family communications, evacuation and shelter in place and plans practiced and ready can give you the peace of mind to be able to help your community. Many more people would be willing to help if they were confident that their family was safe.
There are many great videos that can help get you started.
Kids
Some of my favorite websites for fun information