It's that time of year when we start to reflect, take stock and thank the people around us who make our lives better. Recognizing public service employees should be foremost in our thoughts; after all, our employees are the people with whom we spend the most time over the average workweek.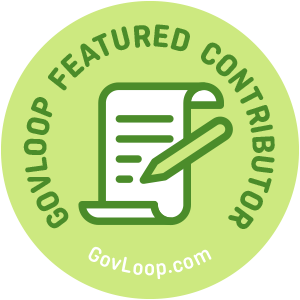 Yet in government, we tend to think of employee recognition as a "program" that gets added on to our annual work cycles. Usually managed by the Human Capital office, recognition programs normally involve managers submitting formal nominations using performance-based criteria. Agencies are known to get creative and design a diverse set of recognition categories, including peer awards, team spirit and "unsung hero" for the quiet contributors. But regardless of the category, managers are forced to choose which employees to nominate for the established criteria, and employees essentially are competing for who will get the "prize" — whether that's a plaque, a ceremony or even a small amount of cash. This can make the recognition process feel like just another bureaucratic routine that fails to address each and every employee's need to be seen and recognized for delivering consistently good work and even going above and beyond.
The last thing we need is any roadblock to action that inhibits government organizations from creating employee experiences that will attract and retain the talent needed to serve their communities. Employees around the world say they want to be treated better. And research shows that recognition is one of the top drivers of employee experience. The US Surgeon General's Framework for Workplace Mental Health and Wellbeing acknowledges the simple truth that "people want to know that they matter to those around them, and that their work makes a difference in the lives of others. Knowing you matter has been shown to lower stress, while feeling like you do not can raise the risk for depression." 
Given the current talent crisis, governments simply must do better. So how can government managers and leaders adopt a fundamentally different approach to employee recognition?
 Personalize Recognition
Imagine a world that's the opposite of the bureaucratic recognition program described above. Employees want to be recognized in ways that are meaningful to them. And every individual employee has a different idea of what that looks like. Some employees may relish being called up onto the stage to be publicly recognized by their agency head. Others may consider this an awkward and even intrusive experience. People managers first must ask each of their employees how they want to be recognized. Then take the actions needed to provide those moments when employees have earned them.
What is key here is listening with intention to understand each team member's unique preferences and acting on that feedback. 
Make Recognition Spontaneous
How many times as a manager have we had to complete a formal nomination, which required us to reconstruct the story of how an employee made a difference to our organization? Yet three-quarters of people surveyed by Deloitte said a simple "thank you" is enough. What if we could say "thank you" in the moment — by sending a quick personal note, or calling out an employee's contribution on a shared communication channel? Especially in digital environments, managers can use these moments that matter to create a closer bond between their team members and their organization – resulting in even higher performance. Gratitude has no bounds, and a culture of appreciation breeds both productivity and positivity.
 Design for Differences 
Understanding the root causes of individual preferences can help managers create consistency even across hyper-personalized approaches to recognition. By analyzing how preferred forms of recognition differ across segments of their workforce, managers can uncover patterns along demographic groups. Age, gender, culture and even geographic location can help managers understand the "why" behind the "what" of employees' preferences. This builds the empathy that managers need to create a culture of inclusion and belonging — which results in better experiences, higher levels of engagement and improved performance.
So as you give thanks to the people in your life, make sure you include your employees. Every one of them gives their time, their talent and their commitment to our government organizations. They deserve every bit of gratitude we give them.
---
Dr. Sydney Heimbrock is Chief Industry Advisor for Government at Qualtrics, where she uses her global experience transforming governments through investments in workforce development and policy reform to help federal, state and local government organizations design experiences that build public trust.