City leaders across the US are grappling with a severe shortage of affordable housing—an issue that can be traced to a lack of inexpensive new housing often due to exclusionary zoning. In Seattle, they are taking a geographic approach to this largely geographic challenge, with help from a new consumer website.
The Seattle City Council reformed zoning laws around accessory dwelling units (ADUs) in 2019, making it easier for homeowners to build and rent out backyard cottages or mother-in-law apartments on their property. The city's Office of Planning and Community Development (OPCD) followed suit by launching a map-based website for constituents, called ADUniverse, that guides homeowners through the process of adding structures.
The result: a nearly 60 percent increase in newly permitted homes, including almost 4,000 built.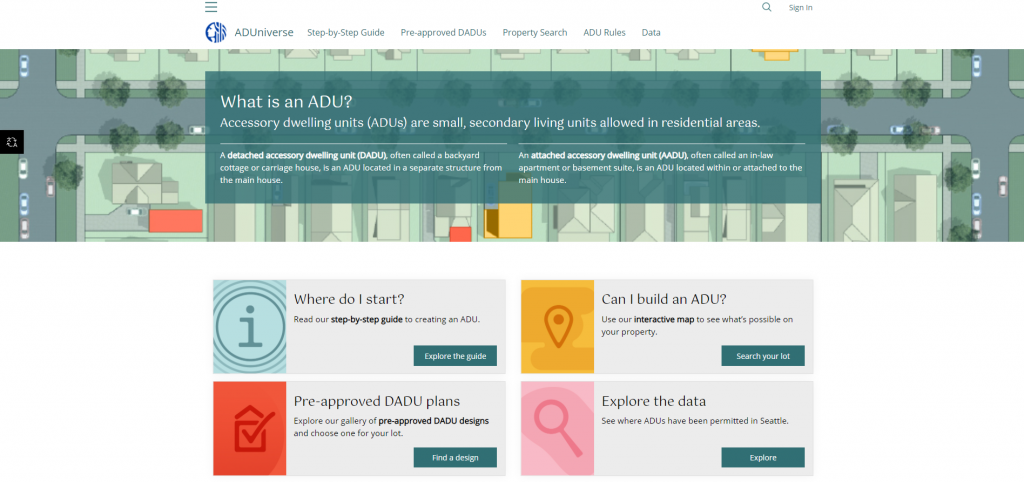 Mapping Where New Housing is Possible
Seattle is among the top 20 cities nationally with the most significant housing shortages. Yet restrictive single-family zoning takes up over a third of the city — some 30 square miles.
Seattle's population nevertheless grew over the past decade by 25 percent.
Many of the Seattle residents seeking a home within their budget include older adults who want to downsize, seniors with fixed incomes, homeowners with disabilities, multigenerational families, or others with lower- and middle-income households. Housing options in the city were often out of reach due to price, accessibility, quality and safety.
While ADUs presented a practical and affordable solution, staff at the OPCD needed a way to educate homeowners about changes in zoning laws and help them navigate the process of new unit construction. So, they created ADUniverse, a community engagement web application that displays data on an interactive smart map. The website, built with geographic information system (GIS) technology, delivers location intelligence in a way that facilitates collaboration and communication among homeowners, city planners, and developers.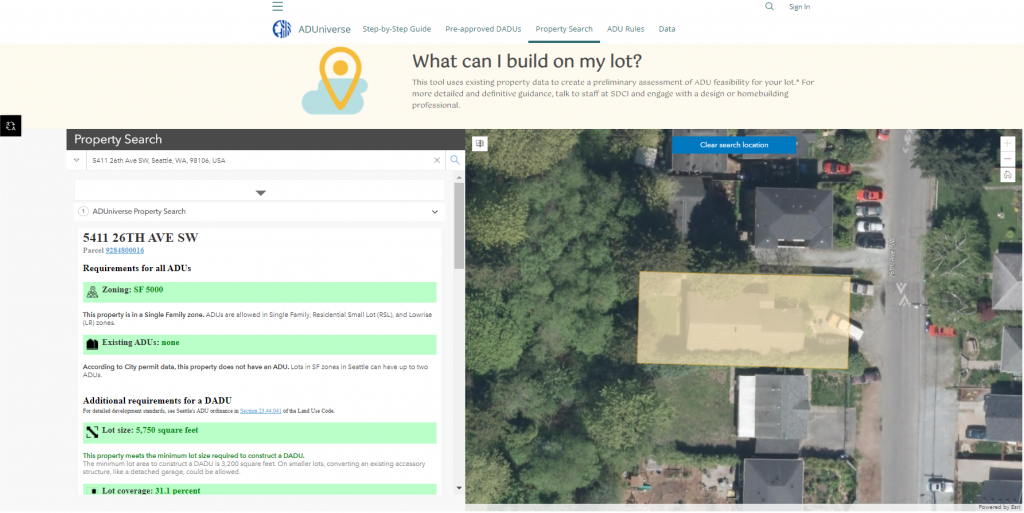 "We do a lot of GIS work on where development is happening in Seattle in general and analyze that as well as housing affordability data we get," said Nick Welch, Senior Planner for the city of Seattle, OPCD. "The ability to present all this in one place … and to do so without needing much technical coding expertise, was attractive."
Building Easier and Building More
On ADUniverse, Seattle homeowners can see whether their property qualifies for an ADU, find information about zoning and follow a step-by-step guide for permitting and construction. On the site, an interactive map shows where to build, provides a set of preapproved designs and allows residents to explore the locations and types of currently permitted ADUs.
Using a map to inform and support the ADU initiative seemed only natural to the city's planning team, according to Welch. "I can't think of a project or policy effort related to housing where we haven't been asked to analyze things spatially or consider how a proposal would affect a certain area," he said. "It's totally part of our process to understand that spatial dimension."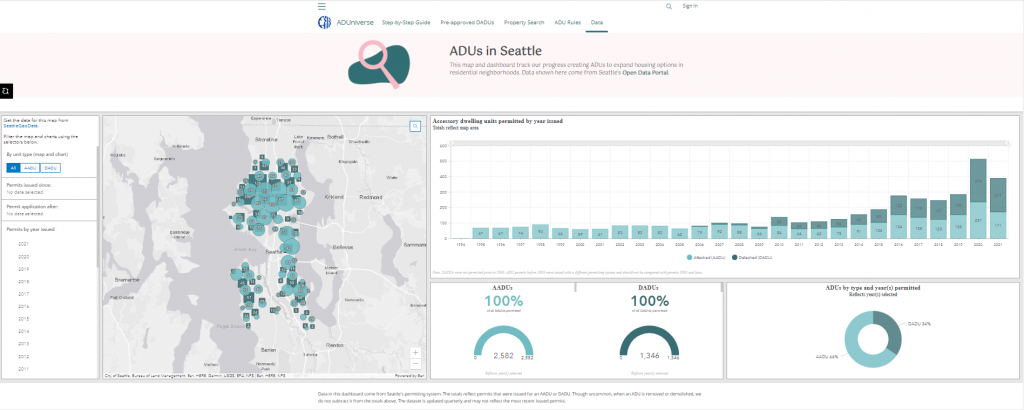 Following the success of its housing push, Seattle leaders are moving the city in a more equitable direction. The GIS data collected through ADUniverse allows OPCD staff to better understand each neighborhood and see who benefits from the newly built housing. Planners are using that information to better identify and meet the needs of underserved populations.
And other cities can take this same geographic approach, using a community website and location intelligence to provide more options for residents and ensure equitable access to housing.
Interested in becoming a Featured Contributor? Email topics you're interested in covering for GovLoop to [email protected].
Christopher Thomas is the director of government markets at Esri and a founding team member of the Industry Marketing Department. Prior to joining Esri in 1997, he was the first GIS coordinator for the city of Ontario, California. Thomas frequently writes articles on the use of GIS by government. Follow him on Twitter @GIS_Advocate.
To learn more about how GIS can help governments foster more sustainable and equitable housing policies, visit esri.com/en-us/industries/housing-homelessness/overview.