An hour outside Atlanta, a five-acre, one-megawatt array of solar panels fills the grassy area of the diamond-shaped interchange where the southbound I-85 freeway crosses U.S. Highway 27. The array powers the 50 LED streetlamps on this previously unlit stretch of asphalt, and excess electricity goes directly to Georgia Power's grid. The Ray, an Atlanta-based nonprofit that partially underwrites this installation, hopes it serves as a guiding light for America's sustainable energy future.
This solar project sits on highway right-of-way (ROW) land, and it is part of a movement to transform these typically shade-free buffers into sites for generating power. 
The Ray estimates many states have enough federal interstate freeway ROW land to support thousands of acres of solar arrays. Interchange acreage alone, like the ROW used for the Exit 14 project, could generate 36 terawatt-hours of electricity, enough to fully charge 12 million electric vehicles each year. 
But, solar arrays require specific conditions, and their size can be disruptive. To find the perfect spots, planners at the Ray conducted geospatial analysis using a geographic information system (GIS). They worked with open data to identify and display the state's 238,000 acres of highway ROW. Map layers revealed attributes of interest such as proximity to electric transmission lines as well as off-limits protected areas or undesirable high-density regions. Anything too close to railroad tracks or pipelines—or too far from electrical lines—was also automatically subtracted from the map.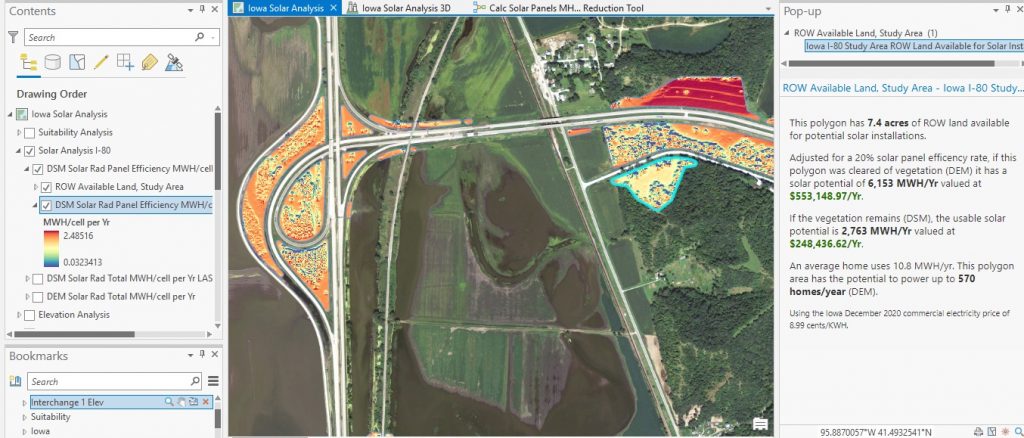 The analysis then ranked possible locations by suitability, considering such variables as solar radiation—a calculation derived from a 3D terrain model showing elevation and trees that cast shadows. The net result was 38,000 acres of prime solar-ready land. Based on the tool's calculations, arrays on those polygons could produce five million megawatt-hours per year, worth about $400 million.
Understanding the Benefits
The Ray is currently discussing 10 projects for sites across the country, including in Austin, Texas and Charleston County, South Carolina. Making these happen requires negotiations with local governments, contracted tollbooth and turnpike operators, and state-level transportation departments.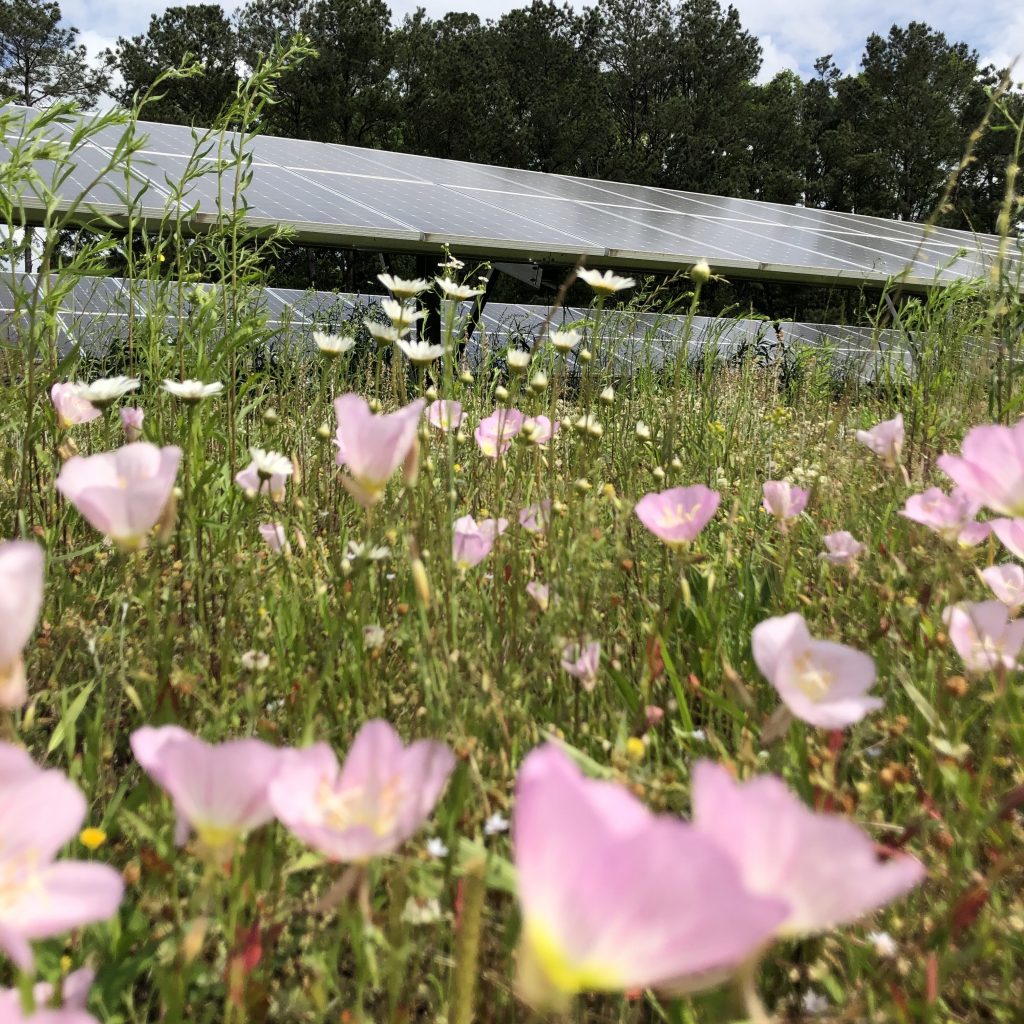 To illustrate the scope and benefits of these projects, the Ray uses a GIS-based digital twin of a highway area. The detailed visualization, which includes a 3D representation of the landscape with solar panels installed, helps stakeholders gain direct contextual understanding of a project.
"Transportation engineers know about asphalt, concrete, bridges and signage," said Allie Kelly, the Ray's executive director. "When we start talking about solar panels, this is infrastructure that isn't native to them. The digital twin normalizes it."
The twin can provide an exact replica, including the size of the panels and the width between rows. It can take the viewer down to the ground level, and even show how the array will look from various vantage points.
"It allows a transportation department to get comfortable with a solar array, but it also allows it to think ahead to the community's perspectives," Kelly explained. A rise in the land, for instance, might mean that the solar arrays will impact local viewsheds.
Seeing Risk and Reward
The digital twin tool can also provide real quantitative data to assess the economic value of ROW arrays. How much sun will the site receive, based on weather data? How much will the generated electricity be worth, based on local rates? A transportation department might therefore work out a power purchase agreement with a local utility. Perhaps some of the power could be used to increase the number of electric vehicle charging stations.
"Trying new things in transportation is just inherently risky," Kelly said. "This tool is designed to mitigate those risks. It's all about values and equivalencies."
Christopher Thomas is the director of government markets at Esri and a founding team member of the Industry Marketing Department. Prior to joining Esri in 1997, he was the first GIS coordinator for the city of Ontario, California. Thomas frequently writes articles on the use of GIS by government. Follow him on Twitter @GIS_Advocate.
Interested in becoming a Featured Contributor? Email topics you're interested in covering for GovLoop to [email protected].