I give up. You win.
I know I'm missing something, and I'm jealous of how you make it work and still get things done.  How do you do it? There is just too much information to consume: emails, news sites, social media apps, and even GovLoop posts.
I turned to some previous blogs to get help, and maybe you can share some of your secret squirrel tricks too.
@ShannonDonelson cited communications expert Dr. Diane Gayeski: "Not only is a lot of communication wasted, it's actually DETRIMENTAL to organizations. Much current research says that mistakes and poor performance happen now more frequently because of info overload than from a LACK of info….employees become overloaded and make mistakes, get distracted from what they should be doing, and get mixed messages."
Well, that makes sense. All the irrelevant info I get from my organization definitely gets in the way of my Facebook time, and there are more and more social media choices every day. Does our work unit need a Snapchat account?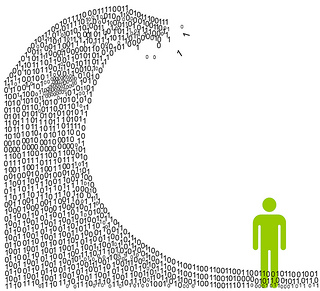 "It's important to find your niche – know what is really working and where the conversation is taking place….It's important to have peripheral awareness of what is happening in the market, but not always necessary to be on every network." Thanks @pjfiorenza, I can live with that. Hey, are you on Linkedin?
But what about email?  I check it all day long, and I still can't keep my inbox clean…
In her series, Taming the Emailstrom, @CourtneyHunt says "don't open emails unless you're willing to answer them" and "don't open email first thing in the morning" (I'd better start tomorrow on that one…).   @sressler also posted on the email overload issue a few years ago and got some great tips from the community. How's that going for you, Steve?
This all sounds great except that I want people to read my super-important emails to them too.  We've got a great stakeholder newsletter that goes out, but I'm sure no one would filter that one out, right? I'll have to turn to @avdhammond's advice on how to maximize my communications reach.
In closing, I think Marc Cortez's guidance is sound. Thanks for posting that @XinWen.
"Practice and master the ability to differentiate the urgent from the important."
What are your strategies for keeping up?
Dave Barton is part of the GovLoop Featured Blogger program, where we feature blog posts by government voices from all across the country (and world!). To see more Featured Blogger posts, click here.