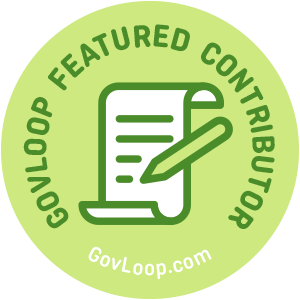 In order to build a sustainable, data-enabled culture to advance an agency's – or a community's – most important priorities, CIOs and other government leaders can achieve buy-in and momentum by using data to solve specific problems. When early data analytics initiatives are paired with precisely defined use cases, immediate benefits to the organization and staff are realized. This strengthens the case for implementation of longer-term data strategies.
Identify Opportunities that Make a Difference
To really move the needle in a way that sustainably transforms the organizational culture to a data-driven one, agencies need to progress beyond these initial ad-hoc use cases. They can do this by strategically harnessing the creativity and operational know-how of departmental staff to identify analytics opportunities enterprise-wide. Department personnel and front-line staff know best where pain points and potential solutions lie. They should be empowered to identify analytics opportunities that could address common operational issues.
In New Orleans, for example, the Office of Performance and Accountability developed a typology of analytics projects that equips front line personnel and department heads with a generic set of "recipes" on how analytics can be applied to address common pain points. After introducing this typology enterprise wide, the first call for proposals yielded more than 20 viable project ideas. The office strategically selected projects with the greatest likelihood of impact, strongest alignment to city policy priorities, and that best enabled capacity development for future projects.
Cultivate a Roster of Partners
The network effect of cultivating potential projects means that the number of successfully resourced projects grows exponentially. Cultivating a roster of potential partners from academia, nonprofits, and industry adds additional resources to the equation.
L.A. County, for example, found a partner in the University of Southern California's Price Center for Social Innovation. The result was an online initiative, Neighborhood Data for Social Change. The platform aggregates neighborhood-level data across 10 policy areas for county staff, residents, and other stakeholders to track measurable change and improve policies and programs.
Many of this year's Smart Cities Council Smart Cities Readiness Challenge finalists leverage these types of partnerships, which contributed to their recognition.
Baltimore, MD, formed a committee of staff and residents to collaborate to better protect residents from flooding, address the opioid crisis, and eliminate the digital divide.
Dallas, TX, is integrating transportation decision-making with housing, economic development, equity, and the environment.
Edmonton, Alberta is joining with neighboring jurisdictions, universities, and community groups to pursue innovation.
Montgomery, AL, is using strategic public-private partnerships to advance the city's vision through A.I. technology, and proactively assess road conditions. Partnerships with schools and community centers are increasing public access to WiFi.
Racine, WI, is using partnerships to help develop a new downtown innovation center.
As opposed to tackling one ad-hoc project at a time, cultivating a cache of shovel-ready projects and potential partners to deliver on those projects leads to far more efficient opportunity-resource matching.
Become Matchmakers
The crux of this strategy is to form a data analytics team not as a vertically integrated, full-service shop, but as highly skilled matchmakers, whose role is to cultivate and curate potential projects, and then match those projects to in-house or external resources.
Read Why Leaders Must Create Connections, and 3 Ways Leaders Can Create Connections for more insight into creating a data-enabled culture and driving a long-term digital strategy.
Meredith Trimble is a GovLoop Featured Contributor. She is a former municipal official and Town Council Acting Chair, who focused on strategic planning, annual budgeting, and bonded infrastructure projects. Her government experience also includes posts in both federal and state-level executive branch agencies: Associate Editor of the U.S. Federal Election Commission's FEC Record; and Director of Education for the CT Office of State Ethics. In her current role as a Senior Content Specialist with Tyler Technologies, Inc., she writes content to help empower those who serve the public. You can read her posts here.