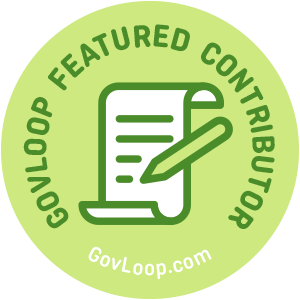 In Why Leaders Must Create Connections, we explored why leaders need to drive a long-term digital strategy to create strategic connections. In this space, we'll cover the "how."
Adapting for Digital Maturity
As noted by Ron Heifitz in Leadership Without Easy Answers, "Public leaders fail when they confuse technical problems and adaptive challenges." Moving towards digital maturity includes modern technology. It includes integrating systems. But it's more than that. Really moving the needle requires changes in organizational norms and behavior.
This happens through leadership influence and change management. Government innovation becomes a reality when people are appropriately trained and paired with a technology investment. Success in an organization cannot be measured just by datasets integrated or rows downloaded. Real success occurs when employees are empowered by data to make more informed decisions and improve performance iteratively. This simultaneously improves trust with coworkers and residents.
To realize the promise of strategic connections and achieve results, leaders can take the following steps:
Set a vision and link to outcomes.
Leaders should set the organization's direction and help employees see the forest through the trees. The vision is strengthened when outcomes are aligned to the organization's strategic priorities.
The natural link that forms between vision and outcomes is effective measurement. Instead of a bunch of performance measures that baffle people with data, modern transparency tools can show stakeholders how goals are being met in near-real time. Memphis, Tennessee for example, was recently recognized by Bloomberg Philanthropies in this area. The city achieved 2019 What Works Cities certification for improving services through a Good Government Performance dashboard. The dashboard tracks measures such as 911 response times, crime rates, and more.
Further, making these measures accessible to the public and legislature improves trust, engagement, and buy-in. Accessible measures show the actual return on investment, something important to legislators and constituents.
Show, don't tell, the value of connections.
Solve problems and let the rest follow. Sometimes it really is that easy. When leaders marry newfound capacity with discrete problems, data's value is readily apparent. Additional capacity builds up over time with increased buy-in. Whereas a data analytics initiative may start with the study of the best measures or the landscape of available data, it is more productive to focus on specific applied data projects that address urgent needs and develop capacity along the way. This flips the conventional "capacity-first" approach to a "problem-first" one. Leaders must:
Assess the policy problems facing the community and service delivery, as well as the availability of related resources.
Study the operational challenges faced by those working to address the problems day-to-day.
Develop prototypes of interventions that help address those challenges.
Use feedback on those prototypes to refine the interventions.
Operational impact, stakeholder buy-in, and successful long-term implementation of data strategies are strengthened if initial data analytics initiatives are paired with precisely defined use cases.
Empower your staff.
Provide staff with access to data, and the skills that allow them to make sense of that data, as well as leeway to make adjustments in their own work based on what the data reveals. When employees are empowered to use data to derive and communicate around insights critical to their work, their buy-in of executive or overall strategic direction grows. Not only that, their front-line expertise can be meaningfully used to solve real-world problems.
This type of performance management compels everyone to look at data and make data-driven decisions. An intangible benefit is that data can take emotion out of decisions and make tough conversations easier. Moving from silos to sharing can come with a learning curve, as managers decide which data to share, how it will be analyzed, and specifically how it can move teams forward. The bottom line is to empower staff so that better-informed decisions – from budgeting to resource allocation – will make their daily work lives easier while also improving service to the community.
Start Now
Given the rapid evolution of technology, the Internet of Things, and the public sector workforce, embarking along a path of digital maturity cannot wait. And although the necessary innovation is digital, it cannot be delegated to IT. Executives must own it.
Establishing a long-term vision, creating buy-in through early successes, and empowering staff are crucial steps that only leaders can meaningfully take to address this evolution's adaptive challenges and create a truly data-enabled organization.
Meredith Trimble is a GovLoop Featured Contributor. She is a former municipal official and Town Council Acting Chair, who focused on strategic planning, annual budgeting, and bonded infrastructure projects. Her government experience also includes posts in both federal and state-level executive branch agencies: Associate Editor of the U.S. Federal Election Commission's FEC Record; and Director of Education for the CT Office of State Ethics. In her current role as a Senior Content Specialist with Tyler Technologies, Inc., she writes content to help empower those who serve the public. You can read her posts here.