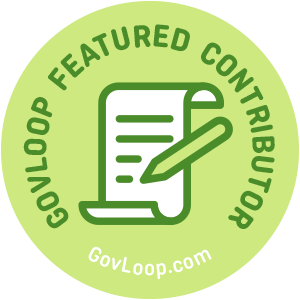 Heading into a new decade, governments of all sizes are bombarded with messaging around moving into the cloud. In this month alone, GovLoop has featured eight cloud-focused articles, from realizing the cloud's potential to avoiding associated pitfalls. It's a hot topic, as the cloud offers significant promise for the public sector.
That said, the cloud is also a new frontier for an industry that is historically risk-averse. What does it really mean for governments to move to the cloud? Do the benefits outweigh the challenges, and can a move to the cloud help government leaders attain their goals faster?
In considering a move off-premise, it may be useful to "get out of the clouds" and examine some practical, ground-level cloud successes:
Increase Efficiency in the Field
In too many scenarios to recount, the right technology can move even the smallest of staffs to big results. Marco Island, Florida, for example, has a non-tourist population of under 14,000 but uses cloud mobile solutions to improve its permitting and licensing operations. Inspectors can access critical documents at the permit level, GIS maps, and real-time scheduling on their iPads from the field. This eliminates return trips or calls into the office for information and empowers the front-line workers to do what they do best.
Gain Infrastructure Flexibility
In jurisdictions that are growing, departments that are moving to new offices or buildings benefit from flexible IT infrastructure. This flexibility comes, in large part, from getting out of the server business. Moving away from on-premise servers not only eliminates server maintenance costs, it decreases costs on leased data lines. Moving to the cloud eliminates fiber expenses in favor of high-speed connections that serve all outlying offices.
Achieve 24/7 Uptime
For municipalities and states, schools are a big part of government. The State of Kentucky's Department of Education has one of the largest K-12 cloud implementations in the nation. This gives every district in the state 100% uptime, increased response time, and data reliability without the maintenance; something the individual districts couldn't otherwise achieve on their own.
Refocus Saved Time on Constituents
At its simplest, moving to the cloud removes the technical pressure of maintaining the vast quantities of data governments produce and store. Saved staff time and physical space can be repurposed to areas of direct benefit to constituents.
Protect Critical Data
With a quickly evolving cyber threat environment and natural disasters such as fires and hurricanes, the security of the cloud is increasingly important. Jurisdictions with cloud disaster recovery systems can protect their data and keep critical operations – including processing payroll – up and running even in the event of a disaster.
The above examples illustrate that moving to the cloud can meaningfully move the needle in improving operations and service delivery. For governments of any size, eliminating IT burdens and lowering IT costs is also appealing. The cloud is an affordable alternative to purchasing and maintaining servers and allows governments to continue to innovate without large spends or additional staff.
As we enter 2020, public sector leaders should look for cascading instances of governments benefiting in practical ways from the cloud, with an eye toward how such a move can help jurisdictions reach their unique goals.
Meredith Trimble is a GovLoop Featured Contributor. She is a former municipal official and Town Council Acting Chair, who focused on strategic planning, annual budgeting, and bonded infrastructure projects. Her government experience also includes posts in both federal and state-level executive branch agencies: Associate Editor of the U.S. Federal Election Commission's FEC Record; and Director of Education for the CT Office of State Ethics. In her current role as a Senior Content Specialist with Tyler Technologies, Inc., she writes content to help empower those who serve the public. Her current focus is to help facilitate data-enabled organizations as well as to create connections between governments and those they serve. You can read her posts here.