Has a leader amplified your smarts and capability? Someone who grew you rather than stifled you? If so, this is your chance to help us put a spotlight on them and share their positive impact with the world.
Nominations for this year's Multiplier of the Year (MOY) contest have been extended to October 29th.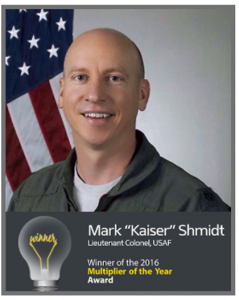 Multipliers are leaders who use their intelligence to amplify the smarts and capabilities of the people around them. When these leaders walk into a room, light bulbs go on, ideas flow and problems get solved.
To specifically recognize the contributions of government leaders, we have again included the Government/Military category.
The inaugural winner of this prestigious designation was Mark "Kaiser" Schmidt, Lieutenant Colonel, United States Air Force. He was nominated for creating "a positive work environment that questioned the status quo, welcomed bottom-up feedback, and purposely developed young leaders".
You can read more in our interview with Colonel Schmidt.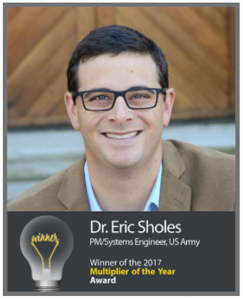 Last year's winner was Dr. Eric Sholes, Project Manager and Systems Engineer, United States Army. Dr. Sholes was nominated because "he comes in every day and spends hour after hour to make everyone better."
Nominating a leader is easy, simply visit our MOY nomination page and explain how they have demonstrated Multiplier behaviors. Don't forget to select the Military/Government category.
By nominating your leader, he or she will get the recognition he or she deserves and a chance to win some cool prizes, including a trip to San Francisco to attend a live Multipliers Workshop with Liz Wiseman, hosted at Tesla Motors.
All nominators (which would include you!) will be entered into our MOY Workshop Giveaway for the chance to attend the Winner's Public Workshop and Tesla Motors factory tour at no cost. Nominate your leader to be entered!
You will also need to select which practice best describes their leadership style.
Talent Magnet: Attracts and optimizes talent at its highest point of contribution.
Liberator: Creates a climate of safety and ambition that both invites and demands people's best thinking.
Challenger: Defines an opportunity that causes people to stretch.
Debate Maker: Drives sounds decisions through rigorous debate.
Investor: Delivers extraordinary results by instilling accountability.
Don't miss this chance to give back to a leader who has positively impacted your career.