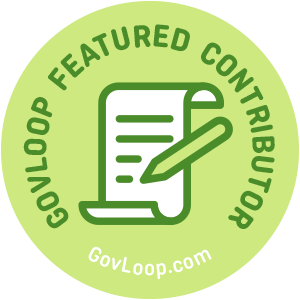 A career in public service offers various benefits, including the opportunity to make a difference. Whether through federal, state or local agencies, government employees work to enhance lives every day.
Still, we know that creating lasting change takes time in government. While there may be no better place to give back to our communities than through government service, you may not see the immediate results of your efforts.
So how should public service professionals stay motivated on the job? The answer is to discover work.
Your job vs. your work
"Your work is not your job. Your job is what they pay you to do; your work is what you were born to do." -Myles Munroe
Your work is your purpose in life. Ask yourself: "What was I born to do? Ideally, this purpose fulfills you both personally and financially.
We often hear about pursuing passions. Doing something you love is important, but in the context of work, this passion should also be something you can make an income from.
What if you aren't sure what your passion is? Or what you were born to do? Consider the following:
1. Solve a specific problem. People pay for solutions. Think about a time you were desperate for a solution to a problem you were facing. For example, if you have a severe toothache, you're willing to pay any price for a dentist to extract the tooth and bring relief. If you're struggling to discover your work, seek out problems in the marketplace and offer solutions.
2. Explore injustices that bother you. What in society makes you angry? If money or time where not factors, what causes would you dedicate your life to? It might be animal rights, mental health awareness or a particular civil rights issue. The organizations are out there, and they need your help.
Ready to get to work?
Ideally, your work should include the opportunity to earn an additional stream income. Doing something you love doesn't have to mean forgoing an income. Take a passion or skill from your job and apply them to your work.  Maybe it's a skill you utilize daily in your public-sector career, or a skill you've only applied to a hobby. Launching a freelance or consulting business based on an existing skill, for example, is a low-cost, flexible path to monetizing something you are already trained in or do well.
Pursuing purposeful work doesn't mean neglecting your job. You serve people every day through your public sector career. Still, there's always an opportunity to enjoy expanded personal and financial fulfillment by discovering and leaning into your work.
"Each of us has been made for some particular work, and the desire for that work has been put in every heart." – Rumi
Kelda Senior is a GovLoop Featured Contributor. She is a business development and accredited public relations professional from Florida. For the past 10 years, Kelda has served as a communications and community outreach specialist in local, state and federal government, with an emphasis on the transportation sector since 2012. Kelda is the owner of Senior Communications LLC, a boutique public relations firm focused on helping emerging brands cultivate their message and move their audiences to action. Kelda holds a B.A. in journalism and a master of public administration – both from the University of Central Florida in Orlando. You can read her posts here.