This blog post is an excerpt from our new report, Catching up to Cloud Smart: How to Maximize Your Data With Hybrid Cloud, download the full report here.
A hybrid cloud state is an environment with multiple types of clouds (i.e., public, private, community) working together, according to Federal Deputy Chief Information Officer Margie Graves. It allows agencies to move to the cloud without abandoning the convenience of their preferred on-premise solutions.
A multi-cloud state reduces reliance on a single vendor by giving agencies the flexibility to run multiple clouds in a single environment.
"Industries that are leading in technology innovation have also demonstrated that hybrid and multi- cloud environments can be effective and efficient for managing workloads."-Federal CIO Suzette Kent
Although a number of agencies are operating email, collaboration and even some mission-critical systems in the cloud, many are not. Some often don't know where to begin or are apprehensive about the cloud, data security, access to data and more.
These stats will help illustrate the  current state of cloud adoption, and where agencies are heading with cloud.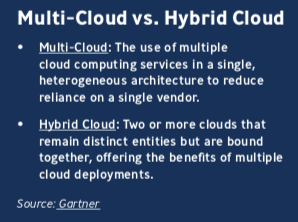 $28.85 billion
The government cloud market is
expected to reach $28.85 billion by
2022, according to the Government Cloud Market Global Forecast
---
64% completion
Agencies have already completed 14 of 22 Cloud Smart initiatives and have made substantive gains. The remaining goals are in progress, including updating the Trusted Internet Connection (TIC) Policy, according to the Federal Cloud Computing Strategy.
---
4 out of 24 agencies
The United States Agency for International Development, General Services Administration, Housing and Urban Development Department and the Education Department received an "A" rating
for their data center optimization initiatives in the latest iteration of the FITARA scorecard.
---
15 federal agencies' success
15 federal agencies reported receiving significant benefits from acquiring cloud services, including improved customer experience and more cost-effective options for managing IT services, according to the Government Accountability Office's April 2019 Report.
To learn more about hybrid cloud and the Cloud Smart initiative, download our full report here