Hey there. I'm Christopher Dorobek -- the DorobekINSIDER -- and welcome GovLoop Insights' DorobekINSIDER... where we focus on six words... helping you do your job better...
On GovLoop's DorobekINSIDER:
But up front:
GovLoop's DorobekINSDIER Book Club - #ELC2014 edition: The Medici Effect
I really like smart books -- anybody who has been a regular reader or listener knows that.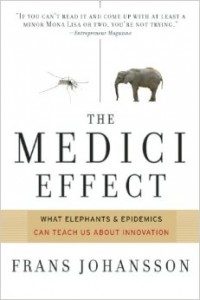 For the past several years, I have been playing host to something I billed as the DorobekINSIDER Book Club -- it is something like the Oprah book club but more wonky and more focused on my favorite six words: Helping government do its job better. Essentially we select a book that has implications for helping government do its job better… and we discuss. While at Federal News Radio, we would have the 'book club' on air -- discussing the book, often with the author and a handful of smart people.
We have featured some remarkable books -- books that I think have really resonated and still, even today, can help government do its job better… Amazing books like Daniel Pink's Drive: The Surprising Truth About What Motivates Us [read more and hear the 2010 'meeting' of the book club]... Peter Sim's Little Bets: How Breakthrough Ideas Emerge from Small Discoveries [read more and hear the 2012 book club 'meeting.']... and  The SPEED of Trust: The One Thing That Changes Everything by Stephen M.R. Covey. [Read more and find a link to the book club 'meeting' here.]
I am tweaking the concept a bit this time.
You may know I am volunteering with the American Council on Technology and the Industry Advisory Council on the annual Executive Leadership Conference, one of the big government IT events of the year. At that conference, Frans Johansson will be speaking about, among other things, his book, The Medici Effect: Breakthrough Insights at the Intersection of Ideas, Concepts, and Cultures. (Johansson has also written The Click Moment: Seizing Opportunity in an Unpredictable World.)
So… the book:  The Medici Effect: Breakthrough Insights at the Intersection of Ideas, Concepts, and Cultures by Frans Johansson
The Medici Effect, essentially, looks at innovation:
Why do so many world-changing insights come from people with little or no related experience? Charles Darwin was a geologist when he proposed the theory of evolution. And it was an astronomer who finally explained what happened to the dinosaurs.

Frans Johansson's The Medici Effect shows how breakthrough ideas most often occur when we bring concepts from one field into a new, unfamiliar territory, and offers examples how we can turn the ideas we discover into path-breaking innovations.
From the introduction:
The idea behind this book is simply: When you step into an intersection of fields, disciplines or cultures, you can combine existing concepts into a large number of extraordinary new ideas. The name I have given this phenomenon, the Medici Effect, comes from a remarkable burst of creativity in fifteenth-century Italy.
How the book club works - and how you can participate:
Starting next Monday, September 27, we will be discussing the book. I have asked a number of people -- many of them involved in planning the ELC conference -- will be offering their thoughts about parts of the book. Specifically, I will be asking them to be thinking about what the concepts in the book mean for government. Are there ways the concepts can help government do its job better?
I have also asked folks to comment on the posts -- to offer alternative thoughts, pose questions…
Finally, on Thursday, Oct. 16 at 12n ET, a group of us will have a LIVE discussion about the book.
I hope you will join in the discussion by reading the book… and offering your thoughts and insights about what it means for government.
The DorobekINSIDER #MustRead list:
President Obama signs a Continuing Resolution to keep the federal government open → http://t.co/83HJ8gnyEL pic.twitter.com/fkNty4lVrz

— The White House (@WhiteHouse) September 19, 2014
DorobekINSIDER water-cooler fodder
Before we finish up... a few items from the DorobekINSIDER water-cooler fodder... yes, we're trying to help you make your water-cooler time better too...