When people ask Vicki Hildebrand about her technology vision for the Transportation Department, her answer is simple yet bold: Be the best IT in government.
"Why should I shoot for second best?" Hildebrand said during a sit-down interview from her Washington, D.C. office. "Honest to goodness why? People laugh at that, but I don't care."
When I Initially reached out to Hildebrand's office for an interview, we were supposed to discuss the department's crowdsourced security testing pilot — a neat technique that involves breaking into your network to find vulnerabilities before attackers do. But the entire focus of our conversation shifted once that interview finally got on the books in December 2018.
Leading up to our interview, Hildebrand had already told her staff she would be leaving her post as DOT's chief information officer on Jan. 4 and returning to Vermont to be with her family. "There's a real sense of turning a page in my life, it's just not when I wanted to do it," she said. "But then, when do you ever want to do it?"
Her departure comes a little more than a year into her tenure, which began October 2017. Since then, she has been commuting between Vermont and D.C. every week. Her week starts on Monday with a 6 a.m. flight to D.C. and ends with a 10:20 p.m. flight on Thursday or Friday back to Vermont — depending if she teleworks. She beamed while telling me that she has never had to take a cab home because her husband drives her to and from the airport — greeting her after a long trip with a cup of black tea.
"If people understand that I've been doing this, I think it's more understandable when I say that I'm just needed closer to home, that my parents are there," Hildebrand said.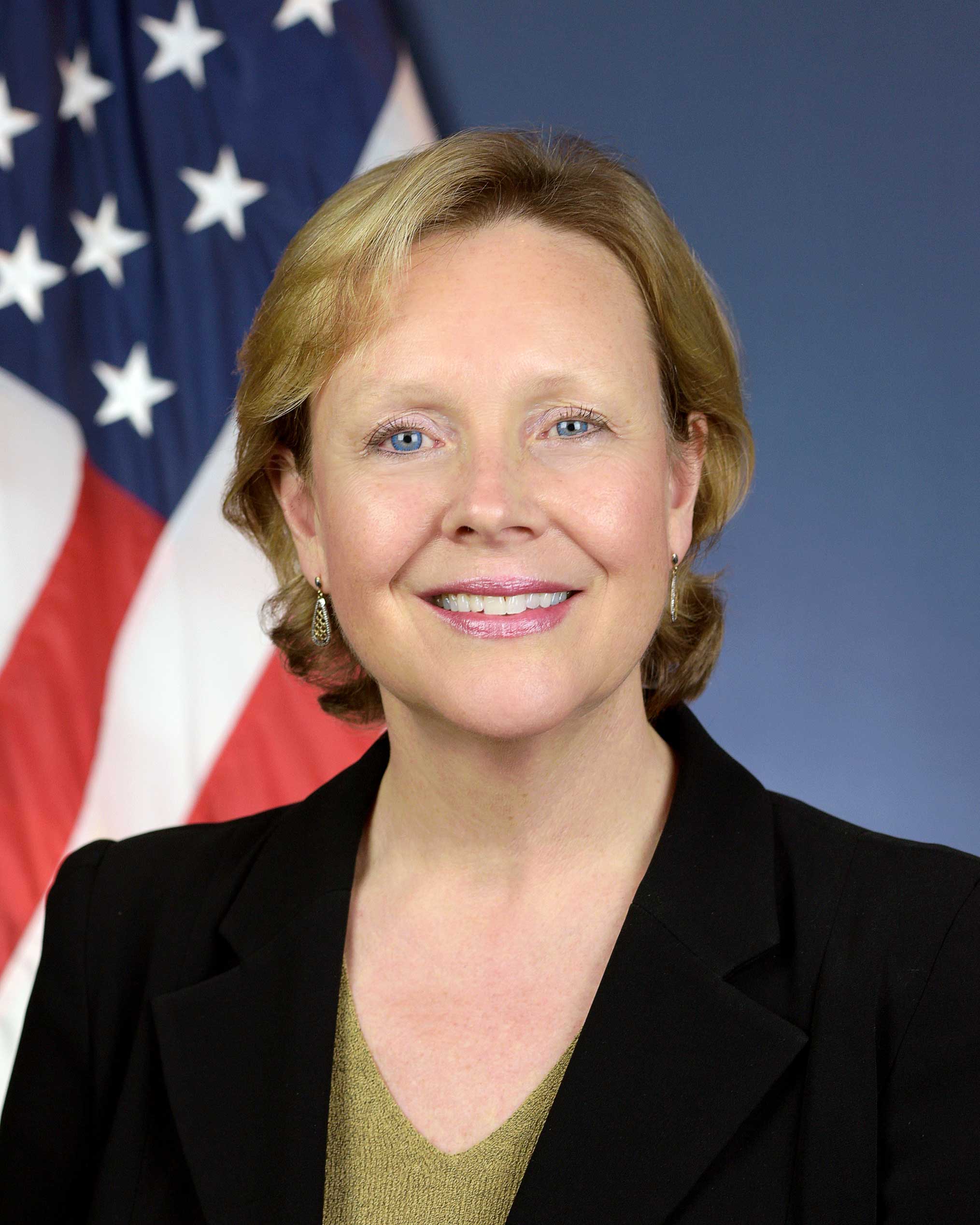 As DOT CIO, she has spent her time developing and executing against the department's IT transformation initiative called DestinationsDIGITAL. That effort is powered by nine Big, Hairy, Audacious Goals or BHAGs (pronounced BEE-hag). I chuckled when I asked her about them while also trying to recall any other government CIO who uses those terms. But Hildebrand will be the first to tell you BHAGs aren't entirely new. "You shouldn't give me credit for those because that's an old business school term," she said.
Hildebrand said the BHAGs are meant to be directional goals and include strengthening the federal IT workforce, eliminating one million hours of burden, shrinking the IT footprint and reducing malicious cyber incidents. (You can view the other BHAGs here).
"I will not do a plan for longer than a year because I am not clairvoyant," she said. "I do not know what is going to be out there in the world of technology. I can kind of predict over the next year." She noted that in an agile culture there is constant change, and tech leaders have to align their plans accordingly.
"So why write a five-year plan when there's no way you will ever implement what you write for that fifth year, or the fourth year, or the third year?" she asked. "It's just not going to happen."
BHAGs Drive Cultural, Workforce, IT Changes
During the interview, Hildebrand shared several progress reports outlining what DOT has accomplished under DestinationsDIGITAL:
DOT IT implemented Interactive Voice Routing in the department's call center after learning that 75 percent of operator calls were transferred requests. The team anticipates the automated system will save 3,760 hours annually, allowing IT to reassign two operators to other priorities.
The team consolidated about $500,000 separate Tableau software purchases into an enterprise agreement. Negotiations allow the department to increase the use of the software from 250 to 1,000 users and prices are 30 percent lower than buying on the open market.
The team also identified $15.8 million in opportunities for reinvestment over the next five years based on efficiencies from consolidating field support and wireless services, licensing adjustments and storage.
The Office of the Chief Information Officer launched a Workforce Development Program to identify, upskill and cross-train employees who are eager to learn about and work in cloud services.
DOT's Enterprise Cloud Services is developing a website to identify cloud training opportunities, and there's a marketing campaign in the works to attract new cloud candidates who are interested in migrating workloads to the cloud.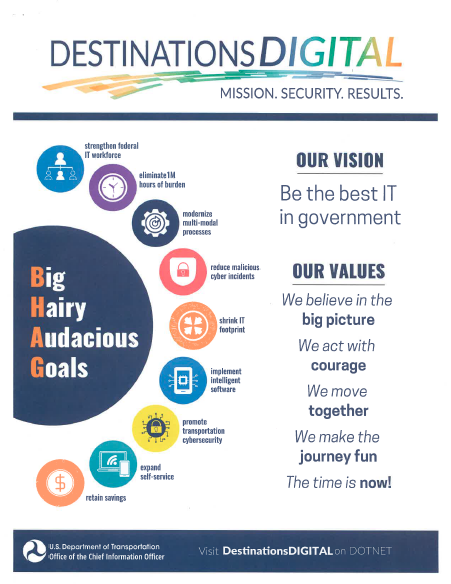 For Hildebrand, efforts like these are about more than reskilling employees. "When people say, 'Well, what is the end of your plan?' or 'What are you after?' I'm after a culture," she said. "And so, what I'm calling it is our modern IT destination. And I asked every one of my employees to put this on their wall," she said of the one-page document highlighting DOT's IT vision, values and goals.
Hildebrand also emphasized the importance of building trust across her team and with leaders at the DOT modes.
"I know when I arrived here, when I first met with the modal IT folks in the department, they thought of me as the Christmas help," she said. "I actually have had them come to me and say, 'You started to move the Titanic. You actually got this ship turning in the right direction. And I think it's because I really did feel strongly about what needed to be done. I have the Secretary's support. I have an amazing team. I tell my operations guy all the time, nobody is going to want to talk to me about the mission if you can't keep the back office up and running."
Having a Seat at the Executive Table
A big part of this culture change is empowering and expecting employees to own their work, she said. "This is particularly important in the government. Our federal employees too easily relinquish their work to the contract workforce." If the quality of the work isn't up to par or projects were not completed, the onus falls on the government.
Part of the problem for DOT and other government agencies is they don't have enough personnel with hands-on IT experience. "People will say they have IT experience because they oversaw an IT contract," Hildebrand said. "That is not IT experience at all. So I've tried to instill in people if you have contractors working for you, you had better know what they're doing, and know it well, and have that skill. You own your work."
One of the keys to Hildebrand's success at DOT is the support and backing she receives from DOT Secretary Elaine Chao.
She recalled a recent announcement that Secretary Chao made about DOT's BUILD grants. Several senators were in attendance and had reserved, front-row seats during the big event. Included in those front-row seats were every administrator for the DOT modes, budget leaders and Hildebrand.
"She includes me in her leadership team," Hildebrand said. "I sit around the table at her staff meetings. That makes a big difference."
She added, "there will be no bigger cheerleader for where this department is going and where the IT team is going. I'm just going to be doing it from Vermont, where home is."
(Photo Credit: Image from Wikimedia)