This article is an excerpt from GovLoop's recent guide, "Your Guide to Cloud Security in Government Today: Making the Most of FedRAMP." Download the full guide here.
IT modernization is a journey, not a destination, for federal agencies. It's a digital transformation that can improve an agency's cross-channel communications, business processes and web services for citizens. Cloud services keep this journey moving smoothly – but what happens when security slows down your progress?
In a recent interview with GovLoop, Jonathan Benett, Technical Director, Digital Government Solutions at Adobe, explained how using one set of cloud security requirements, such as FedRAMP, ensures your agency's digital transformation doesn't lose steam. Adobe is a leading provider of digital solutions to government agencies for improving the citizen experience.
Benett said that FedRAMP determines the cloud products and services capable of meeting your agency's cybersecurity needs.
"You're never done with innovation and security," he said. "Having cloud services in a FedRAMP environment makes it easier to adopt the advances in both."
Cloud, meanwhile, enables data analytics, electronic forms and signatures, web conferencing and other useful tools. Applications like these ultimately help agencies better serve the public.
"FedRAMP makes it easier to adopt these digital transformation solutions in an accredited environment," Benett said. "That environment has implemented, documented and tested a large collection of security controls that make it easier for IT organizations to then trust that their services are being delivered in a safe, secure and privacy-aware way."
Cloud's flexibility also means that it adapts to changes in security, services and technology. Secure cloud enables better citizen outreach, digital asset and rights management and web conferencing for agencies.
"All of the agencies that are pursuing digital transformation solutions can more quickly adopt them when they're delivered through the cloud," Benett said. "The alternative is updating the existing applications running in a data center and going through the security gauntlet again."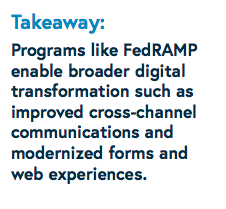 FedRAMP additionally enables secure digital and electronic signatures for agencies. Adobe's digital and electronic signature solutions let your agency respond faster and sign contracts with citizens quicker. Constituents, meanwhile, no longer need paper documents for signing forms.
"It's not just moving from paper to digital forms but making sure that those experiences are available on a wide variety of devices – smartphones, tablets, smart screens and home devices," Benett said. "It's also making sure that electronic correspondence and statements can be delivered securely online."