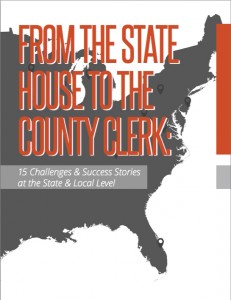 Protecting your people, places and data is of paramount importance for governments. One way to increase security is to add more video surveillance, but storing all of that data can overwhelm your system. Network video is changing how state and local governments view the traditional security environment. Network video systems are part of the evolution starting with guards at the door to fire alarms to advanced security systems. Now video surveillance is allowing law enforcement agencies to be in more places while still saving time and money. One of the leaders in video surveillance is NetApp's Global Solution Architect for Video Surveillance Solutions Ted Hayduk.
Hayduk was featured in GovLoop's From the State House to the County Clerk – 15 Challenges and Success Stories Guide. Here is a small excerpt from the guide:
How is video surveillance helping government run more effectively?
Hayduk: In the law enforcement or public safety arenas, video surveillance is used as a force multiplier. It's used to help the officer be able to identify suspects, document environments and be able to put cameras in different environments. For law enforcement it is all about the quality of the image.
In the legacy environment, you are limited on what you can do for resolution based upon the type of technology that was available for surveillance work. Now you have digital video, or IP based video and network-based video. You also have the growth from the cellphone world and smartphones with very high quality images, which brings the price down from the industry perspective. So now you look at this as more of an information technology opportunity rather than just a pure physical security infrastructure — and that allows change and growth to take place.
In law enforcement, accurate data is incredibly important in terms of compliance and safety issues. The better the image, the better you can accomplish the mission objective [keeping communities safe]. As the images get better and more affordable, we can accomplish different types of use cases.
Can you give an example of how the surveillance works in government?
Hayduk: NetApp's lineage goes back to the defense world. The Defense Department put a spec together for a modular system that uses standard power – it goes in a standard EI 19 inch rack and uses state of the art processing capabilities.
There were also disk storage requirements. The system had to use the best data integrity environments available, because the data that you're capturing isn't going to be backed up, it's going to be on aircraft carrier, in a control aircraft or submarine.
The system had to be very high performing, very high density, with robust data integrity, and also had to be maintained by a 19-year-old enlisted technician with limited IT servicing skills.
NetApp created that system. Now we have over 720,000 of these systems installed in every kind of embedded application that you can imagine. And it's not just in the Defense Department; you cannot buy food, use the internet, consume electronic media, travel or make a phone call in North America without directly touching our storage.
What makes NetApp's storage unique?
Hayduk: We can put a lot of storage in a very small footprint. We make it extremely reliable, and do so at a cost point that is very affordable over the lifecycle.
For example, a state juvenile welfare agency has 26 centers for troubled kids. The data on the kids is under regulatory authority and Center administrators have to keep the records for one year. Traditionally, administrators would use a standard security integrator that does not have the capability to store 32 terabytes per installation and couldn't standardize the data across 26 different locations. So that was a good use of our product — to be able to standardize a distributed application, provide them the levels of reliability and maintainability for a larger storage set, and then grow it.
What makes us unique is the relationship we have with IT organizations because we provide the storage for their other mission critical applications. So video surveillance is, in many cases, raising the bar in mission critical and true enterprise cause applications. And when we bring that skill and expertise to the table in the product sets that are designed and optimized to handle that capability, it makes life easier for the integrator because we've got a training program of how to support them.
To learn more about NetApp's surveillance and the 15 state and local innovations, download our new guide now!