During the Second Annual State and Local Government Innovators Virtual Summit, keynote speaker Akash Karia delivered a thought-provoking presentation on how to improve your communication skills to be as effectively as a TED talk presenter. Karia identified storytelling as the key for government agencies, and any public entity, to better deliver their agency's messages and communicate with constituents.
This got me thinking. As an avid social media user, I was curious to see how different agencies were using social media to communicate their mission and progress with their audience. Check out my favorites examples of government agencies using all types of social media to emphasize their goals below. If you'd like to learn more about different types of tips and tactics to improve your agencies communications practices, you can check out Akash Karia's keynote address on-demand here. 
Facebook
Center for Disease Control
We've all heard of Facebook at this point, but many government agencies still struggle to use the website as effectively as possible. The Center for Disease Control is by far one of the best government accounts on the site and is an example of how other agencies can create organic and popular content relevant to their audience. The CDC Facebook page discusses and shares information on what the agency knows best: public health. Some of the great content they produce includes:
Timely tips
Relevant health and awareness articles and findings
Public service alerts on the health issues of the day
Health and wellness best practices.
Utilizing engaging infographics, blog posts, and other eye-catching content, the CDC has turned its Facebook page into a helpful and reliable resource for constituents. Take a look! What is the CDC doing on Facebook that your agency can implement itself?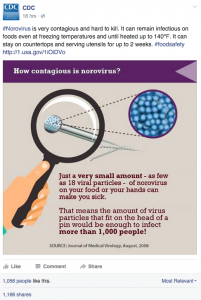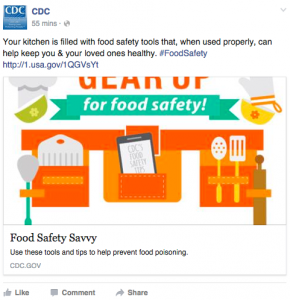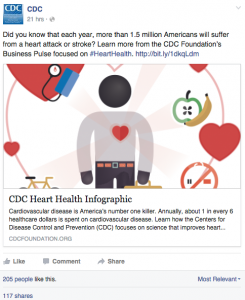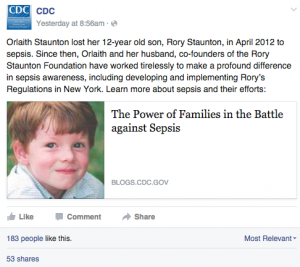 City and County of Honolulu
The city and county government of Honolulu runs a prime example of an excellent Facebook page for local government. The localized content makes it an amazing resource for constituents in the Honolulu area. From updates from the Mayor, to emergency weather alerts, to updates on operating hours of local government offices, the Facebook page is the epitome of what local governments should strive for when developing a social media strategy.
Creating content can be tough. You can see that the Honolulu government shares posts from similar pages, which saves time and energy for the agency managing the account. There's no need to reinvent the wheel with Facebook content, and if your government page is sharing relevant information, then it can utilized as a centralized resource for constituents.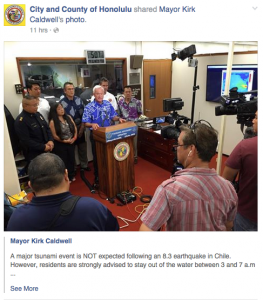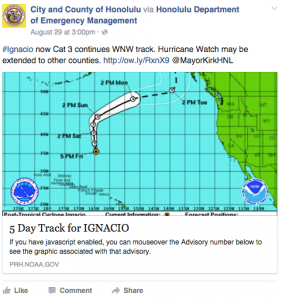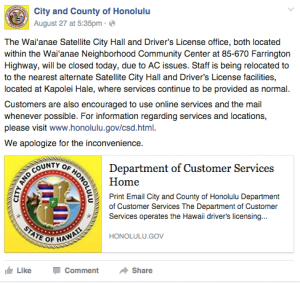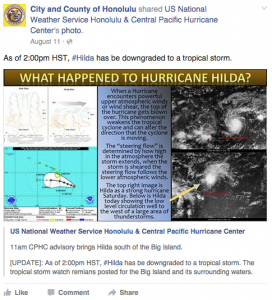 Twitter
NASA
NASA has set the bar on how an agency should utilize the art of the Tweet. On Twitter, the live stream social media website and application, the agency shares incredible content including videos of space shuttle launches, vivid images of Space, and frequently "re-tweets" the shared experiences of NASA astronauts. They also host live Q&A sessions with astronauts in space, allowing interested citizens to engage in real time. Talk about inspiring!
By using Twitter to share such a personal and impactful side of the agency, NASA drives the message and mission of the agency with great and, often, viral success. Check out their tweets and some of the awesome content that NASA shares.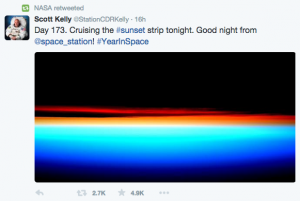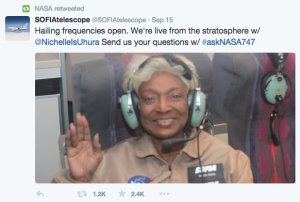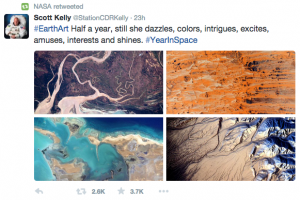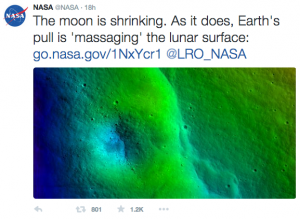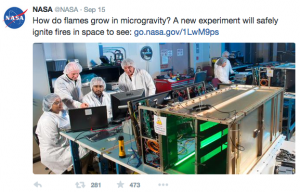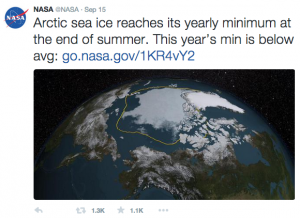 State of Utah
The State of Utah runs an excellent example of a well managed state government Twitter account. From the bio to the content, the purpose of the account is clear and transparent, while being consistently updated. The State of Utah uses their account to share general updates, events, awards, and information that would benefit Utah citizens. I especially like that it re-tweets content from similar Twitter accounts that enhance the user experience for constituents. Check it out.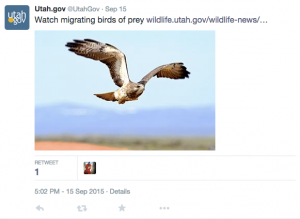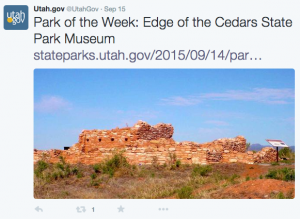 Instagram
U.S. Department of the Interior
Perhaps one of the most impressive accounts on Instagram, the social networking site that allows users to share photos and short videos, belongs to the Department of the Interior. As the keeper of the nation's national parks, resources, and federal land, it shows off stunning photos that really emphasize the mission of the Department. With such beautiful and essentially endless supply of high quality content, Instagram is a simple and effective way to show off the work that the Interior Department is doing. Does your agency have great content that it can be sharing?
Check out a few of my favorites images.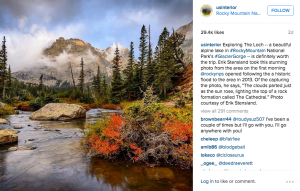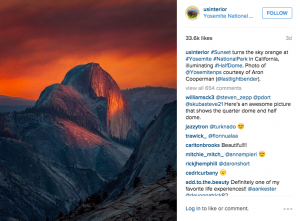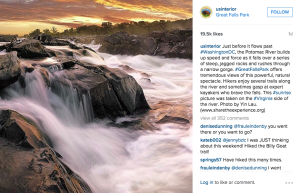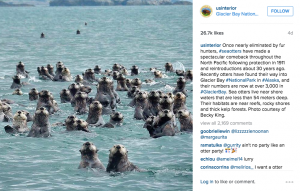 YouTube
U.S. Department of State 
Foreign affairs and international relations are undoubtedly complex subjects. The Department of State does an applause-worthy job of developing transparent and constant content on their YouTube channel. Offering daily briefings, remarks from Secretary of State John Kerry, interviews with State Department leaders, and special videos on foreign policy issues, the Department makes it easy to follow along while remaining educated and informed.
The State Department has also meticulously created an organized system of video playlists based on geographic region, current events, and opinions from Department leaders that make it easy to gather and digest detailed information. The YouTube channel compliments the agencies mission while engaging and informing constituents. A+ work!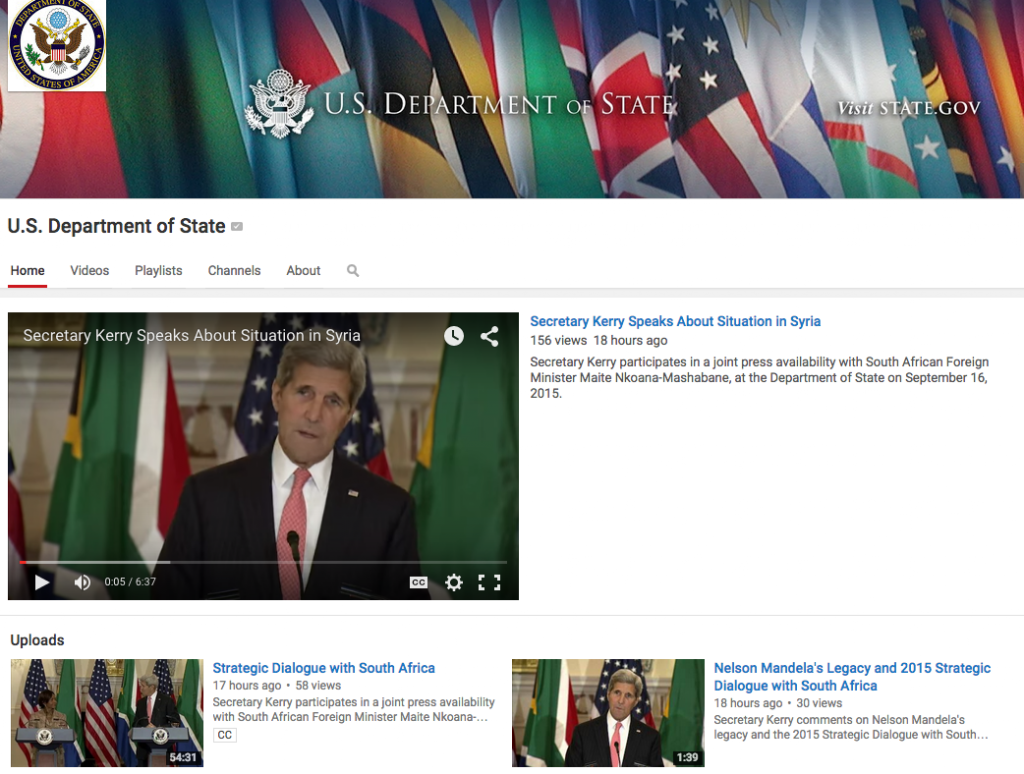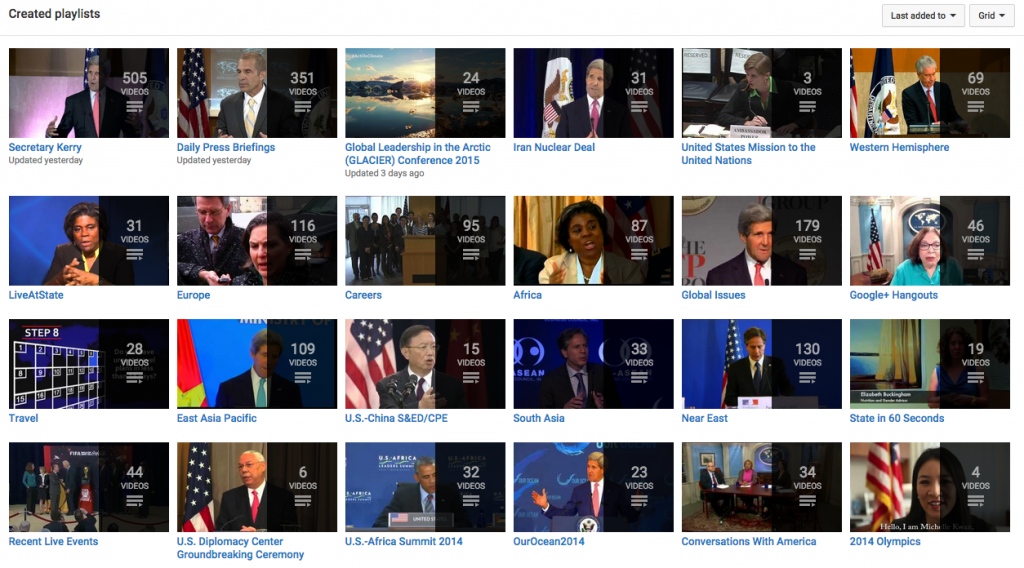 Pinterest
U.S. Army
Lastly, another popular social media site with a large audience is Pinterest. On Pinterest, users can "pin" and organize content that interests them to their own personal boards and follow boards that interest them. The US Army manages a spectacular page with a huge following. Organizing their content on Boards from "Boots on the Ground" to "Veterans" to "Welcome Home, Soldiers" and so much more, the Army engages their community with enormous success. As Pinterest is uncharted territory for most government organizations, there is incredible potential for state and local governments to bring a community together.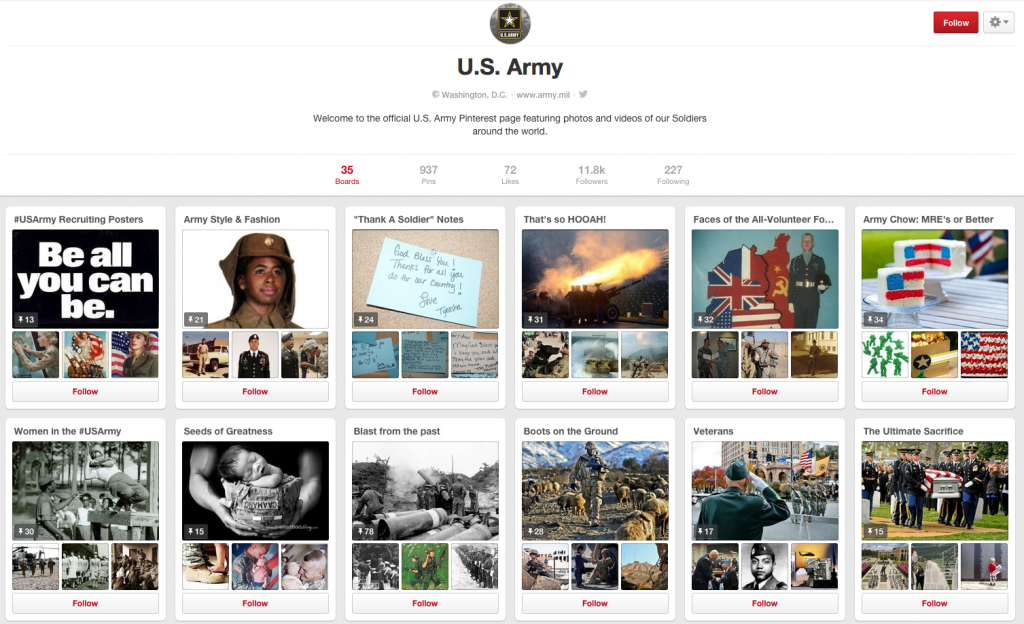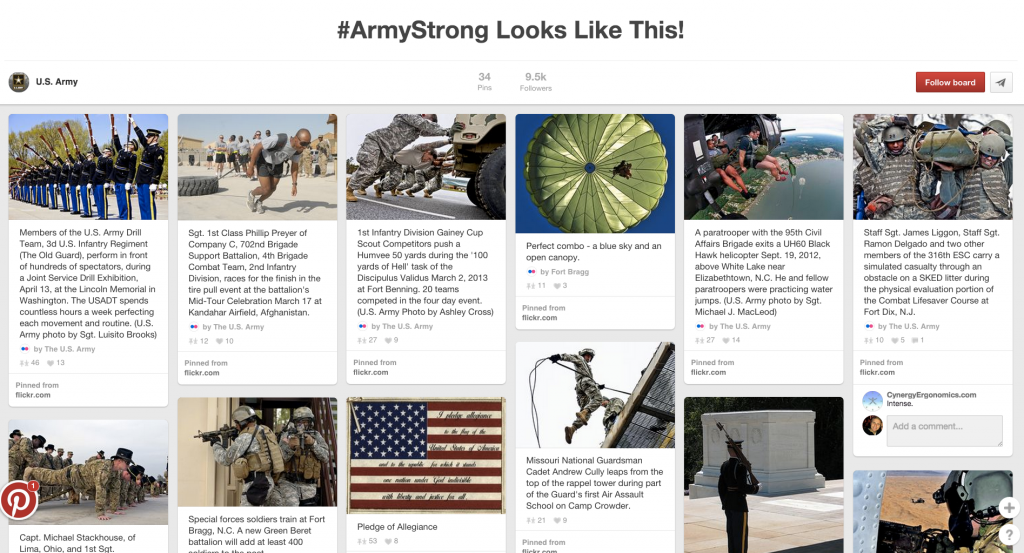 Is your government utilizing social media to tell its story? Social media is one piece of the puzzle when figuring out how best to communicate the goals, responsibilities, and mission of your agency. Learn more from Akash Karia's keynote address here as well as on-demand online trainings from the Second Annual State and Local Government Innovators Virtual Summit.