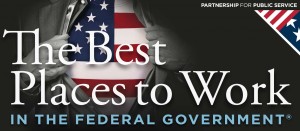 I am going to be brutally honest with you. It's a tough time to be a federal employee. For the fourth year in a row, The Best Places to Work data showed a decline in federal employee satisfaction. The Partnership for Public Service found government-wide, federal employee job satisfaction and commitment fell 0.9 points to a score of 56.9 out of 100 — the lowest score ever. Eeek.
The rankings include the views of more than 392,700 civil servants from 389 federal organizations on a wide range of workplace topics from overall employee satisfaction and commitment, to strategic management, teamwork, leadership and work–life balance.
The numbers are a bit grim. But there are some bright spots in the data and a lot of lessons from organizations that are actually improving despite less than ideal circumstances.
David Dye, Director of Deloitte's Human Capital Practice, helped PPS analyze the numbers. He told Chris Dorobek on the DorobekINSIDER program that the survey tells us what is actually going on in the federal workforce and provides an opportunity to look at how we can make improvements.
The surveys were compiled in the spring of 2014, just months removed from the morally devastating government shutdown and sequestration. Nevertheless the numbers show a startling trend of engagement for agencies.
By the Numbers:
Effective leadership was down almost a point and a half.
Employee skills to mission match were down almost a point.
Strategic management was down by a point and a half.
Teamwork was down by a point.
Innovation was down by half a point.
Training and development were down by almost a half a point.
Performance based rewards and advancement were down by about half a point.
One bright spot in the grim numbers is 43% of the agencies actually raised their score this year – twice as many as did last year. "I think the message is clear. If you pay attention to communication, if you actually implement improvements, good things can happen," noted Dye.
The rankings separate agencies in terms of size: large, midsize, small.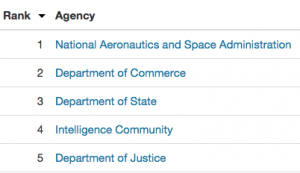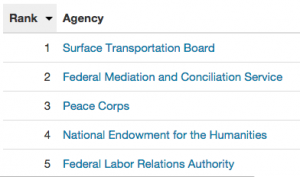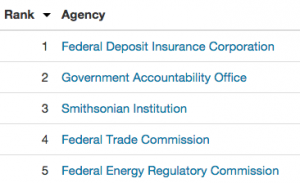 "When I look at the 19 large agencies in order, nine out of the top 10 actually increased their scores this year," said Dye. "Unfortunately if you look at the other end, seven out of the bottom 19 agencies actually drop. If you look at the stats, agencies that are already positive are getting better, and those who have not done well, are actually getting worse. That highlights a troubling statistic."
NASA was the most highly rated agency for the third consecutive year. "The agencies that are constantly on the top focus on the mission of the agency. They are in tune with their core philosophy. They align and support an employee's mission in the work that they do individually. In addition, there are things these leaders are doing to communicate to their workforce about the progress they're making, the impact various work units are having. They take the time to recognize the individual contributions of employees," said Dye.
The Surface Transportation Board is the best small agency. "It's up by more than two points from last year. That's great, but as you look by government-wide category, they're number one in effective leadership. They're number two in employee skill mission match. They're number two in pay. The Board notched a 14-point increase in terms of their pay number. They're number one in work/life balance issues, " said Dye. "The Surface Transportation Board pays attention to the numbers."
Agencies are now beginning to consider their brand. And the Surface Transportation Board has a brand of being a great place to work.
Another highlight is the Department of Labor. The DOL had the biggest increase for large agencies this year. "They moved up more than three points in most of the categories, particularly around leadership. Additionally, the Security and Exchange commission went up almost five points for the second straight year. On the small agency side the U.S. Trade representative went up over 19 points," said Dye.
Focus on Leadership
In addition to the categories themselves, the rankings also look at which stats have the greatest impact on that overall index. "What we've found is effective leadership is not only the number one driver of overall satisfaction and commitment, but it's head and shoulders above everything else," said Dye. "Pay is a distant third. Skills and mission match is second, but below effective leadership. If you can make improvements in effective leadership, which has a whole range of dimensions to it, I believe that there could be improvements, not only in overall ranking, but even in some of the other areas too. If leaders stay and behave in the right way then I think there'd be a lot of great improvements."
Recently, President Obama met with the career senior executives. He announced new initiatives around a White House leadership development program. "I would say there's more attention right now around leadership issues, around employee engagement, around workplace environment, than there has been in several years. Maybe it takes things like rankings and scores to get people to notice," said Dye. "We have an opportunity now to really engage the top leadership and agencies. When you look at those who are doing well and continue to do well and improve, I think you'll find by and large that the top leaders are actively involved."
The Gov Has Some of the Best Employees
In all of the talk of bad employee satisfaction and poor leadership it is important to remember that some of the best and brightest work in government. Government workers are on the frontlines of innovation. "The NIH is working with the private sector now on an Ebola vaccine. There are a lot of important people who are having some really impactful things going on with NIH. NASA just launched the Orion Spacecraft and that is going to take us beyond our wildest dreams," said Dye.
And even though innovation is often seen as a technology solution, it is the people that really make innovation work. "Technology is not going to run unless the people invent it and use it. The missions of agencies are not going to happen unless people contribute, "said Dye. "I'm still a believer in that it's people who make the place, and it's leaders who help make the people. We have got to find a way to compete in the world, compete against the private sector, and have inspiring and aspiring missions."