Federal IT professionals are working to deliver next-generation applications to government employees and the public, but obtaining the resources they need to be productive is far from easy. In many cases, agencies distribute IT operations across data centers, secondary facilities, remote offices and the cloud. Meanwhile, IT departments are also responsible for protecting intellectual property and maintaining security.
As expected, security is by far the most important element of data center modernization, according to 63% of GovLoop survey respondents. Cloud sprawl was next, followed by privacy and service outages.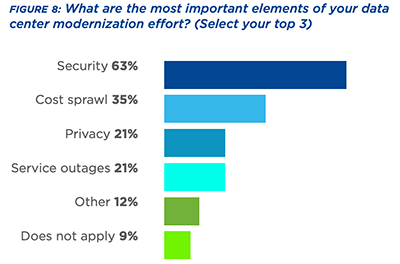 So how do you empower a complex web of employees, contractors and partners without creating more risks? To address these needs, some enterprise IT teams are adopting hyperconverged infrastructure (HCI) as an alternative to traditional infrastructure solutions.
It sounds like a mouthful, so it's worth breaking down what this technology is in lay terms and explaining why it can be a gamechanger for agencies that have chosen that route. Below are what HCI adopters have said are advantages to HCI.
Key benefits that this new way of deploying and managing infrastructure can provide government agencies:
-Improved operational efficiency
-Reduced costs
-Improved scalability
-Greater data efficiency
-Improved service and support
-Increased application performance
-Less time spent managing infrastructure
-Faster integration and deployment (better support for your developers and DevOps efforts)
Because HCI architectures rely on simple building blocks similar to those used by public cloud providers, they deliver many of the same benefits but with many additional advantages. Those include:
Control. You have less fine-grained control over workloads running in the cloud than you do on-premise.
Security. Many enterprises, particularly those in regulated industries, such as the federal government, remain concerned about committing sensitive data to the public cloud. HCI architectures offer enterprises a more familiar security model. Because much of the infrastructure stack is provided by a single vendor, HCI may also offer greater security than traditional data center infrastructure.
Consistent management. Many IT teams get into trouble in the cloud because the management paradigm is different. Mistakes and errors can result in outages or leave data exposed. HCI can be easier for IT teams to understand, implement and manage.
Predictable costs. HCI costs are not only more predictable, total costs for HCI can work out far more favorably.
This blog post is an excerpt from our new research brief, Counting the Cost: Reevaluating Your Agency's Path to Cloud, read the full report for survey results from nearly 70 government employees who are actively involved in IT infrastructure operations at their agencies here.