This article is an excerpt from GovLoop's recent guide, "Making IT Work: A Practical Guide to Modernization in Government. Download the full guide here.
For agencies that have started down the path of IT modernization, they've quickly learned that updating legacy technology is less of a sprint and more of a steady journey that requires thoughtful planning.
In a recent interview with GovLoop, Dan Kent, Public Sector Chief Technology Officer at Cisco, discussed why agencies should take a multi-layered approach to modernization and how it leads to a strong IT network that supports more robust citizen-facing services.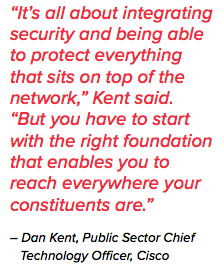 Kent explained that the first and most critical layer to modernization is building a solid network foundation. The network and its multiple components ensure that employees can connect to their devices and that citizens can access the services they need. The foundation also includes next-generation data centers and the IT architecture. This is the blueprint that guides how an organization's IT elements work together to accomplish its mission.
As a networking hardware and telecommunications provider, Cisco plays a critical role at that foundational level by helping agencies to create a secure, reliable network that allows them to roll out applications faster and with greater reliability. These types of investments are critical for governments at all levels because citizens are demanding more mobile, intuitive and dynamic services.
On top of the network sits a common platform or shared infrastructure to develop applications. A shared approach enables development and operations teams to work collaboratively using a DevOps approach. Agencies can also manage shared resources better and make improvements centrally and faster when issues arise. When a solid network and platform are in place, application performance also improves.
But the challenge many agencies face is that network modernization isn't flashy. It doesn't make headlines until the network fails, and there is rarely funding put aside to address issues. Agencies must be willing to take funding from high-visibility areas to ensure they have a strong IT foundation for improving services down the road.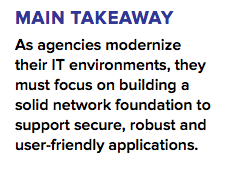 To keep pace with rising demands, agencies must also enable their network to constantly learn, adapt and protect. It's called intent-based networking, and it's ushering in a new era of government. With these networks, agencies can build in security and analytics to digitally transform the way they work, meet business needs and enable their workforce — all while delivering better citizen services.
Photo Credit: Christina Morillo via Pexels