In Pleasantville, the streets are clean and happy, vibrant individuals populate the city and nothing bad ever happens. But as GovLoop moderator Emily Jarvis said in our recent online training, Making Business Happen: ArcGIS for Economic Development, "Dreaming of Pleasantville and building it are entirely two different things." Jarvis then went on to note a few, serious questions to consider when designing a city like Pleasantville:
How do you attract businesses and investors to your community?
How do you keep those investors?
What distinguishes your community from others?
And how do you foster an environment of an entrepreneurial spirit?
Luckily for you, there's a way to attract business and it can be done through apps on ArcGIS.
Keith Cooke, an Account Executive at Esri and yesterday's online training panelist, described ArcGIS as a modern commercial-off-the-shelf platform that provides open-standard-based tools for implementing cost-effective but sustainable solutions, and addressing the business requirements of an economic development organization (EDO).
While under the surface, the platform displays routes to recruiting people to a specific area, in our interconnected, big data world, Cooke notes that competition has become a daily reality. Not only is competition in our local communities but it has expanded across state lines and in some cases across the globe.
So, how do you stand out?
The first step of a successful strategy is making it known that you're in the game. Not only do you need to make your community visual to a global audience of potential investors, but you also need to provide them with the information they need to make your community a contender. This includes making quality data accessible and readily available from anywhere, on any device, at any time – an essential ability for building a Pleasantville-like community.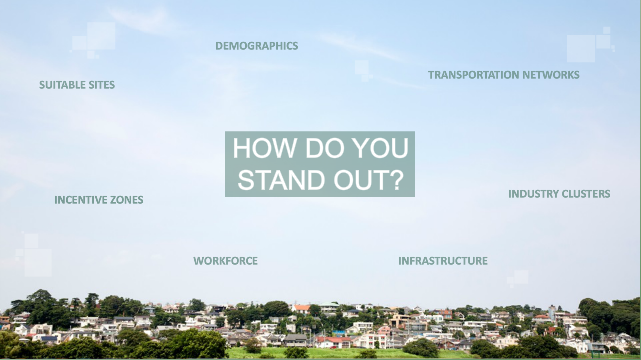 How do you measure success with GIS?
Cooke declares that the goal of standing out is to reap the knowledge from data. By putting actionable intelligence in the hands of the people who need it, regardless of the vertical, you will help them understand the unique combination of advantages that makes your city attractive. "That is why GIS is so important, because it gives information and context about our world, providing the framework for understanding our community by bringing all the factors together, and allowing you to visual and analyze the data," said Cooke.
Location, team sport and maturity
The common element of GIS is location – the foundation for making informed decision-making. Where is the best place to build? Where can I find more customers? Where can I find qualified workers? These are all questions dependant on location. See below for the suite of configurable applications that support the many functions of EDOs, and is driven by location.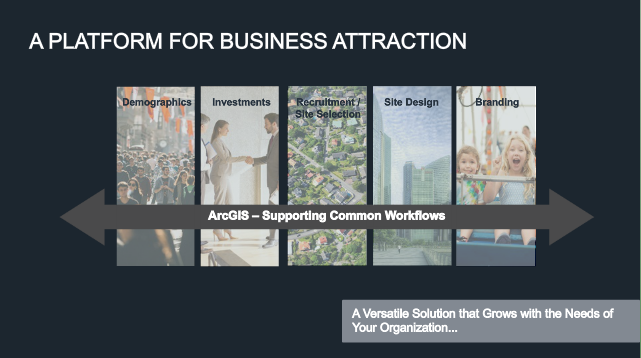 Cooke also noted there are many groups outside your immediate organization necessary to confer with throughout the process – allowing everyone in your work circle to discover, use, make and share applications like maps from any device, anywhere and anytime. "What you do is a team sport," noted Cooke while discussing disseminating content and information products to the people that need it in the way they expect to receive it.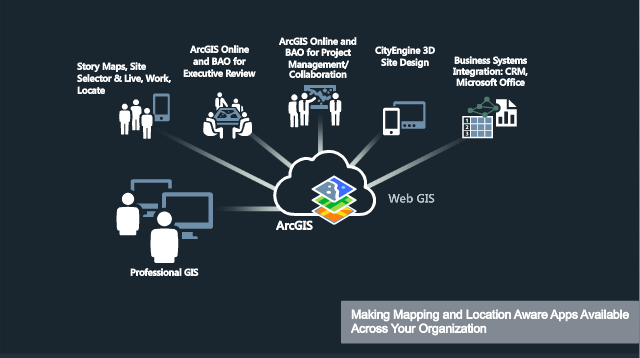 ArcGIS also matures with you. Instead of worrying about being locked in a set of solutions, the platform is scalable and accommodates your needs as you evolve and grow. Going in with this flexibility, communities have the advantage and are able to create a uniform and effective way to attract businesses – solving problems like how to find the right business and how to supply them with the right workforce or customer base – not reinventing the wheel every time but embracing and repeating successful patterns.
"When attracting a business, we're not just helping find a site, we're really helping them find a home," said Cooke. For a live-demo of the solutions available in the ArcGIS platform, view the on-demand training here.