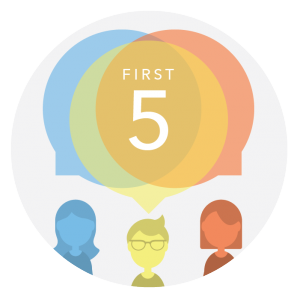 When starting out in your career, navigating the professional world can be overwhelming. There's a host of information out there telling you what steps to take and how you're supposed to plan out your career. It can feel like you're making one giant, continuous checklist to plan out the rest of your life: build resume, get the degree, network, find mentors, practice interviewing, send thank you notes, etc.
But ever wonder how some seem to make it just by following their interests? I've asked a number of mentors for some of their best tips for young professionals like me and I consistently hear: "Find what makes you tick."
Just ask Hudson Hollister. Hollister is a young professional who, at the age of 34, has already started his own non-profit, The Data Transparency Coalition. The Coalition works to promote the transformation of public information generated and received by governments from disconnected documents into interoperable, open data.
So far, he's had a highly successful career in public service from working in the Securities and Exchange Commission (SEC) on simplifying government forms to working in Congress on data and transparency. Anyone would think, "I'll bet he checked all the right boxes for his career plan."
But despite appearances, Hollister didn't have it all figured out from the get-go. "I just went to law school because that's what you do after getting a political science degree," he admitted.
In fact, it wasn't until law school that Hollister became interested in securities regulation for the first time. This eventually drew him to work at the SEC, where he led a taskforce dedicated to simplifying forms that public companies have to fill out in order to list their shares on stock exchanges.
"That's how I first got into public service," Hollister said. "When I was at the SEC, I discovered that there are over 600 different kinds of forms that public companies have to fill out and most of these are PDF documents. I didn't have a burning passion, pursuit, or any goal professionally until I discovered this inefficiency at the SEC."
"It became clear that if we could switch from documents to data to track public companies' finances and other areas, such as federal spending, it would be good for public transparency," he added. "Agencies could manage their own spending better because they could use data analytics more easily. Additionally, so many tasks that are difficult and manual today could be automatic."
But when Hollister's taskforce submitted a report to the SEC with recommendations to address such inefficiencies, no action was taken. That's when he decided to take a major risk: he resigned.
"I resigned without having a job lined up and walked up to Capitol Hill with my resume," he said. But his big risk paid off.
"Two hours after I walked in with my resume, I got a phone call and soon went to work for Congressman Darrell Issa and his committee staff." This is where Hollister spent much time drafting, advocating, and trying to pass legislation to get the government to move from paper documents to data.
He began work on one of Issa's greatest accomplishments as House Oversight Committee chairman: a legislative proposal that eventually became known as the DATA Act, or Digital Accountability and Transparency Act. The Act was, signed into law in 2014.
But despite that milestone, Hollister became increasingly frustrated with the culture in government that often impedes change. This caused him to eventually leave Congress, again with no job lined up, and start the Data Transparency Coalition in the hopes of focusing full time on getting government to improve its data standards and transparency.
Hollister exemplifies the public servant who noticed a way that government could be better and has since done everything in his power to improve it. "Be willing to get up and leave if you really care about something," he said. "Those two decisions to resign from a job are the hardest professional decisions I've ever made, and I'm happy that I made them.'
The moral of the story here is that sometimes your career is about not knowing exactly what you want to do, but when you find your interests, listen to that calling. You may have to take some bold risks, as Hollister did, and you may face many challenges and frustrations along the way in trying to make change.
But Hollister advises, "If you have a passion of any kind, then it doesn't make sense to compare your performance to that of people who don't have the passion. You're going to look different and that's okay."
So if you're preparing to dive into a career, but still feel like you have 1,000 boxes to check, don't panic. Many who are now successful public service agents have been there too. While checking off the list for career plans can help, it can't amount to anything if you don't pursue your passion. It's just a matter of being patient and when it comes, just going for it.
For more reading about millennials in public service, check out this weekly GovLoop series, First 5: Advice from millennial to millennial