This article is an excerpt from GovLoop's recent guide, "Solving the Cloud Conundrum: Security, Procurement, Workforce." Download the full guide here.
Change can be scary, and many agencies are reluctant to leave their legacy IT behind. Leaders at these agencies often worry that modernizing their IT could drive up their costs or alter their employees' routines.
In recent years, this wariness has become a frequent obstacle to cloud adoption. But the rise of hybrid cloud as a viable option is helping agencies realize that cloud isn't an all-in transformation. Hybrid clouds mix on-premise legacy IT with modernized, cloud-based IT, giving agencies the best traits from each in one package.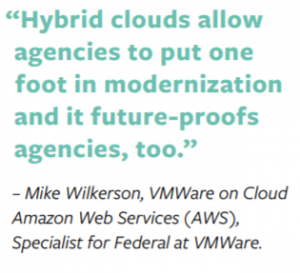 To understand how hybrid clouds can help agencies launch IT modernization efforts, GovLoop spoke with Mike Wilkerson, VMWare Cloud on Amazon Web Services (AWS) Specialist for Federal at VMWare, and Nic Perez, Chief Technology Officer (CTO Cloud) at ThunderCat Technology. VMWare is a software virtualization company that provides cloud solutions, while ThunderCat Technology is an IT solutions provider. "Hybrid clouds are attractive as cloud is not a binary, either-or decision," Wilkerson said. "Hybrid clouds allow agencies to put one foot in modernization and it future-proofs agencies, too."
Cloud differs from legacy IT as the former offers services as an on-demand subscription as needed, while the latter provides services continuously. "The challenge with adopting cloud is that agencies don't think about turning things off or how they are able to consume the native services offered by a CSP," Perez said. "They're not used to the elasticity and being able to grow demand."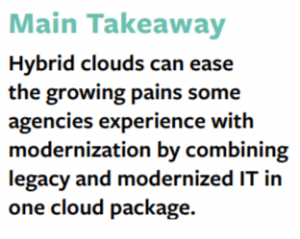 For proof of cloud computing's scalability, consider Tax Day. Without these capabilities, the IRS must increase the legacy systems footprint each year to meet increased citizen traffic on its websites and via application programming interfaces (APIs). With cloud, the IRS can practically infinitely increase its web services in the days leading up to Tax Day and then immediately reduce them minutes afterward. It's a formula that saves agencies such as the IRS valuable resources, energy, time and ultimately money; it's all automated and much more efficient. "Organizations know where they are today and where they want to go, but they struggle to get there," Wilkerson said. "With cloud, agencies can right-size their environment and pay for only what you consume."
The benefit of hybrid cloud, meanwhile, is that agencies can leverage cloud services without impacting their legacy IT running mission-critical operations. In terms of data, hybrid clouds also let agencies control data they deem too sensitive to host off-premise. VMWare and ThunderCat provide the on-premise hardware and the off-premise cloud services that enable hybrid clouds no matter where agencies' data resides. In turn, hybrid clouds help agencies set the modernization pace that's right for them. VMware and ThunderCat can help agencies get there," Wilkerson said. "We give them a turnkey solution to get from their present state to their future state."