This article is an excerpt from GovLoop's recent guide, "Solving the Cloud Conundrum: Security, Procurement, Workforce." Download the full guide here.
The clock's always ticking against agencies that deliver public services. Citizens want private-sector speed from their governments and are impatient with those that can't deliver.
Fortunately, modern hybrid clouds leveraging Software-as-a-Service (SaaS) can help agencies keep pace with these demands in ways that aging IT infrastructures can't. Hybrid clouds deliver services both virtually and with physical, on-premise technology. SaaS, meanwhile, delivers easily accessible products and services using cloud.
Regrettably, agencies nationwide are struggling with legacy tools that once met their needs but can no longer accomplish their missions. These organizations are also spending energy, money and time on systems that are only growing older.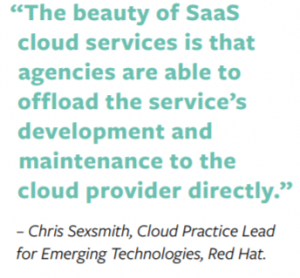 For example, agencies have long relied on virtual machines (VMs) for reducing costs and saving space. VMs imitate physical computer systems virtually using hardware, software or both. Although useful, VMs are increasingly too slow for agencies because they are naturally heavy, imitating a complete operating system (OS) at every turn.
To understand how agencies can ultimately realize their true business value with SaaS hosted in hybrid clouds, GovLoop spoke with Chris Sexsmith, Cloud Practice Lead for Emerging Technologies at Red Hat. Red Hat is an open source software solutions provider.
Traditionally, Sexsmith said, agencies have invested large amounts of manpower and time setting up VM architectures. "Everyone's experienced the pain of requesting a VM and waiting days, weeks or months to get it," he said.
In contrast, Sexsmith noted, modern cloud frameworks present a lighter effort for workers to create and test ideas and features. Cloud also works with more agility, flexibility and scalability than VM and other legacy technologies.
Because cloud comes in many varieties, choosing the right one is hard for agencies. Due to the model's agility and speed, Sexsmith recommends leveraging SaaS whenever possible for agencies.
Not every agency can use all SaaS services, however, and the federal variety is especially limited. This is because of the Federal Risk and Authorization Management Program (FedRAMP), which standardizes federal security assessments, authorization and continuous monitoring for cloud products and services.
"The beauty of SaaS cloud services is that agencies are able to offload the service's development and maintenance to the cloud provider directly," he said.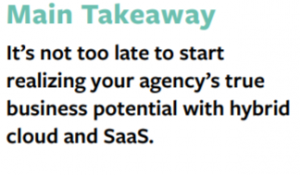 According to Sexsmith, container frameworks are used to quickly set up development environments and run infinitely scalable applications, both on-prem and in the cloud. These frameworks help agencies rapidly deliver services and innovate new ones.
Ultimately, hybrid clouds can help agencies balance their legacy and modernized technology more easily.
"Red Hat's goal is to partner with you in building secure, agile, modern hybrid clouds with no workloads left behind on the journey," he said. "We can help you not only expose but exponentially increase your business's true value."