When he first joined the Navy 23 years ago, Kevin Hannes was taught a simple motto: listen, learn, and then lead. After retiring from the Navy, Hannes still felt the call to serve the American people. He soon joined the Federal Emergency Management Agency (FEMA), where he now serves as the Federal Coordinating Officer in Texas. Suddenly faced with some of the government's most daunting challenges, Hannes quickly learned that communication between agencies was essential to successfully handling emergencies.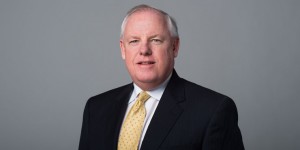 When 47,000 unaccompanied children fleeing their grief-stricken Central American homelands began crossing the U.S.'s southwestern border, Hannes jumped to the front lines. Applying the motto he learned more than two decades before, Hannes and the FEMA Operation Precious Cargo Team coordinated with 22 federal agencies to provide vital emergency aid, including food, shelter, medical care, and means to reunify these children with their families. By the end of 2014, 69,000 children seeking refuge were detained and provided care under these programs.
For expertly managing this humanitarian crisis, the Partnership for Public Service has nominated Hannes for a 2015 Service to America Medal, or SAMMIE, in the Management Excellence category.
In a recent interview with Chris Dorobek on the DorobekINSIDER program, Hannes discussed how his approach to emergency management has helped improve the federal government's emergency response readiness.
Hannes contended that the first step to successfully managing any emergency is to go to the scene and assess the situation. In April 2014, federal officials responded to reports of increased numbers of children crossing the southwest border of the U.S. They traveled down to Border Patrol offices, where they saw first-hand the sheer numbers of children and the facility conditions. Seeing the growing humanitarian emergency, leaders called in FEMA to help.
"Because it wasn't a declared event, FEMA was not a lead role. We were there as part of the Department of Homeland Security to provide coordination, communication and collaboration across all of the involved agencies," Hannes explained.
When first brought on the scene, Hannes asked himself, "How do we take care of these kids and make sure that they are treated humanely, with respect, dignity and also compassion?" Based on these questions and the known capabilities of each of the 22 federal agencies involved, he developed a strategic plan.
"Surrounding yourself with people who know their authorities, know their procedures, know their processes and insuring that everybody is working towards unity of effort," are essential to successfully managing emergency situations. Once he determined each agency's jurisdictional powers, he was able to coordinate their efforts. Working collaboratively with Border Patrol, Health and Human Services and the Office of Refugee Resettlement, Hannes set a series of goals and established a "unity of effort" among these agencies to accomplish their goals.
"Whether [the children] were going to stay here or not was not my objective. My objective was how to make sure that we take care of them, put them in a safe location, and insure that they have all of the information they need to be reunified with their family," Hannes said.
Without a clear understanding of what each agency has to offer, Hannes argued that it would have been nearly impossible to adequately address this situation. However, coordinating efforts across agencies was no easy task.
"The biggest lesson we learned is that we as a federal government have to get better at joint operations. We need to have an understanding of what agency's authorities are, what they bring to the fight," Hannes said. "Understanding what agencies can bring to the table, how they can do it and how we can leverage those so we don't duplicate efforts," are essential to responding quickly and efficiently to any emergency.
According to Hannes, technology is helping the government address problems quicker; however, emergency management is still about people and relationships. To fully understand a situation, officials must listen to and communicate with individuals in the field. "While technology enhances our ability to build situational awareness and react a little bit faster, it's still about people helping people," he said.
Listen to people first, learn all you can about the situation, and then lead with a plan. With Hannes' simple, human-centric approach to emergency management, the federal government was able to successfully care for thousands of children in a matter of days.
This management model is about more than just handling complex situations. "It's about serving," Hannes said. "Each one of us who are employed by the federal government have an outlook that we are here to serve the American people…that's what keeps us going."
To Hannes, emergency management is about more than just handling problems as they arise; it's about "serving something greater than yourself each and every day. That's what keeps me focused."
For his exceptional work saving thousands of children's lives, we congratulate Hannes on his 2015 SAMMIES nomination.
*Photo credit to the Partnership for Public Service