This article is an excerpt from GovLoop's recent guide, "Understanding the Dangers to Your Cybersecurity." Download the full guide here.
The race is on to modernize agencies' IT networks so that they can deliver better public services and reduce costs.
Unfortunately, security sometimes trails the threats endangering these networks. Federal, state and local organizations are finding themselves exposed to dangers such as cybercriminals and insider threats when their networks grow faster than they can modernize them.
To understand how agencies can modernize their networks while enhancing security, GovLoop spoke with Nirav Shah, Senior Director of Product Management at Fortinet, and Felipe Fernandez, Director of Systems Engineering at Fortinet Federal. Fortinet is a cybersecurity hardware, software and services provider that delivers secure software-defined wide area networks (SD-WANs).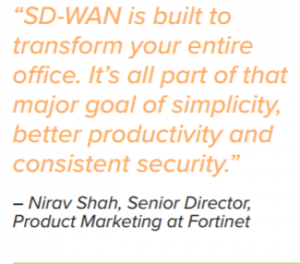 SD-WANs simplify the management and operations of computing and telecommunications edge networks. The technology differs from traditional wide area networks (WANs) by separating the networking hardware and the mechanism for controlling it across the vast physical space between them. It's a division that strengthens network security without degrading services or increasing costs.
Fernandez said that agencies have long struggled with contracting fair priced, reliable internet services across their networks. "Not all agencies' sites are in prime internet hubs," he said. "Some are in remote locations that have limited options for a WAN."
Geographical considerations have often made networks too complex for agencies to handle easily, Shah added. SD-WANs solve this dilemma by streamlining IT networking management.
"SD-WANs are top-of-line because they have changed how agencies can adopt applications and use them more efficiently," he said. "SD-WAN is a technology that simplifies your business operations. You're doing that at a lower cost with better security."
Shah said that SD-WANs are additionally valuable as they ensure agencies have consistently reliable networks for business operations.
"Our SD-WAN is built to transform your entire office," he said. "It's all part of that major goal of simplicity, better productivity and consistent security."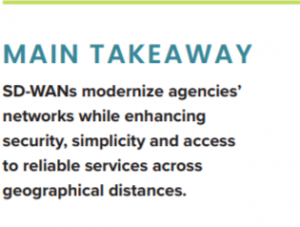 Security, however, becomes increasingly difficult as organizations try aligning modern technologies with government security standards, some of which don't reflect new business methods. Federal agencies, for example, must follow the Office of Management and Budget's (OMB) Trusted Internet Connection (TIC) program. TIC strives to reduce the number of the federal government's external network connections. In December 2018, OMB released a draft update to TIC that lists cloud models that comply with the program's security standards.
Fernandez said that SD-WANs help agencies improve network performance as well as comply with TIC and other benchmarks, such as the National Institute of Standards and Technology's (NIST) cybersecurity framework.
These best practices and guidelines for federal security often inspire similar behavior from state and local governments. SD-WANs help all organizations by providing secure, highly available networks for every size agency.