A new law, signed on Jan. 14, pushes agencies to appoint or designate a qualified Chief Data Officer (CDO) without regard to political affiliation.
Congress passed the Open, Public, Electronic and Necessary, (OPEN) Government Data Act as part of former House Speaker Paul Ryan's Foundations for Evidence-Based Policymaking Act. The OPEN Government Data Act received bipartisan support in both the House and the Senate and was advocated for by open data advocacy groups. Along with tasking the head of each agency to develop and maintain a data inventory that accounts for all data assets within the agency, the designation of a CDO is a critical component of the law.
"Many government agencies are awash in data but struggling to analyze and make sense of it," according to a collaborative report by Jane M. Wiseman of the Harvard Kennedy School and the IBM Center for the Business of Government. "The exception is in cases where a government agency has appointed a leader to manage the transition to a data-driven culture."
The September 2018 report, titled "Data-Driven Government: The Role of Chief Data Officers," notes that current CDOs are doing excellent work, with successes encompassing predictive analytics models to counter fraud to open data programs that create platforms for analyzing government initiatives and results.
The responsibilities of CDOs, according to the law, include:
Lifecycle data management
Coordination with officials within the agency who are responsible for data management and protection to ensure that data needs are met
Taking care of the data assets of the agency, "including the standardization of data format, sharing of data assets, and publication of data assets in accordance with applicable law"
Align agency data with prespecified data best practices
Involve agency staff, the public, and contractors in public data asset use and collaboration on improving use.
Support the performance improvement officer and the evaluation officer and collaborate with statistical officials to best understand and manage data
Evaluate the impact of agency infrastructure on the accessibility of data assets and work with chief information officers to optimize infrastructure
Bridge the gap between other agencies and the Office of Management and Budget regarding best practices on how to use agency data for statistical purposes
As CDOs are appointed, Wiseman's report points to three core competencies of success within the role: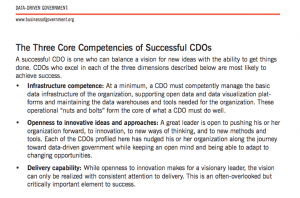 These competencies align with some of the responsibilities outlined in the new law. Here's an infographic created by the IBM Center for the Business of Government on the report: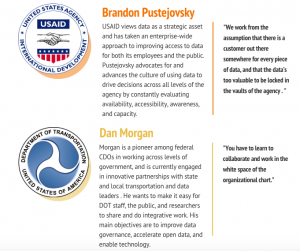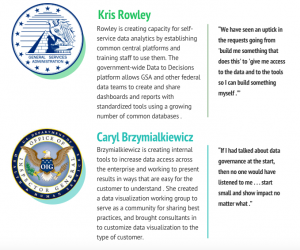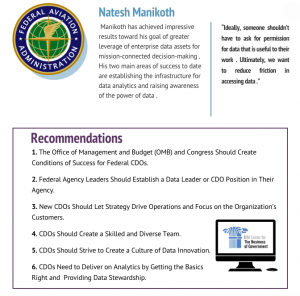 What are your thoughts on the OPEN Government Data Act or the report? Let us know in the comments below.