In many imagined dystopias, artificial intelligence (AI) conflicts with human interests by replacing human jobs, performing far better than mere men ever could. This is not an accurate view of the role of AI in our future; instead of an adversarial relationship, the connection between federal jobs and AI will be one of an emerging technology improving the way people perform their work. AI has the potential to impact thousands of government jobs; a recent executive order also underscores the importance of AI development in U.S. strategy to keep up and set the standard for global competitors.
The Partnership for Public Service and the IBM Center for The Business of Government released a white paper on AI on Feb. 28 titled "More Than Meets AI" that delves into the impact of AI on federal government operations.
GovLoop interviewed Mallory Bulman, VP of Research and Evaluation at the Partnership for Public Service, about the nuances of the study and some key takeaways.
"This is part of an initiative between the Partnership and IBM Center to explore the relationship between artificial intelligence and the potential for government agencies," Bulman explained. "This is an ongoing partnership over 18 months, where we organize events and white papers."
The study was conducted because of the transformative nature of AI and the need for understanding its impact on the federal workforce. "We're interested in making sure that federal agencies are set up to succeed and embrace new challenges ahead, and automation is clearly a challenge that federal government will be facing," Bulman stated.
First, the researchers identified 80 different federal occupations and 130,000 employees who worked those jobs, that are projected to benefit from advances in AI. Job responsibilities range from tax examination to machine operation to food inspection. More than a third of the Treasury Department workforce will be impacted by AI, and close to a third of the Government Publishing Office will be impacted.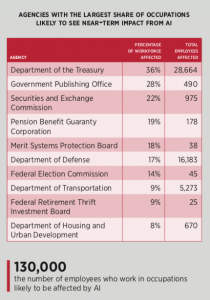 "Agency officials and leaders have an opportunity here, to lead or to follow on AI," Bulman said. "We really believe that agency leaders can lead and meet the challenges of automation to transform their agencies."
Federal workers care profoundly about the mission of their agencies and really want to meet their mission, according to Bulman. The potential of streamlining workflows with AI by automating more administrative work could drive forward agency missions.
Overall efficiency could be improved if workers are given the opportunity to put more time into the nuances of their job as opposed to the routine aspects, according to Bulman.
Bulman highlighted the following key takeaways from the study:
This isn't the first change to the nature of federal work. Nineteen percent of full-time federal employees held clerical positions in 1985. By 2017, clerical employees constituted just 4.3 percent of the workforce, according to Office of Personnel Management (OPM) data. "There have been shifts in the nature of federal work over time, and it's important to see AI as part of that continuum," Bulman stated.
There is an opportunity for AI to change the federal workday, and one of the benefits of AI will be automated administrative tasks. "I think there's an opportunity for federal leaders to look at their workforce, to look at the work they're trying to do, and figure out the best way to incorporate AI," Bulman pointed out.
AI could enable more personalized services to agency customers. As AI decreases the amount of time spent on clerical work and increases the amount of time spent collecting information that can be analyzed, employees can focus more of their attention on the customer and tailor the services they have to the need of the individual.
On challenges involved with incorporating AI into the federal workspace, Bulman identified the need for strong data skills in federal skills. There is also a strategic workforce planning need so that agencies can anticipate work that they will eventually be doing, as well as skills that they'll need in their workforce to meet those needs.
Here are some action items that Bulman recommends based on the study:
The Office of Management and Budget (OMB) and Congress should provide specific funding for AI in technical training so that government employees have the skills they need to succeed in an AI workplace.
OPM should consider establishing an AI occupational series aligned with what was proposed in the AI in Government Act of 2018 so that people know who is responsible for managing AI in government.
OMB should work with GSA to establish a team of AI talent similar to the United States Digital Service to help hire top AI talent from the private sector and make sure federal agencies have the expertise they need for AI projects.