Another new month means more fresh online training opportunities for public servants. From hiring to innovation to what makes an effective team dynamic, we're covering pressing topics in public service all month long.
As usual, all these online trainings are free, and all registrants receive the recordings one day after the live presentation. Happy fall and happy learning!
Nov. 2 | 2 pm ET/11 am PT
Be a Talent Hotspot: How to Attract and Retain Successful Employees
Government hiring isn't just about filling open positions. Tune in to hear how you can find people with the right skill sets and help them cultivate long and fulfilling careers.
Government Speakers:
Traci DiMartini, Chief Human Capital Officer, U.S. General Services Administration
Joseph Abbot, Chief Human Capital Officer, U.S. Food Safety and Inspection Service, U.S. Dept. of Agriculture
---
Nov. 9 | Virtual Summit | 10 a.m.-12:45 p.m. ET/7-9:45 a.m. PT
Prioritizing for Success: How Agencies Are Planning for 2023
In just two months, the new year will be upon us. For government agencies, it's a chance to reset and prioritize goals and objectives. Join us online to hear what's top of mind for forward-thinking government leaders in 2023.
Government Speakers:
Nicole Willis, CTO, HHS, Office of Inspector General (OIG), Office of the Chief Information Officer, (OCIO)
Dr. George Duchak, Chief Information Officer, Defense Logistics Agency, Information Operations
Jason Clarke, Chief Information Officer, Department of Technology and Information, State of Delaware
Cathy Draine, Director of Diversity, Equity and Inclusion, City of Everett, MA
---
Nov. 10 | 2 pm ET/11 am PT
5 Ways to Support the State and Local Workforce
How can we better support state and local public servants in the aftermath of the pandemic and also adequately prepare for what's to come? Tune in to hear how to support your workforce.
Government Speakers:
Amanda Crawford, Department of Information Resources (DIR), Executive Director and Chief Information Officer, State of Texas
Alex Lawrence, Chief People Officer, City of Boston, MA
---
Nov. 15 | 2 pm ET/11 am PT
Open Season: Understanding and Unlocking the Right Benefits
If you're drowning in health insurance information overload, this free training is for you. We'll walk through how to decipher open season language and pick the right healthcare plan.
Government Speaker:
Maggie Martel, Manager, Enrollment and Member Support, Healthcare and Insurance, Office of Personnel Management
---
Nov. 16 | 2 pm ET/11 am PT
Smarter, Not Harder: Implementing an Automated Approach to Cybersecurity
Agencies are turning to automation to increase productivity, response time, and make their teams more effective. Join us to learn how to get started.
Government Speaker: TBA
---
Nov. 28 | 4 pm ET/1 pm PT
What Makes an Effective Team Dynamic
During this virtual networking session, we'll explore the defining elements of a positive team dynamic and how to bring it to your own organization.
Expert Speaker:
Nicole Kolt, Facilitator, Partnership for Public Service
---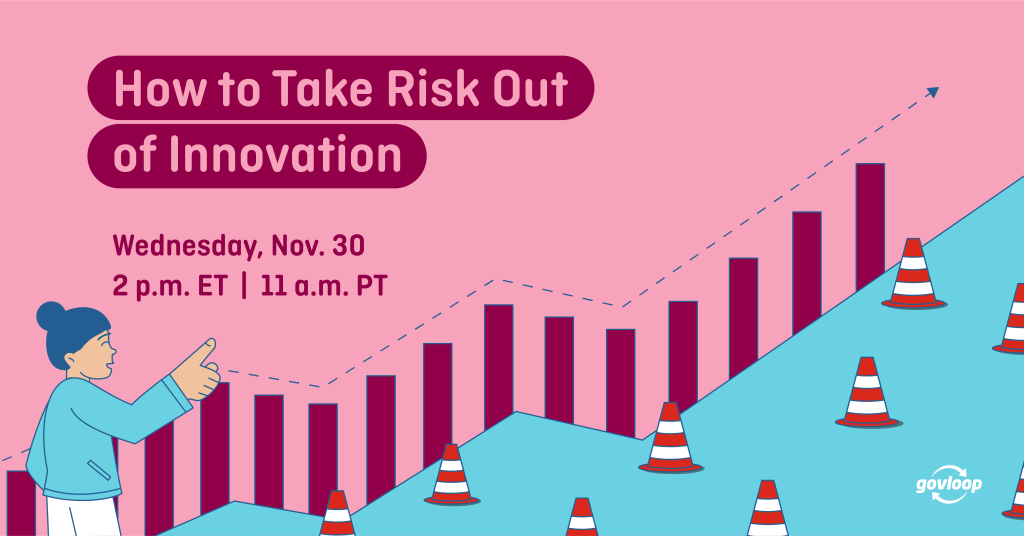 Nov. 30 | 2 pm ET/11 am PT
How to Take Risk Out of Innovation
With increased innovation comes increased risk. Learn how to take the proper steps to ensure your agency is fully testing and vetting new services, apps, tools and products before they launch.
Government Speaker: TBA