Open data is not just a conversation about government accountability or transparency. The argument surpasses politics, as was underlined this summer at the Data Transparency Coalition's DATA Act Summit when Ralph Nader and Grover Norquist appeared together to speak in support of making government information searchable and accessible. The conversation is really about how we can make government work better.
Hudson Hollister, Executive Director of the Data Transparency Coalition, says the transformation of government information from scattered documents into open data is well underway. Open data doesn't just mean better transparency for citizens, but also better management within government and automated reporting to government.
This fall, learn how open data can make government work better at the Data Coalition's policy conference, Data Transparency 2015, set for September 23rd in Washington, DC. This is the third annual gathering of the most influential US open data leaders – from the executive branch, legislative branch, state and local government, the nonprofit sector, and the tech and financial industries.
The event's theme, Current Change, Future Vision, emphasizes the importance of key reforms like the Digital Accountability and Transparency Act (DATA Act), which called on the executive branch to make spending data open to the public in a standardized and central format.
Current Change, Future Vision seeks to answer how government employees will be able to better interact within and outside their organizations. In the future, CFOs, program managers, and inspector generals will finally be able to easily sift through spending data and find patterns and insights electronically. The era of manual report-assembling and number-crunching is over.
While the future is inevitable, there's no guarantee of these open data changes without a solid policy foundation being laid. That's why Data Transparency 2015 is part of the search for data-driven ways to make government more efficient. The event is the largest-ever assembly of public and private sector open data leaders and will showcase the three pillars of the Data Coalition's agenda for policy change: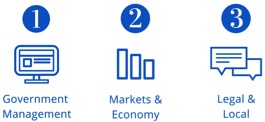 Track 1: Government Management and open data policy has come far and will only go farther. The track covers information about spending and performance as well as the 2014 DATA Act. Ann Eberts, CEO of the Association for Government Accountants will kick off a panel discussion on government management and the future of open data for grants and contracts.
Track 2: This track covers the expansive domain of Markets & Economy. The focal points center on the information private companies submit to government regulators, which hold importance for government and businesses alike. The discussion will also center on the Financial Transparency Act of 2015, which requires financial regulators to increase the availability of information reported to the public under the securities, commodities, and banking laws.
Track 3: Law & Regulation (Legal & Local) remains the most theoretical of the Coalition's policy pillars. This track will spotlight efforts to adopt open data formats for the text and substance of laws and regulations. Seamus Kraft, Executive Director and Co-Founder of the OpenGov Foundation, will lead a discussion on government efforts to publish original legal materials as data.
Data Transparency 2015 will feature 50 speakers, 30 companies on exhibition, and dozens of federal agencies. Be part of this important conversation about how open data is more than just transparency – it's a transformer of government and society.