Just when it seemed the shutdown threats were calming down Thursday morning, there is once again real concerns that there will be a partial government shutdown come midnight.
The looming threat means agencies are once again reviewing contingency plans — in the event that lawmakers don't pass a spending bill Friday by midnight. Any shutdown has serious consequences for federal employees regardless of the politics involved. Not only would services be disrupted, but a shutdown would leave many affected employees without their paychecks over the holidays.
Government agencies that have already received appropriations would remain open, but about 25 percent of agencies would shut down and operate with a skeleton crew. Those agencies include the Agriculture, Commerce, Justice, Transportation, Housing and Urban Development, Interior, Treasury, State, and Homeland Security departments, as well as the Food and Drug Administration, the Environmental Protection Agency, the National Aeronautics and Space Administration, the federal judiciary, and other related government programs.
Driving the issue is whether lawmakers will fund Trump's long-promised wall dividing the U.S.-Mexico border. Trump launched a series of tweets this morning, including this one: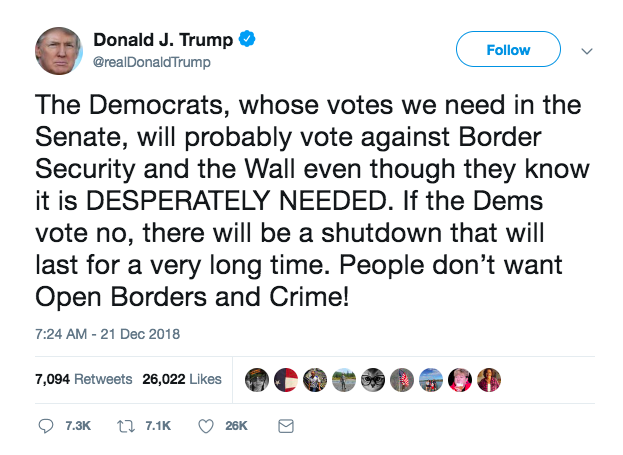 There are so many twists and turns to this story. Friday morning, The Washington Post summed up the latest developments:
After Trump threatened Thursday to veto a Senate measure that did not contain the border funding he sought, the House hurried to appease the president, pulling together a bill that would keep the government funded through Feb. 8 while also allocating $5.7 billion for the border wall. The House bill also included nearly $8 billion for disaster relief for hurricanes and wildfires.

Democrats, however, have enough votes in the Senate to keep that bill from advancing and have showed no signs of relenting.
Although there's sure to be a lot of political back and forth leading up to the midnight deadline, we'll stick to the key issues that all feds should know leading up to a possible shutdown.
1. Your office needs to plan for this shutdown, but even those plans may change. Until Congress finalizes the stopgap bill, your agency needs to keep planning for a government shutdown. While many who work at your office will have experienced the 2013 government shutdown, there are likely new people on staff. They'll need guidance on how a shutdown could affect their jobs, pay and benefits. Even staff who persevered through the previous shutdown will need reminders about what to expect.
However, keep in mind that even the best plans can change. For example, during the 2013 shutdown, mailroom employees at the National Institutes of Health were initially furloughed. But NIH realized that some mailroom employees were needed to pick up mail, including bills that needed to be paid to keep the facilities minimally operational. NIH brought some mailroom employees back to work as a result.
2. If you haven't already, familiarize yourself with your agency's contingency plan. These plans detail what operations your agency will continue to perform in the event of a shutdown, as well as the types of employees who will be furloughed (given a temporary leave of absence). Agency plans also explain what's expected of both furloughed employees and those not furloughed, and how staff and the public will be notified about changes to agency operations.
3. Make sure your contact information is up to date, in case your manager needs to contact you during a shutdown. At the very least, employees would need to be notified about resuming operations after the furlough ended.
4. Review any travel plans with your manager. Employees with work trips scheduled should coordinate with their supervisors on how to proceed in the event of a shutdown.
5. Beware of the Antideficiency Act. One of the key issues agencies must weigh during a shutdown is what programs and activities they are permitted or required to continue. "Except in certain circumstances when continued activities are authorized by law, the Antideficiency Act generally restricts agencies from continuing operations funded by annual appropriations during a government shutdown," according to a 2014 Government Accountability Office report. But there are exceptions, including activities funded with appropriations that do not expire at the end of the fiscal year.