I was rummaging through my hard drive the other day looking for old photos to get rid of, just in case I witnessed a "blue screen of death" and lose everything (yes it's also backed up).  As I was looking, I noticed there were old photos of my colleagues' response to the events of September 11. They all looked a lot younger. There were some individuals that I simply have no idea where they are now are after all these years; possibly retired. After all, it was 16 years ago.
The photos were from inside the big warehouse on the pier where the response teams were set up. The images show vintage computers and large format printers with hundreds of paper maps strewn all over the place. A huge paper banner was stretched across their workspace marking it the "Emergency Mapping and Data Center." To the right was a banner that simply read "GIS," (geographic information system). Several photos show staff downing coffee to just keep them going, as it was a 24-hour operation, seven days a week.
Like so many of you, I am sure you can remember the event as if it were yesterday. Although, I remind myself that I have team members that were six at the time. There were so many lessons learned from that period that have been paid forward to future events. On this anniversary of 9/11, I think it's important to reflect on these lessons learned so we can continue to share our best practices and apply them to new incidents we may encounter.
While the events of New York, Virginia and Pennsylvania remain one of the most vivid and impactful, I am reminded that, unfortunately, there have been dozens of other crises from which to draw best practices. These include earthquakes, floods, tsunamis, wildfires, riots, terrorist attacks, oil spills, refinery explosions, pipeline leaks, mudslides, sniper attacks, and hurricanes, which are repeat offenders.
The Northridge Earthquake in 1994 was perhaps the first real discussion that comes to mind where government agencies came together and realized GIS would be a great tool to respond to disasters. While there were some successes, the biggest lesson we learned from that natural disaster was that not every jurisdiction was building their GIS the same way. More importantly, the data generated within various jurisdictions did not necessarily fit together. A nationwide discussion ensued about creating directories of stakeholders, data standards and the identification of staple data layers that are needed to plan for, respond to and mitigate disasters.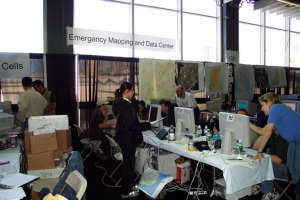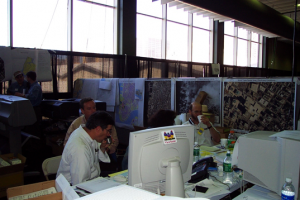 The Oklahoma City Bombing in 1995 also taught us new lessons. Among the supported activities, I remember colleagues performing predictive modeling, analyzing buildings that would be rendered unstable based on proximity to the blast; a tool that helped the building officials prioritize inspections. I remember archeological, excavation methods used to look for survivors and remains of the victims of the rubble. While morbid in hindsight, this was the first use of 3D GIS that would transfer to future events. Unfortunately, this included the collapse of the Twin Towers as one of them.
The Deepwater Horizon oil spill added crowdsourcing of oil slicks, endangered birds and sea life to the mix of tools we began to use for disaster response. The monitoring of social media provided new insight into the populations impacted, a testament to the idea of constantly leveraging new concepts and technologies.
Then came September 11, 2001. The events of 9/11 taught us how to deal with the impacts of a major catastrophe at multiple locations simultaneously. We were reminded that response requires the support of volunteers, non-profits and the need to include public and private utilities. From a government perspective, police and fire support were inherent, but we soon learned we needed to include disciplines such as public works, building and safety, public health, human services and economic development into the response effort. The attacks changed the face of urban planning to include the application of geodesign and forever changed the way we build our communities.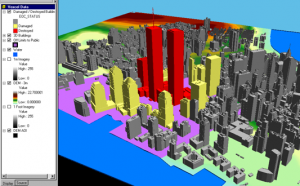 Looking at the images from Hurricane Harvey and Irma, I see progress in the use of technology to improve our approach. We have moved from ad hoc printed maps to large monitors, displaying real-time common operational pictures and dashboards. We are also seeing the inclusion of drones and mobile devices to capture asset and infrastructure conditions.
As I write this blog, we are preparing for Hurricane Irma. I see cities like Tampa, Fla. already launching road closure apps to help with the early evacuation. We are seeing many of the lessons learned from the past being deployed at a rapid rate. We'll wait anxiously to see what the impacts and responses will require.
My knowledge, experience and support of these devastating events both as a government employee and as a technology professional taught me one thing: a software company is not always a software company. In this case, it's made up of passionate professionals from many different backgrounds that have answered the call to support these devastating events all around the world. They apply their knowledge of GIS, government disciplines, standard operating procedures, data requirements, models and apps to truly make a difference.
I am proud to be associated with individuals and organizations that stand at the ready to volunteer their service, software and expertise. Support includes URISA, who helped launch the GISCorps, an organization that prescreened volunteers that are skilled and ready to support your workforce. There is also the Esri Disaster Relief Program which offers software, data and support during a crisis. Since 1994, they have supported hundreds of disaster-related events and thousands of requests for assistance worldwide.  The apps, mapping and modeling tools derived from supporting disasters lead to our freely available industry specific solutions. These apps include inspection reporting, evacuation planning, situational awareness dashboards, flood modeling and many more.
I am hopeful that non-profits, federal, state, regional, county and city governments will take advantage of these resources and programs. After all, the lessons we learn from Hurricane Harvey and Irma will help generations to come.
Christopher Thomas is part of the GovLoop Featured Blogger program, where we feature blog posts by government voices from all across the country (and world!). To see more Featured Blogger posts, click here.