"Watch out for a simple twist of fate." – Bob Dylan
Sometimes in life you are presented with a situation, a happenstance, a chance. You are given a set of circumstances and told to make the most of it. Three years ago, I found myself in one of those situations. I had just joined a young company (GovLoop) – geared towards helping government do its job better.
It was and still is a great mission, but back then it was a mission without a lot of direction. The site was reaching a tipping point where it needed some concrete content to take the site to the next level. Content that was well researched, well crafted and designed with the GovLoop user in mind.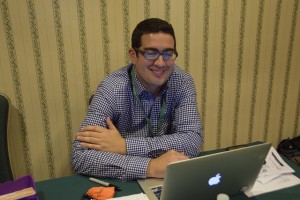 Enter Pat Fiorenza. Through his three + years of service at GovLoop, Pat has been the lead writer for 37 guides, 22 research briefs and 27 industry perspectives. That staggering number of products amounts to 60 percent of the guides, research briefs and industry perspectives GovLoop has produced in the last four years. And that number doesn't take into account his blogs, online trainings and events. He helped transform GovLoop to the knowledge network we are today.
And while those contributions are amazing and are helping govies to do their jobs better, what I didn't know when I took that job three years ago, was that Pat would become my guide too.
We share a desk, a content mission and a love of pasta. But now he is leaving our little corner of the Internet to make his way back home to Syracuse, New York. And I couldn't be happier for him. It's a move that makes sense for his family and his career. But that doesn't mean I am not going to miss him terribly.
When you share a desk, your bond goes beyond being co-workers – you either become enemies or friends. I am happy to say we chose the latter (or at least I think he did and he is not leaving because he hates me).
So in no certain order, here are the three lessons I have uncovered from working alongside a guy whose favorite president is Abe Lincoln, prefers tomato crunchies as an afternoon snack and is the only person I know who watches the show Empire.
Listen more than you talk: I am loud. Pat is not. Sometimes the poor guy has to put in headphones just so drown out my insistent chatter. But when he turns down volume, he pays attention. He listens far more than he talks, and I think that's part of what makes him a good researcher. As a learner by nature, Pat is curious about the world. And he has taught me by closing my mouth, you can learn so much more.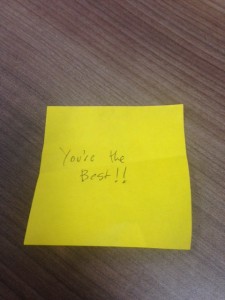 Support your coworkers: I have a post-it that sits on my desk that reads, "You're the best." A few months ago, I was moderating one of GovLoop's online trainings and I was a nervous wreck. But when I get nervous, I get super self-conscious. Pat knows this. So instead of giving me a big pep talk or trying to calm me down. He simply walked into the conference room, handed me the post-it note and walked out. He gave me the support I absolutely needed in that moment. And he did it in a way that he knew would work. You can't simply support your coworkers blindly. You have to get to know them so you can assist them in the best way possible.
Always show up: If there is an event, you can pretty much guarantee that Pat will be the first one to register. He was on hand for almost all of our in-person trainings, team meetings, outings and even one trip to the zoo.
In life and in work, you never know who is going to come across your path. It was a simple twist of fate that for the past three years Pat and I have been working in the same room and sharing a desk.
It was a simple twist of fate that aligned two people who love Taylor Swift, are scared of drones and are confused by just how many bagels it is appropriate to eat on a daily basis. (Answer you can never have enough bagels.)
So on Wednesday, when Pat says his final goodbyes to the GovLoop team there will of course be tears. But I hope he also takes away the satisfaction of knowing he had a major impact on GovLoop and the girl with whom he shared a desk.
Patrick Joseph you will be missed.