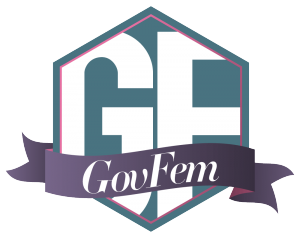 Through GovFem, we want to highlight the challenges women face in government. We also want to highlight the women who are tackling those issues everyday. To start us off, I sat down with Ellen Schrantz who works as counsel in the House of Representatives.
Ellen is kicking off our spotlight series for two reasons. First and foremost, she is an impressive young woman in government. She began working on the Hill in 2011 and has been promoted four times since she began. She's also known for seeking and tackling tough issues—things like intellectual property laws and immigration policy—despite being considered young for the role of legislative counsel. Secondly, Ellen is a personal friend of mine so I knew she'd let me interview her.
Schrantz's advice for young women in government is two-fold: be vocal and proactive in seeking opportunities to further your goals.
Don't be afraid to speak up
Schrantz admitted it can be tempting to enter government as a new, young professional and just want to keep your head down until you learn the ropes. But she also said that's the wrong choice. "If you don't come in and have strong goals and ideas about where you want to go and what you want to accomplish, you won't be taken seriously," said Schrantz.
Be vocal about your objectives—either policy goals or professional ambitions—and what you need to fulfill them. Schrantz said, "You have to be strongly communicative about your goals from the beginning, because it will slow you down if you're not."
Beyond making your presence known, Schrantz said the confidence to speak up is crucial to success on the Hill: "Especially on the Hill, it's not uncommon for offices and staff to debate. That's what we do; we debate each other. So you have to be ready to defend your ideas, your thoughts, and your policies; and you have do that with your coworkers or even your boss. That's how you get to a point where you're taken seriously as a policy advisor."
That doesn't mean you can't ask questions. Being a newcomer to government means you have a lot to learn. "100% confidence is more about the confidence to ask questions rather than the confidence that you know an answer," said Schrantz. "You can't be afraid to ask questions. When you do, it shows thoughtfulness."
What gets you ahead, according to Schrantz, is the confidence to be vocal about both what you want and what you need. Sometimes that means asking questions. Other times, it means being assertive in your own ideas and objectives.
Look out for potential opportunities and allies
Of course, sometimes it takes more than vocalizing your goals to execute them. Schrantz recommends always keeping a pulse on what opportunities might arise that can help you move your career forward. "You need to understand whatever issues you're interested in, who the players are, which members are critical, what committees they serve one, and where you can align your interests with theirs," said Schrantz.
A strong network, built on mutual interests and goals, is key to knowing what's happening outside your immediate office. Schrantz said, "Half the game on the Hill is networking and making sure people know who you are and what your goals are, because opportunities aren't always publicized and don't wait very long."
Schrantz offered her advice for how to build this network. "As soon as you know who else is out there with the same policy objectives as you have, or who can help make things happen, you need to go out to coffee with them, have meetings, and initiate conversations. Tell them about the ideas you have," she explained. "Those initial conversation are critical because… having people that you can rely on for good advice, thoughts, and freed is necessary." That network can also alert you when there are new opportunities, either for your career or for your policy objectives.
Is this different for women?
What struck me about Schrantz's advice was that it was duly applicable to men in government, despite us talking about her experiences as a woman specifically. Schrantz replied, "Women are an incredibly dominant force in Congress, but an under-appreciated one given how many women are in top-level roles. Members are dominantly male, whereas you're really seeing women take on just as many policy roles as men on the staff level."
The challenge for women, therefore, is unique. While they are gaining ground in policy positions, the perception of progress is muted. That's why Schrantz said it's so important to make your objectives known and proactively build a network to support those ambitions. "I certainly think that for a woman, there's a greater need to be cognizant of yourself and your objectives. If you don't take yourself and your goals seriously, no one else will."
Schrantz concluded, "It's hard because staff are very much behind the scenes. But the more women who become active and vocal in Congress, the more I think people will appreciate that women have just as much of a role as men in policy making."
Photo Credit: Flickr/RonCogswell