There are many universal truths that government employees have come to accept about the nature of their jobs, whether it's having to grapple with tight budgets or brace for policy changes. But one area in particular that sparks a shared frustration among employees and the public is government's complicated relationship with paper.
The federal government alone maintains around 23,000 unique forms for carrying out various functions and providing critical services and benefits, according to performance.gov. Employees spend more than 11.4 billion hours manually processing paperwork — which often amounts to little transparency, longer wait times and more frustration for citizens waiting for a government response or action.
These eye-opening stats helped kick off a discussion about government's love-hate relationship with paper during GovLoop's "Government Innovators Virtual Summit: Solving Your Agency's Biggest Challenges." This particular panel highlighted how government and its industry partners are using technology to ditch paper and arcane processes for more modern capabilities, such as digital forms and electronic signatures, that improve employee and customer experiences.
To put this into perspective, DocuSign, an industry leader in e-signatures crunched data on how much agencies spend on paperwork: $38.7 billion, said Seth Engel, Senior Product Marketing Manager at DocuSign. The company estimates that collectively agencies could cut that number almost in half by replacing all paper forms with digital self-service solutions, streamlining static PDF-based forms and processes, and digitizing end-to-end processes.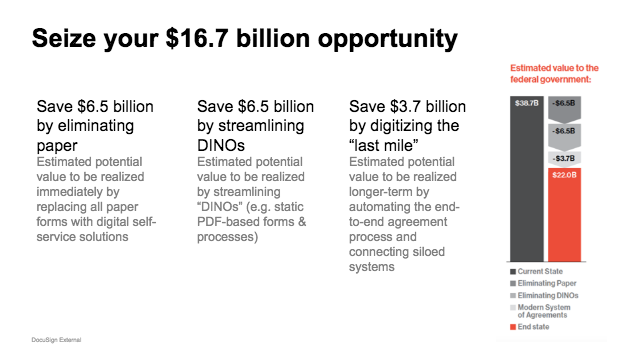 Take the Education Department, for example. Officials there are working to overhaul the manual process of printing, signing, scanning and faxing documents, said Surendra Babu, Cloud Adoption and Identity Access Management (IAM) subject matter expert at the department's Federal Student Aid (FSA) Infrastructure Operations Group.
Babu explained that the department's grant award approval process had fallen victim to the pitfalls of paper dependency. To revamp that process, the department turned to digital signatures to quickly route paperwork to the appropriate people. But one of the major bottlenecks was doing identity verification — or proving that people are who they say they are, especially in this digital world.
Snail mail was one route the Education Department used to collect identity verification data from its grant applicants. But the department is eyeing innovative tech solutions that provide those secure capabilities without amassing a physical paper trail. It also wants to ease the burden of forcing individuals to re-submit the same information repeatedly, which is the case today when applying for student aid and grants, for example.
The department's siloed systems make it nearly impossible at the moment for data sharing across those systems. "When people apply for student loans today they have to give a lot of information about their federal taxes, which they already provided to IRS," Babu said. The ultimate goal is to enable information sharing across internal and external apps and provide a common digital platform for citizens so they have a uniformed experience.
According to Babu, these efforts align with the recent 21st Century Integrated Digital Experience Act (IDEA), which was signed into law Dec. 2018. The law requires that public-facing agency websites, Intranets and forms have a consistent look and are compliant with forthcoming web standards being developed by the General Services Administration. The goal is to enhance citizens overall online experience with government.
"If the government provides a poor citizen experience, real people are actually hurt and they may not seek critical services and your mission suffers as a result," Engel said.
The Veterans Affairs Department (VA) also embarked on a major overhaul that included investing in online forms and revamping its flagship website to improve the experience for veterans, said Scott Blackburn, Partner at McKinsey & Company and former VA Interim Deputy Secretary and Chief Information Officer.
It's important to explain this type of transformation to leaders in terms they understand. For example, how will changes enable their priorities? It's not just about digitizing but outcomes, and laws such as 21st Century IDEA help to create pressure to get things done. "The magic will happen when they see how this will enable the priorities," Blackburn said.
Private sector companies such as QTC, that work closely with government agencies, has also benefited from adopting digital processes. The company is a national provider of independent medical examinations and associated services. QTC Chief Information Officer Nader Nemati shared that it used to take 36 hours to get physicians to sign documentation after an examination, while also balancing busy patient schedules. Using DocuSign's e-signature capability to automate that process has reduced that down to two hours. This is critical for agencies like the VA that rely on this type of data to make determinations about benefits and other patient services.
Engel explained that there are numerous programs spanning federal, state and local governments, such as grant programs, that require entities to submit paperwork to the federal government. He added that state, local and tribal governments spend 1.2 billion hours filling out federal paperwork. By improving digital processes at the federal level, there are ripe opportunities for easing burdens at all levels of government and ultimately for citizens.