If only this story involved a horse.
Instead, and luckily for you, it involves a story of the city of Los Angeles, Open Data Genius and yesterday's online training panelist, Kyle Hall. But there is still a trace of Paul Revere's midnight ride because open data has the power to carry news. Open data can share key operational information and break down the silos that divide government and make it less efficient. Somewhat like the Paul Revere's midnight ride of 1775, right?
But in all seriousness, while tuning in to yesterday's online training, Transforming Government Operations with Open Data, there's one thing that stood out to me the most: how ridiculously fast data can be shared from desks to agencies when made open and transparent. Shared by Hall, Government Finance Subject Matter Expert at Socrata and the Former Special Assistant to City Controller Ron Galperin of the city of Los Angeles, here are the many overlooked internal benefits of open data by government:
Open data can break down silos that make operations more data-driven and more relevant to the 21st century. 
I have to say this again because it's declared by Hall as one of the most important things you can do with an open data program. The four kinds of operational silos that can be broken down include: desk-to-desk, system-to-system, department-to-department, and agency-to-agency – all self-explanatory and described in the slides below: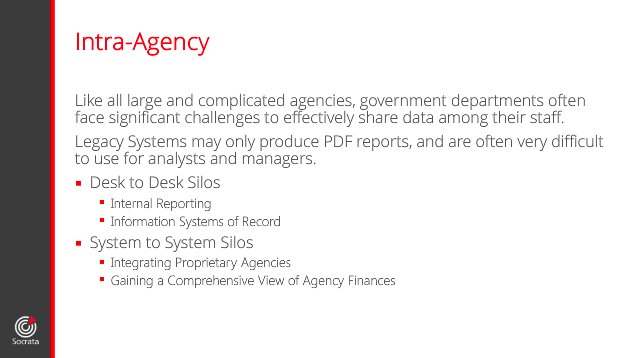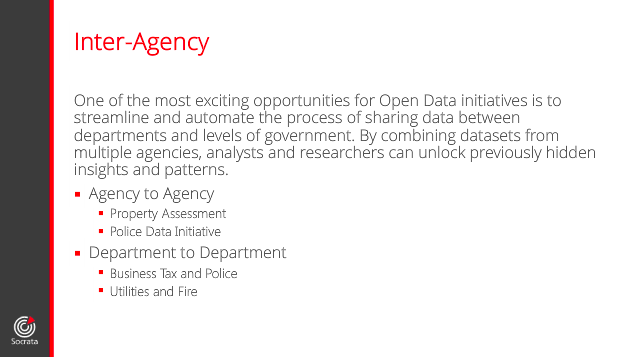 Agencies don't have to rely on manual processes
When in LA, Hall had to regularly produce a PDF report every month and send it to every department manager that read, "by the way, this is how much money you have left." A process that would be unheard of in a private entity, there are tools available like Socrata's for Finance platform that can automate reports and make them accessible in real-time – not just to the public but to internal managers.
Maintenance of information
With data transparency, key operational information can be recorded on spreadsheets and shared at different levels and privacy settings. Hall gave an example of how a list of special funds for the city of LA were never made available online and instead where kept in a series of binders on the 4th floor of his building. Instead of a process "where the manager goes to an analyst and the analyst to a reporting system that creates a report that's sent back to the manager, a manager can go directly to data," according to Hall. This saves managers time and allows them to make direct decisions on the spot, based on information they have available.
Drive culture change
"We all end up sitting at our desk, and in our desk we are within a department, and that's our world," expressed Hall, while discussing employees' in the controller's office less-than worrisome attitude about the fire department, police department and others. Hall encourages all departments to be on the same team in order to achieve greater benefits and outcomes, including giving staff the tools needed to be successful at their jobs.
For more on the benefits of improved data sharing and live access to key operational data, be sure to view the on-demand version of this training here.